Residents at an East San Jose affordable housing complex found an apparent loophole in the city's rent control policy that favors the property owner and are fighting an October rent hike.
Chanting "Sí, se puede," which translate to "Yes, we can," roughly 100 residents and local organizers took to the streets to protest a 10% rent hike at the Valley Palms Apartments on Thursday.
Low-income families at complex, where roughly 1,100 people live according to city data, said the rent hike would price them out of their homes and the city. Residents at the apartment complex have spent months organizing to fight the increase, with the help of city officials and local organizations such as Latinos United for a New America and the Law Foundation of Silicon Valley.
The Oct. 1 rent increase would add an extra $200 to $250 for families already struggling to make ends meet, resident Marilu Zepeda told San José Spotlight. Zepeda's family of four relies mostly on her husband's income from his job at a local restaurant, while she works at the family resource center within the apartment complex. Her family pays $2,217 a month and is facing a $200 increase.
"We're worried when we got the notice, because we aren't sure how we could afford it," Zepeda told San José Spotlight in Spanish through an interpreter. "I'm most worried about my kids."
Mothers, fathers, children and grandparents marched around the complex, chanting and holding signs that read, "No Mas Desplazamientos." More than 100 tenants have signed a letter sent to property owner KDF Communities, demanding the company drop any rent increases and further improve security around the apartments, among other things.
KDF Communities didn't respond to inquiries about the protest.
KDF Communities attempted to raise the rents at Valley Palms by 17% to 20% earlier this year, but did not succeed when San Jose Councilmember Maya Esparza, who represents the Valley Palms area, helped residents push back.
Esparza said that initial rent increase might have violated state law. KDF Communities then proposed dropping the rent increase to 10%—if it could forgo some of the security requirements.
Esparza's office worked with tenants to cut the rent hike to a 10% increase without losing any security measures.
"Rent increases were successfully reduced for Valley Palms to within legal limits without jeopardizing the safety of our residents by lowering required levels of security," Esparza told San José Spotlight.
But after even Esparza worked to reduce the increase, many residents remain adamant about eliminating the rent hike completely.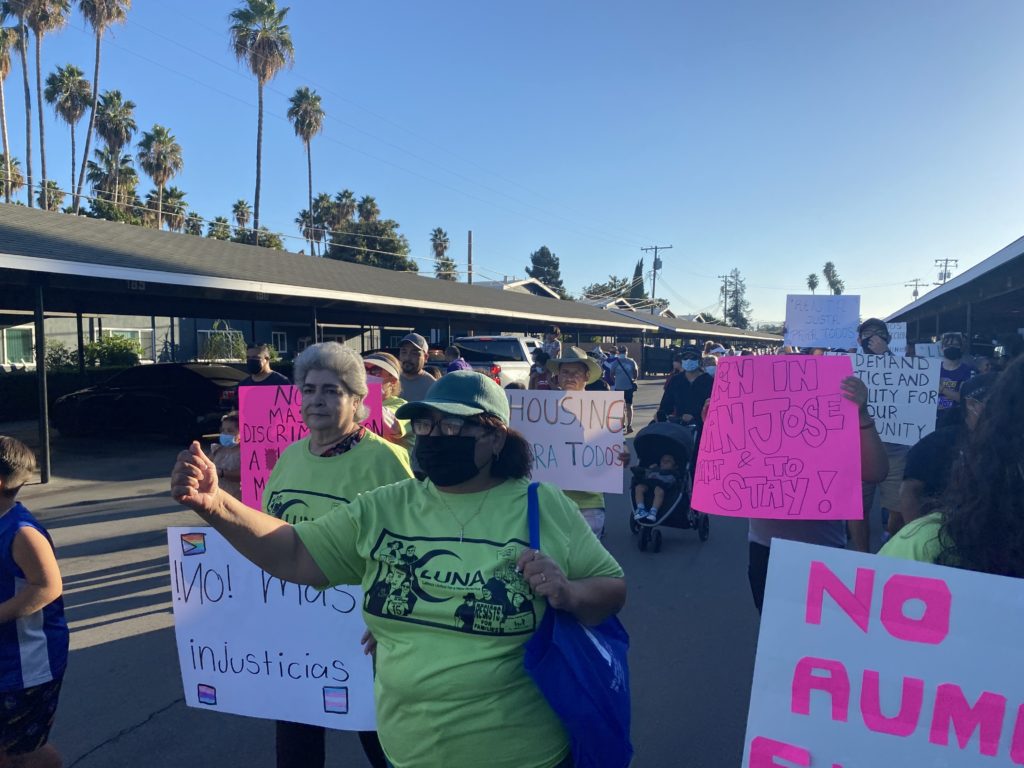 An apparent loophole
Valley Palms Apartments, located at 2155 Lanai Ave., is the biggest affordable housing project owned by KDF Communities in San Jose with 354 apartments. The complex has a history of problems, as tenants face safety issues related to gang activities, subpar living conditions and long waits for routine maintenance, tenants said.
The residences at Valley Palms are not subject to local rent control, since the complex is a tax-exempt bond project serving low-income residents. Rents are dictated by area median income—not by actual tenant incomes, local organizer Aundraya Martinez told San José Spotlight. Martinez is part of Valley Palms Unidos, a group helping Valley Palms residents organize.
With the area median income for a family of four in Santa Clara County jumping by $17,100, from $165,000 last year to $182,800 this year, KDF Communities can increase the rents at Valley Palms.
"It's a loophole," Martinez said. "Because this is a tax-free bond property, it's not covered under the local rent ordinance."
San Jose has a policy that caps rent hikes to 5% a year in more than 38,000 affordable homes. Valley Palms meets a number of criteria under the policy, but its rent follows state guidelines that allow rent increases up to 20% this year.
San Jose officials confirmed the current rent hike at Valley Palms complies with the rent guidelines from the state. City housing spokesperson Jeff Scott said KDF Communities is raising rents for 79% of the apartments at Valley Palms. The remaining units are not impacted by the rent hike.
Longstanding issues plague complex
KDF Communities, a Newport Beach-based company, is one of the largest affordable housing providers in Silicon Valley, with nine low-income apartment complexes across four districts and a total of more than 1,600 homes. The company and its property manager, VPM Management, have been a lawsuit magnet for allegedly failing to protect residents from fires and decrepit living conditions such as bug infestations. City councilmembers previously called the company "a faceless, corporate slumlord."
San Jose attempted to address the longstanding issues at Valley Palms in 2020—by forcing KDF Communities into an agreement before the company could receive $120 million in tax-free bonds from the state. The agreement, the first of its kind in San Jose, requires KDF Communities to provide more security and establish a process for tenant grievances.
Esparza, along with three other councilmembers, sent a letter in August urging the state to launch an investigation into KDF Communities over its "unethical and potentially illegal practices."
Tenants at Valley Palms said they'll continue fighting the rent increase. They have reached out to residents living at other KDF Communities' properties, such as Foxdale Village Apartments, to form a coalition.
"We have to do it together," Marie Mendoza, who has lived at Valley Palms for 32 years, told San José Spotlight. "They are not going to stop us from fighting for our lives."