The disgruntled VTA employee who killed nine of his coworkers before committing suicide was never written up, the transit agency said Thursday, despite one coworker saying he "scared" them and suspected he would "go postal."
He did, however, have a history of insubordination and verbal altercations with coworkers.
VTA released these details Thursday on the work record of Samuel Cassidy, the 57-year-old technician who killed nine coworkers at a light rail yard in San Jose on May 26.
The agency is reviewing additional documents related to Cassidy's disciplinary history and behavior in cooperation with the criminal investigation of the shooting and public record requests.
The agency says that, so far, Cassidy's personnel file shows no indication of any formal discipline for threatening behavior or violence during his 20-year career with VTA.
However, VTA says an initial review of documents found four separate incidents involving Cassidy that were sent to management. These incidents resulted in disciplinary actions that ranged from a verbal warning to a two-day leave without pay.
Insubordination on July 16, 2019: Cassidy was sent home without pay for two days after refusing to follow VTA policy in signing out a two-way radio necessary to perform his job.
Verbal altercation on Jan. 29, 2020: The incident occurred between Cassidy and a coworker, and was reported to VTA Employee Relations and the VTA Office of Civil Rights. Upon questioning from a supervisor, a coworker reported that another unnamed employee said of Cassidy: "He scares me. If someone was to go postal, it'd be him."
VTA says that the individual refused to name the source of that comment, and that nothing in Cassidy's disciplinary history explained or supported that concern. The incident was referred back to Cassidy's manager.
Refusal to attend a mandatory CPR recertification class on Oct. 21, 2020: Cassidy cited a concern about the threat of COVID-19. VTA says a number of "reasonable accommodations" were provided with no resolution.
Unexcused leave and improper radio communication on Nov. 28, 2020: After difficulty clocking in for a shift, VTA says Cassidy inappropriately used a two-way radio for personal communication rather than for operational matters, which is against company policy. Cassidy left work without permission instead of resolving the issue.
VTA provided a link to accompanying documentation.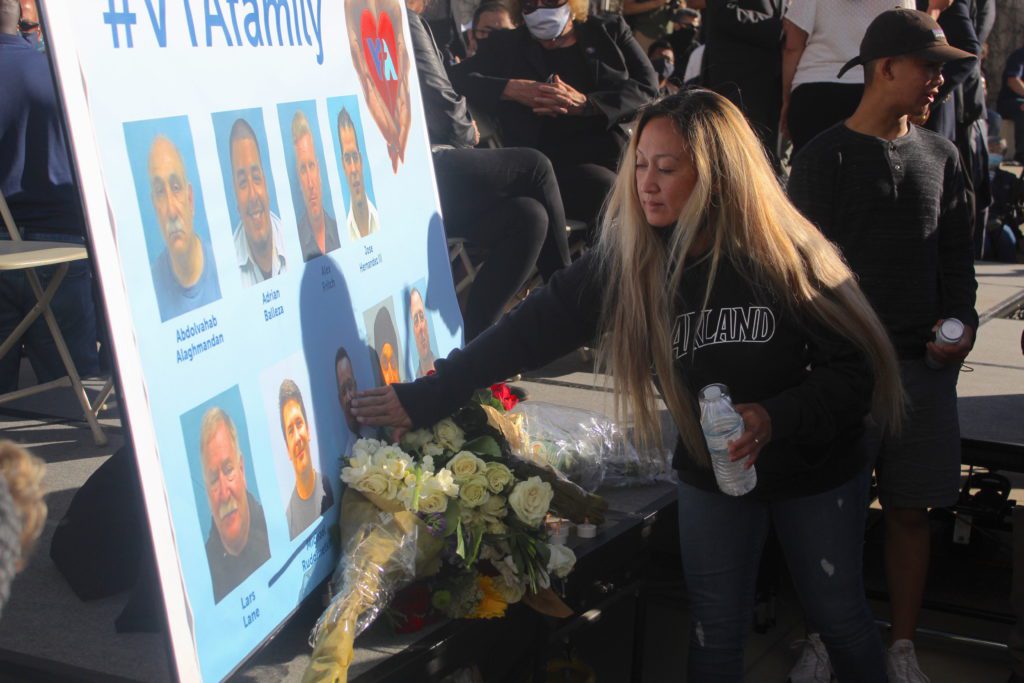 One VTA worker who spoke to San José Spotlight on condition of anonymity said he knew Cassidy made minor complaints about his bosses.
"We would say 'hi' and share the same complaints about management and go back to work," he said.
Cassidy reportedly complained to the source about not getting paid enough, micromanagement, not feeling appreciated by management and the public, as well as nepotism in the workplace.
"Same as everyone that's not in management," the worker said.
Felix Nater, owner of security management consulting firm Nater Associates, said it's important to trace back the shooter's behavior to the workplace actions that occurred prior to the shooting. Nater worked with the U.S. Postal Service's violence intervention team after the deadly shooting in Edmond, Oklahoma in 1986 when an employee killed 14 coworkers.
"Why were they disciplined?" Nater said. "Why did they rise to a level of being disgruntled, and what made (them) transition from being disgruntled to their style of retaliation? That's extreme behavior."
Nater said the prevention of workplace violence is directly tied to the perception of unfair treatment and the reality of the existence of unfair treatment.
"They don't want to invest in recognizing that the unintentional consequences of policies, plans and discipline rise to a level of angst… people feel as though they're not being treated fairly," he said.
The transportation agency says it's found no documentation or history of complaints of Cassidy making racist or threatening remarks toward coworkers during the initial search of documents. The agency has not found any records about Cassidy being contacted by a federal agency, including the Department of Homeland Security.
Based on requests for public records, including a pending request from San José Spotlight, there are thousands of pages of documents that include emails, attachments and other materials that still require review. VTA says it's committed to providing these documents as soon as is practical, but notes an obligation to protect the confidentiality of employees, vendors and other people not involved in the incident.
VTA, along with other transit agencies in the Bay Area, are beefing up security measures in the wake of the deadly shooting.
Reporter Sonya Herrera contributed to this report.
Contact Nick Preciado at [email protected]