COVID-19 restrictions in the region are winding down, and so is San Jose's largest temporary emergency shelter.
South Hall, an 80,000-square foot space at the San Jose McEnery Convention Center in downtown, will shutter its emergency COVID-19 shelter by July 15.  It will be cleaned and turned over to Team San Jose, the city's visitor and tourist organization, by Aug. 1.
Currently, the hall serves as the city's largest temporary congregate shelter for adults.
"We don't want anyone to exit South Hall into homelessness," said Jeff Scott, spokesperson for the city's housing department. "We are meeting with each guest at South Hall to help them develop personalized housing plans."
On most nights, South Hall shelters around 200 adults. Guests receive boxed meals and have access to shower and laundry facilities on-site. Santa Clara County also offered the COVID-19 vaccine to everyone staying at South Hall.
San Jose used South Hall as part of its multi-pronged COVID-19 homeless response, including a similar shelter for families at the Camden Community Center in South San Jose, placing sinks and portable bathrooms at homeless encampments and arranging garbage collection days at encampments.
The city was criticized late last year when a San José Spotlight report revealed officials cleared homeless encampments at the height of the pandemic, despite recommendations from the Centers for Disease Control and Prevention not to do so because of the risk of spreading COVID-19.
Homeless activist Shaunn Cartwright believes closing South Hall will cause an even bigger problem in the city. According to Cartwright, many of South Hall's 200-plus residents don't have any plans for housing after July 15, and she's doubtful local services will step up.
"They swear they're going to find places for everybody. Two hundred people? That's impossible," Cartwright said. "We don't even have a month left if you take out weekends."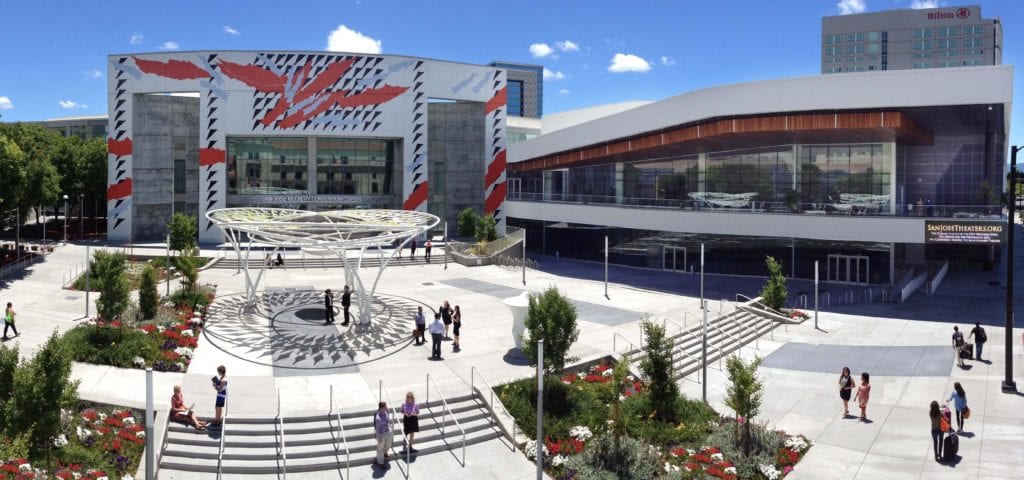 The city's housing department partnered with homeless services provider HomeFirst to coordinate and run the temporary shelter at South Hall. HomeFirst declined to comment.
Scott said the shelter, which opened in April 2020, helped slow the spread of COVID-19 because it allowed unhoused individuals to shelter in place. The City Council voted last October to extend emergency homeless shelter services through the spring.
Future housing plans for those sheltered at South Hall will be determined through an assessment by HomeFirst and the city, with input from the residents themselves. Several housing and shelter options may be available to people depending on their circumstances, including motel vouchers, bridge or interim housing, permanent supportive housing, rapid rehousing, shelters throughout Santa Clara County and one-time financial assistance.
As of Sunday night, about 1,329,849 Santa Clara County residents 12 and older—77.5%—have received at least one dose of the COVID-19 vaccine. About 1,135,424 people, or 66.2% of those aged 12 and older, have completed vaccinations. To date, 119,280 residents have tested positive for COVID-19 and 2,153 have died.
More signs the downtown facility is heading back to normal: From Sept. 24 through Nov. 14, South Hall will host "Beyond Van Gogh: The Immersive Experience," a three-dimensional art exhibit that presents Dutch painter Vincent Van Gogh's most popular works in a walkthrough experience. Tickets went on sale for the event Friday.
🌻 PRESALE 🌻
Get presale tickets today to Beyond Van Gogh: The Immersive Experience at the San Jose McEnery Convention Center opening September 24! 🖼

Use code SUNFLOWER now – 11:55pm >> https://t.co/7hWL0CZOpR. General public on sale tomorrow. pic.twitter.com/SYyyGiahtq

— San Jose Civic (@SanJoseCivic) June 3, 2021
"What a great way to kick off the revitalization and return of events with such an exclusive experience," said Frances Wong, director of marketing and communications for Team San Jose, the city's marketing arm.
While city and community officials are excited that convention events are returning to South Hall, Cartwright said it's too soon. She said many of the people sheltered there have few mental health services and haven't been trained in day-to-day tasks such as shopping for groceries. And not all residents have solid post-shelter plans.
"South Hall is closing because the city wants to do conventions again," Cartwright said. "So they're choosing profits over people."
If you are in need of temporary shelter, visit the city's COVID-19 homeless resource page or call (408) 278-6420.
Contact Lloyd Alaban at [email protected] or follow @lloydalaban on Twitter.