After months of anticipation from lawmakers and parents, Santa Clara County on Wednesday gave its first COVID-19 shots to some of its youngest residents.
Hand-in-hand with their parents, a few hundred kids flocked to clinics across the South Bay to get the first jabs of the kid-size COVID-19 vaccine. The line for the clinic at Emmanuel Baptist Church in East San Jose has been nonstop since the clinic opened at 8:45 a.m, workers at the site said.
Nate Huynh, 9, and his sister Kate, 7, were among more than 250 kids with an appointment at the church. Mother Tiana Huynh said the family has been waiting anxiously to get their kids vaccinated.
"They have been waiting for this all year," Huynh told San José Spotlight. "We haven't let them do playdates or anything like that. With the vaccines, we'll be much more comfortable letting them do things like normal time again."
Federal health officials gave final approval for Pfizer's kid-size COVID-19 shot earlier this week, opening the way to vaccination for children as young as 5. In Santa Clara County, that's roughly 167,000 kids who are now eligible to get the two-dose pediatric shot, which is one-third the adult dosage.
Nate, sporting a green shirt with characters from the Super Mario Bros. video game, helped his mom comfort his little sister while the family waited in line.
"Every time I get a shot, I cry," Kate said, donning a Queen Elsa shirt and pink Hello Kitty shoes.
Sitting on her mom's lap, Kate took a shot in her left arm. Her brother hovered next to her.
"It's ok to be scared," Huynh told her daughter. Both siblings picked out their bandaids and stickers. They will come back at the end of the month to finish their doses.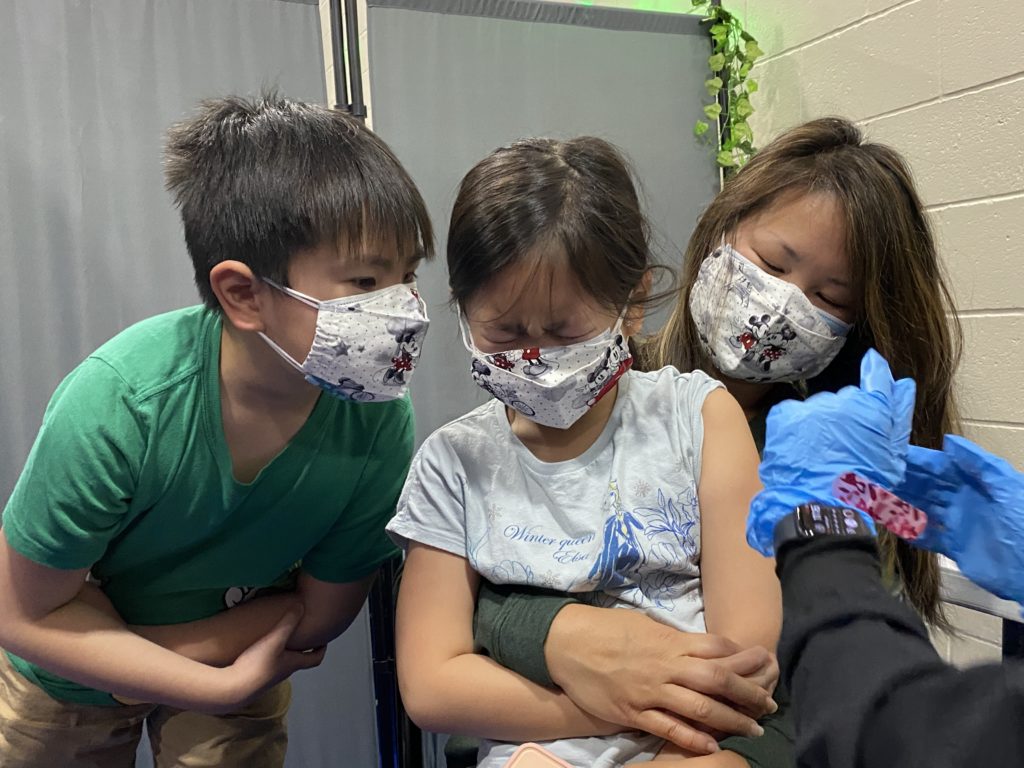 The Pfizer kids vaccine is about 90% effective, according to the company. Getting young kids vaccinated is a crucial step to end the pandemic, health experts say. Santa Clara County has spent weeks preparing for the newly-eligible population in anticipation of the authorization.
"We definitely have seen infections in this age group… and they are disruptive both to the children's education as well as their parents lives," said Dr. Jennifer Tong, associate chief medical officer at Santa Clara Valley Medical Center.
Vaccinating young kids will also help curb the transmission rate and keep others in the community safer, Tong added.
The county is slated to receive 55,000 pediatric shots this week. Officials say they anticipate a high demand for the kid-size vaccines, but are confident in the county's capacity to vaccinate as many children as possible in the upcoming weeks. Families have already booked up the majority of this week's appointments, according to officials.
Aria Shukla, 6, was also nervous for her shot. Sporting her Wonder Woman headpiece, Aria was crying and screaming as it came time to get inoculated.
"We've been wanting to do this because I have elderly parents," father Prakash Shukla told San José Spotlight. " I just wanted all the kids, everybody, to be vaccinated."
Aria proudly showed off her inoculated arm while she waited at the facility.
"I missed sleepovers," she said.
The kid-size vaccines come at a time where infections and hospitalizations caused by the Delta variant are dropping sharply. Santa Clara County is seeing a seven-day rolling average of 148 cases—less than half the average of 364 cases in late August.
As of this week, 85.3% of Santa Clara County residents ages 12 and up—more than 1.46 million people—are fully vaccinated. When children under 12 are included, the overall completion rate for vaccinations drops to 73.3%.
The county will start bringing mobile vaccine clinics to 80 school sites this week, officials said.
"Starting tomorrow, (the teams) will be visiting multiple schools at our highest risk communities where parents may not be able to take time off work, but have consented for their children to get vaccinated," Tong said.
Contact Tran Nguyen at [email protected] or follow @nguyenntrann on Twitter.