Facing calls to resign and numerous investigations, Sheriff Laurie Smith is pushing back against claims that her office squandered hundreds of millions of dollars by unsuccessfully trying to improve jail conditions.
"That is absolutely incorrect," Smith said, adding that she hopes County Counsel does a thorough examination of her office's progress in meeting goals set out by federal consent decrees.
The Santa Clara Board of Supervisors is requesting investigations by multiple state and federal agencies into possible civil rights violations by Smith and her office, in addition to seeking confidential records concerning death and injuries at the jail.
"The referral lays out over the course of eight pages a very disturbing pattern of behavior," Supervisor Joe Simitian said during Tuesday's board meeting. "And particularly in one instance, the case of Andrew Hogan, raises questions about the apparent lack of accountability. And the potential, candidly, for undue political influence."
Supervisors unanimously approved requesting investigations by the U.S. Department of Justice and the state attorney general into management of the county jail. The board is also asking County Counsel to turn over a 19-page report and four and a half hours of video and audio records related to Hogan, an inmate who suffered a serious head injury in August 2018.
Paula Canny, attorney for the Hogan family, spoke at a news conference before the board meeting and offered some defense of Smith and her deputies, noting the sheriff is "tasked with an impossible task."
"What I'm saying is the sheriff should not be tasked to treat mentally ill people," Canny said. "Mental illness is a public health crisis, not a criminal justice problem."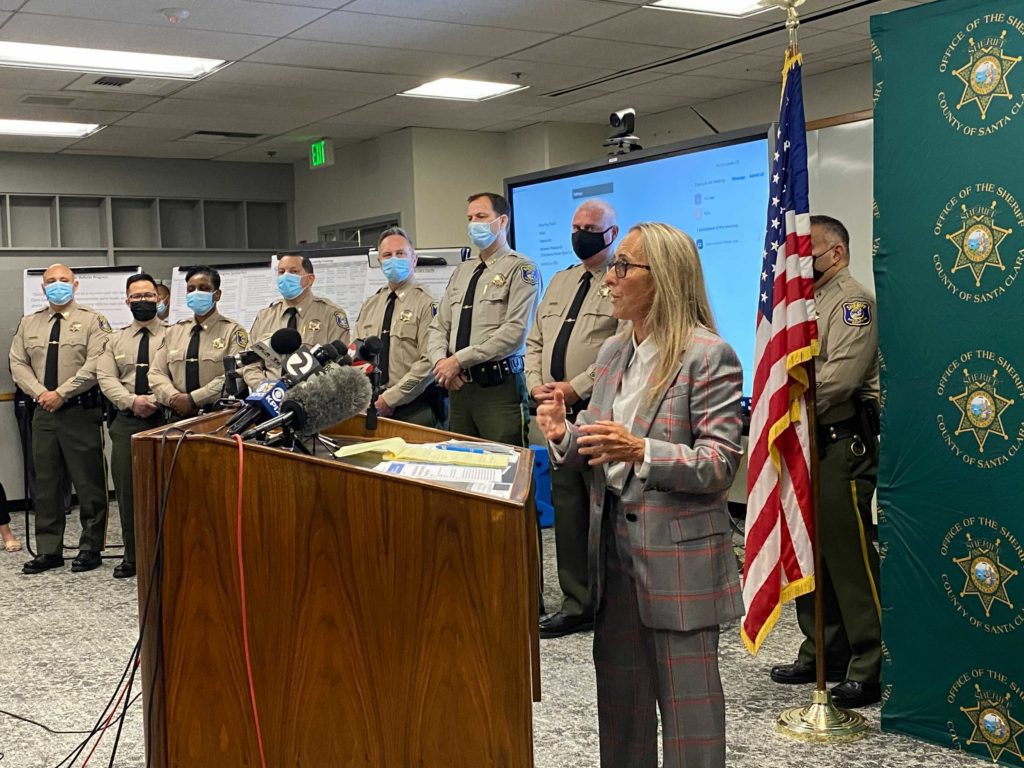 The board wants the independent watchdog, Office of Correction and Law Enforcement Monitoring, to review disciplinary actions taken by Smith against officers involved in the Hogan incident.
Supervisors approved recommendations to improve transparency and accountability in the jail system, and also asked for the Fair Political Practices Commission to examine possible connections between promotions and compensation and any incidents that occurred in the jail.
Speaking at the board meeting, Smith said she is in full support of the investigations. The one recommendation she didn't agree with was releasing confidential information on the Hogan case without considering the desires of the family.
"The victims and the families have been traumatized very much. And their concern should be the very highest order of the board," Smith said.
Supervisor Susan Ellenberg said she fully supports the requests made and expressed interest in seeing what will come from providing information to the attorney general and civil grand jury. Supervisor Cindy Chavez also voiced support, but cautioned against painting the sheriff's office with a broad brush.
"I think the role that our entire organization plays in the jails is one that we also need to make sure is included in any examination of how we move forward," Chavez said.
Numerous commenters spoke in support of the actions.
LaDoris Cordell, former chair of the Blue Ribbon Commission in 2016 that produced recommendations for improving oversight of the county jail, said nothing has changed in the jail system.
"The one thing that has changed is that under the leadership of Laurie Smith, the operation of the jails has gotten worse," Cordell said.
Resident Leslie Zeiger urged supervisors to decrease funding for the sheriff's office, while Lauren Renaud called for more transparency and oversight of the jail.
"Our community absolutely deserves to know about the atrocities happening in our jails," Renaud said.
Supervisors discussed the broader issue of how to better manage the jail. Simitian observed that the current system is largely the product of Smith seeking to place the jail under her control.
"The irony of this discussion is the sheriff sought out that role and responsibility for the jail back in 2010," Simitian said.
Smith's 23-year tenure has been marked by high-profile violent incidents against inmates and costly settlements. The county has also spent tens of millions of dollars to improve jail conditions to meet requirements set forth in consent decrees.
At the news conference prior to the board meeting, Smith cited inadequate staffing as a major problem in the jail, but argued it didn't stop her department from aggressively implementing reforms, including a streamlined system for inmates to file grievances and a reduction in the number of people in solitary confinement. She called on Santa Clara County to release a study she claims will show her office is severely understaffed.
Some lawmakers aren't waiting for an investigation. On Monday, San Jose Mayor Sam Liccardo called on Smith to resign, citing her "poor leadership" of the department. Smith said she will not consider resigning until the investigations have concluded.
Raj Jayadev, a criminal justice advocate and founder of Silicon Valley De-Bug, said he supports advancing accountability through investigations. But he is concerned the county will seek limited solutions.
"I'm hoping the county is looking at, and is realizing, that incarceration is inherently dangerous," Jayadev said. "What we're saying is those with mental health needs are particularly vulnerable in a carceral setting… we need a whole different care delivery system for people with different needs."
Contact Eli Wolfe at [email protected] or @EliWolfe4 on Twitter. Contact Tran Nguyen at [email protected] or follow @nguyenntrann on Twitter.