Eighteen Silicon Valley candidates across four local and legislative races answered dozens of questions this month about homelessness, transportation, climate change and economic development in a two-hour discussion hosted by San José Spotlight.
The Dec. 4 forum, held at CreaTV San Jose's downtown studios and moderated by senior reporter Janice Bitters, was the first of two nights of candidate forums covering races for state Senate District 15, Assembly District 25, Santa Clara County Supervisor District 3 and San Jose City Council District 8. The shows, which included a live audience, will air on Cable Channels 27 and 30 and a link is posted below.
San Jose City Council District 8
In what was the most fiery panel of the night, San Jose Councilmember Sylvia Arenas came face-to-face with her re-election challenger, Evergreen School Board member Jim Zito.
The pair hardly agreed on anything, highlighting the stark differences between the two politicians.
In a tense exchange, the candidates rebutted each other's answers on a recently-approved real transfer property tax for affordable housing on the March 2020 ballot.
Zito said he was disappointed with the City Council's decision to put it on the ballot without a guarantee that the tax revenue would be used for housing, since it will go into the city's general fund and can be spent however the council sees fit. He claimed the tax, which applies to property sales of $2 million or more, would affect 30 percent of properties in Evergreen.
But Arenas quickly refuted that claim, saying only about 2 to 3 percent of properties citywide would be impacted and recent city polling shows that voters support the tax for affordable housing.
Zito challenged her figures, but Arenas shot back by saying her colleague Pam Foley, who was a realtor before joining the council, said the average home sale in Evergreen was around $1.3 million, which would not be affected by the measure.
The candidates were asked about new solutions to make a dent in Silicon Valley's homeless epidemic, since homelessness in San Jose has increased by 42 percent in the last two years, despite a slew of new housing initiatives and tax funding.
Zito called for more research about the cause of homelessness, saying one-size-fits-all solutions don't work. Arenas proposed addressing stagnant salaries and building more housing to accommodate working families.
To watch the District 8 forum, go to the start of the video.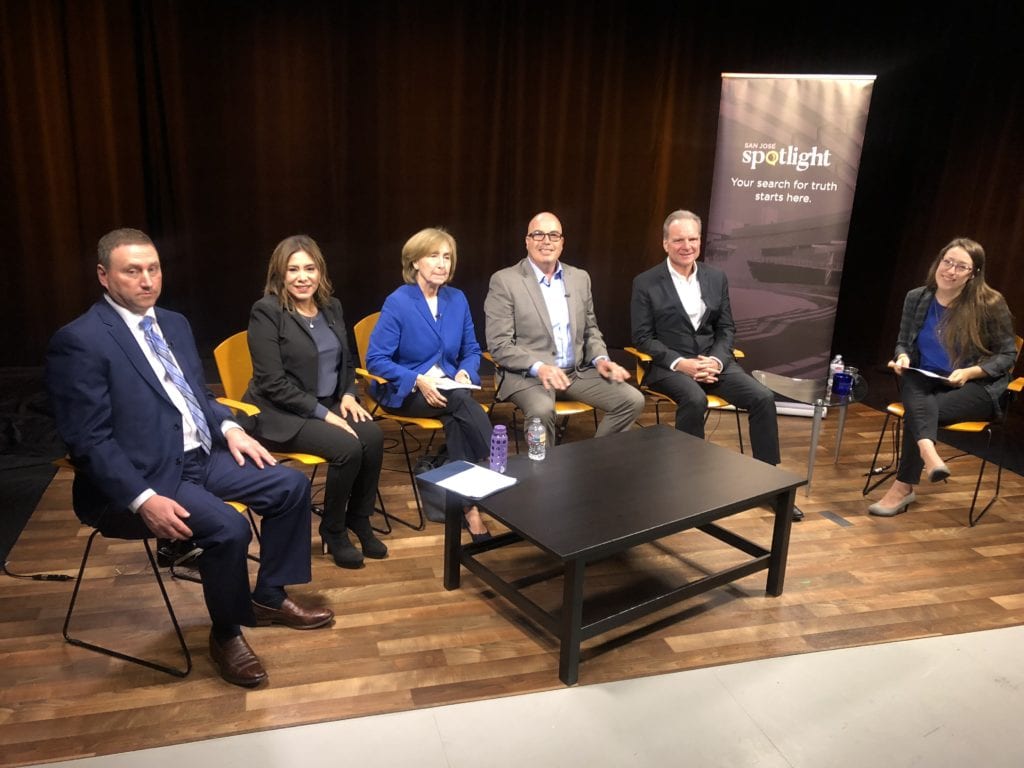 California Senate District 15
Five candidates vying to replace Sen. Jim Beall in Sacramento also took the stage, including former Assemblymember Nora Campos, Santa Clara County Supervisor Dave Cortese, Paratransit Operator Tim Gildersleeve, San Jose Councilmember Johnny Khamis and former FEC chair Ann Ravel.
The candidates were asked about government overreach and state control versus local control, in light of legislation such as SB 35, which aims to streamline housing development.
Cortese said the balance needs to be protected, but supports state legislation to help ensure and expedite housing production. Khamis agrees the state is forced to step in when local governments fail to develop quickly, though it can lead to confusion in local planning departments.
Campos agreed with state regulation, saying housing plans are great but only if goals are actually being met. Continuing that idea, Gildersleeve said state responsibilities should also include added outreach efforts. Ravel said there's "no question" that SB 35 provisions to provide housing are good, but supports a more tailored approach to fit local communities.
On the topic of climate change, Cortese said governments can help lead the way by joining a climate coalition, running entirely on renewable energy or implementing reach codes. Khamis thinks buyback programs for products such as gas-powered mowers and blowers would be successful, as well as tackling issues of garage and methane emissions.
Ravel's ideas included subsidizing refurbishing old buildings to make them electric, buying back low-income residents' older vehicles for electric ones and investing more in wind, water and solar technologies.
Campos said more housing closer to jobs will combat climate change and help get people out of their cars. Gildersleeve would like to see more zero-emission cars and recycling resources.
To watch the Senate District 15 forum, go to 25:48 in the video.
California Assembly District 25
Moving to the lower house of the Legislature, seven candidates vying to replace Assemblymember Kansen Chu fielded questions on homelessness and the quality of life in California.
The candidates included Ohlone Community College District trustee Bob Brunton, Santa Clara County Board of Education Trustee Jim Canova, tech worker Natasha Gupta, South Bay consumer attorney and West Valley-Mission Community College District Trustee Anne Kepner, state policy advisor Alex Lee, Milpitas Councilmember Carmen Montano and Santa Clara County Board of Education Trustee Anna Song.
As many Californians flee because of the cost of living and traffic, the candidates were asked how they would improve the lives of District 25 residents.
Canova said he'd work to streamline development fees and processes to add more affordable housing and schools in Silicon Valley. Focusing on the millennial population, Gupta said problems such as unaffordable homeownership, high tuition costs and debt should be tackled comprehensively. Brunton said he'd work to create an atmosphere where the government respects and treats its residents better.
Song wants to make sure excess property taxes are not being skimmed or taken away, saying they are sometimes redistributed because Santa Clara County is considered a "rich" county. Montano said incentives for mass transit use and increasing the housing stock would help livability issues.
Kepner wants to see wrap-around services for all, such as access to universal preschool and public transit. Lee said the displacement problem would be aided by making corporations like Google "pay their fair share," reforming Prop 13 to fund schools and protecting tenant rights.
Candidates were also asked how they would prioritize actions to deal with homelessness. Lee would support market-driven solutions like SB 50 and preserving existing housing. Canova wants to restore state funding to address mental health concerns.
Gupta said job training should be paired directly in housing programs, while Brunton wants to reform sales tax to reallocate funds to cities where people live — not where they shop.
As a renter, Song said she's one paycheck away from being homeless. She wants to address the effects of homelessness on students while Montano wants to revive cities' redevelopment agencies.
To watch the Assembly District 25 forum, go to 56:16 in the video.
Santa Clara County Supervisor District 3
The candidates looking to replace termed-out Cortese on the Santa Clara County Board of Supervisors, including San Jose Councilmember Magdalena Carrasco, Assemblymember Kansen Chu, former Sunnyvale Mayor Otto Lee and former San Jose Planning Commissioner John Leyba, were the last to face off.
Asked how they would spend remaining Measure A affordable housing funding – around $271 million as of June – and if they would support another affordable housing tax measure without using up existing funds, Leyba said he would not support additional taxes until this funding is fully committed.
Carrasco supports an additional tax measure to help bridge that gap after Measure A funds run dry. Chu said he'd look at balancing production with preservation before more money is thrown at the problem. Lee said funding should be used to tackle homelessness prevention, in the form of rent assistance or tiny homes.
The candidates were asked if they support Laura's Law, which would compel certain mentally ill individuals to get treatment.
Lee said he supports it, since voluntarily seeking help isn't solving the issue. Leyba also supports implementing Laura's Law, claiming neighboring counties with the law have seen an 80 percent reduction in the total cost of providing care.
Carrasco would first start by ensuring there's enough available clinicians and resources before looking to Laura's Law, while Chu supports the law because it only affects a small percentage of people who have been previously incarcerated or hospitalized.
To watch the District 3 forum, go to 1:19:37 in the video.
Contact Katie Lauer at [email protected] or follow @_katielauer on Twitter.