Joint Venture Silicon Valley hosted its yearly State of the Valley conference virtually last week that discusses regional issues and the realities that our region has faced from the COVID-19 pandemic and other challenges such as the regional economic drivers. The organization also released its 2021 Silicon Valley Index.
One of the topics it discusses is Silicon Valley's migration flows.
Per the migration flows chart, outmigration last year exceeded in-migration by nearly 12,800 people — more than any other year since those following the dot.com bust from 2001 to 2005. When you look at the population of Silicon Valley in the 3.12 million range, based on the snapshot of the region, it's not as drastic of an exodus as reported.
"For the past four years, more people have left Silicon Valley than have moved in," the report says. "Between July 2015 and July 2020, the region gained a net 90,600 foreign immigrants but lost a net 19,800 residents to other parts of California and the United States; the total net loss of Silicon Valley residents over that time period is -29,200."
Whether or not this is a long-term trend is yet to be seen.
Headlines of the headquarter relocations don't always highlight the fact that a substantial number of employees will continue to be based in Silicon Valley. I believe that 2021 will be a stabilization year and 2022 should be the real starting line for standard business operations resuming. There's also a chance that some people who left the region could move back in 2022.
The population change has affected other parts of the regional economy, such as housing costs.
Silicon Valley median home sale prices rose slightly in 2020 (up 5% year-over-year, after adjusting for inflation) to just over $1.2 million, the report found.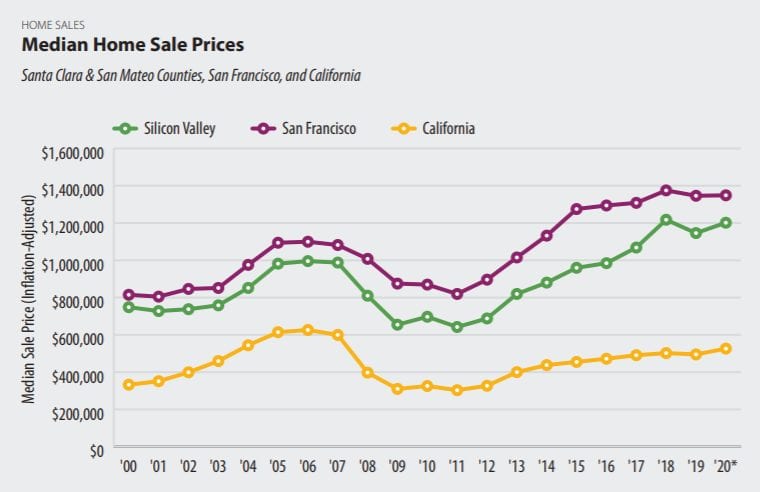 Fewer homes were sold in 2020 than the previous year and the residential building units permitted also dropped year to year.
Of the estimated 4,670 residential units permitted throughout Silicon Valley in 2020, 60% were multi-family units. This compares to 42% statewide and 97% in San Francisco, according to the report.
Another important item covered is the income levels for the new housing.
More than three-quarters of the units permitted thus far in the 2015-2023 state housing goals cycle were in the above moderate (120%+ of the area median income) category; 13% were moderate income, and 9% were low- and very-low income, combined.
The relatively small share of low-income units permitted thus far in Silicon Valley and throughout the Bay Area will undoubtedly inform efforts underway to develop the next cycle's allocations, which aim to not only increase the region's stock of low-income units but also address racial and economic segregation within and between communities.
The California Legislature has indicated it won't be making extreme changes in terms of forcing housing development in communities that have not done their part in building housing. We should keep our expectations low and keep our eye on local measures such as Opportunity Housing and building housing on school property.
The merits of each need to be discussed broadly in our neighborhoods. Look for a future column discussing these items in more detail.
I appreciate the thoughtful nature that Joint Venture CEO Russell Hancock and his team have taken in creating this report and not being afraid to discuss the COVID-19 pandemic that has become a political item nationally. It's times like these we need to look at the harsh truths and realities, and face them together.
We need to collectively make a choice to address equity and housing issues head on.
San José Spotlight columnist Bob Staedler is a principal at Silicon Valley Synergy, a San Jose-based land use and development consulting firm. His columns appear every first Monday of the month. Contact Bob at [email protected] or follow @BobStaedler on Twitter.