Team San Jose, a nonprofit that manages the city's arts and cultural centers and tourism, reported zero dollars in revenue this past year, demonstrating the COVID-19 pandemic's tremendous impact on the local economy.
"We were closed by county mandate for the majority of the year," spokesperson Frances Wong told San José Spotlight. "With a closed convention center and closed performing arts venues, what that means is that small businesses lost out on visitor spending."
The nonprofit, founded in 2003, had brought in millions of dollars to San Jose each year. In 2018-19, the last full year before the pandemic, Team San Jose generated $138.8 million for the city. That number dwindled to $62.7 million in 2019-20—and to zero last year, a new city audit revealed.
This is the first time Team San Jose failed to meet its economic and financial goals in 10 years, the audit says.
"When Team San Jose's buildings are open, they encouraged visitors and guests to not only travel to come to a convention or go to a show, but also encouraged them to go out to eat, go visit a museum, explore downtown or any of the 18 neighborhoods of San Jose," Wong said.
Businesses across the city saw a steep decline in revenue during the pandemic, she added.
The group managed to book roughly 83,000 hotel nights in the past year during the pandemic. Still, that's just half of what Team San Jose could do in a pre-pandemic year. In 2018-19, it booked 170,000 nights.
City spokesperson Elisabeth Handler squarely blamed the pandemic for the loss in revenue—and not Team San Jose. The city will not penalize—or part ways—with the organization over it, she added.
"Convention centers were closed, hotels were closed," she said. "This doesn't affect the city's contract with (Team San Jose)."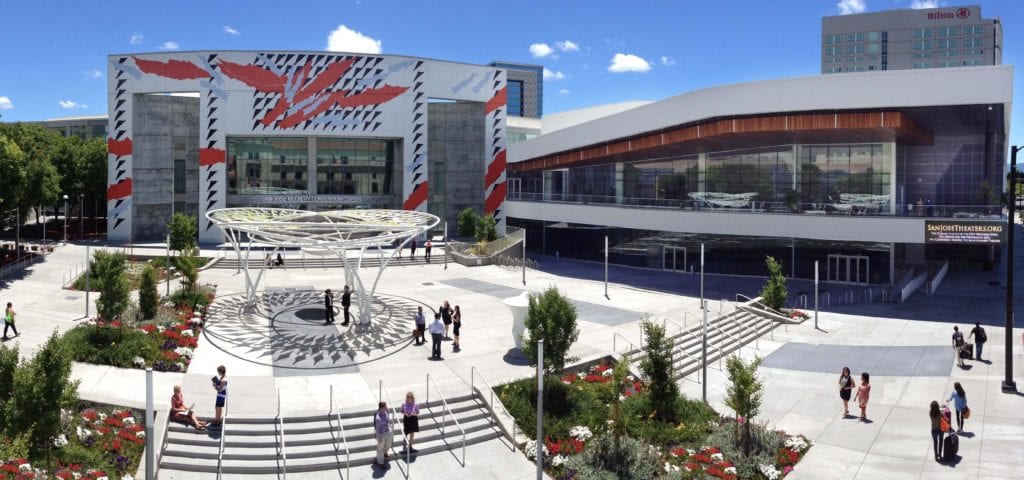 This year's audit also noted the organization has not paid back an extra $50,000 incentive fee the city mistakenly gave it two years ago. Handler said the reimbursement will happen by the end of the year.
Paralyzing economy 
Founded in 2003, Team San Jose runs the city's McEnery Convention Center, Visitors Bureau and its seven arts and entertainment venues including the California Theatre, the Center for the Performing Arts, Montgomery Theater, San Jose Civic and South Hall. The nonprofit promotes the city through its tourism, arts, business and hospitality industries.
When the pandemic hit the South Bay in March 2020, all usual activities came to a screeching halt for Team San Jose. The nonprofit laid off roughly 1,400 employees—the largest layoffs in the area, Wong said.
The organization was also upended as its president and CEO Karolyn Kirchgesler resigned after a terminal cancer diagnosis in April last year. She died in June.
As the pandemic dragged on, the team partnered with local artists on campaigns to promote different areas in the city. Team San Jose also hosted virtual museum and convention tours.
The group also turned its in-house catering into a meal provider to produce three meals a day—21,000 meals a week—to shelters housing people.
Millions lost
After the nonprofit almost lost its contract with the city in 2010 for going over budget, poor managerial oversight and handing out outrageous staff bonuses, its turnaround has proven successful, the city annual audits show.
Under its current contract, Team San Jose gets $1 million to manage the city's tourism efforts and its convention centers. The city also grants an "incentive fee" of $250,000 if the organization meets additional financial goals—but Team San Jose hasn't received it in the past two years.
The group operated at a $9.9 million loss last year, approximately $700,000 of which went into repairs and maintenance of city facilities, the audit found. Team San Jose often operates at a loss and is subsidized by hotel taxes, but the number has ballooned from a roughly $4 million loss in 2018-19 to a $13 million loss last year.
Team San Jose's operating revenues last year were 86% less than the prior year, and 92% less than 2018-19. The business group also lost about $3 million in networking services and equipment rentals. Event production revenue fell from about $20 million in 2018-19 to $3,396 last year.
But things might be looking up for the city's marketing giant. Since July, the group has hosted five conventions and brought back live performances at its theaters.
"Travel just opened back up to international visitors, which is great news for the entire travel industry," Wong said. "We'll keep listening to trends and reports to see how we will adapt to these all these different changes."
Contact Tran Nguyen at [email protected] or follow @nguyenntrann on Twitter.