Historic buildings facing redevelopment in San Jose reflect a growing divide between preservationists and city leaders, as critics say the push for development often leads to neglect of older structures.
The Preservation Action Council of San Jose released its second annual list of eight endangered buildings last month. The list highlights renowned buildings such as the First Church of Christ Scientist and Burbank Theater that are facing neglect and redevelopment. Structures that, according to the Preservation Action Council, are able to be reused and repurposed.
Executive Director Ben Leech argues repurposing these buildings adds a layer of history to the city, while demolishing them can be seen as erasure of a cherished past.
"It's a much more interesting place to live," Leech told San José Spotlight. "It's almost like chronological diversity is just as important as cultural diversity."
Preservation Action Council of San Jose's Endangered 8
First Church of Christ Scientist
Burbank Theater
IBM Building 11
Milligan Lot and Forman's Arena
Levi Strauss Factory
Sam's Downtown Feed
Alum Rock Park Log Cabin
Ban Family Farmstead
Leech said his group doesn't want to "cry wolf" by advocating to save just any vacant building, and that the list is limited to historically valuable structures in San Jose that can be refurbished with the right investment of time and resources.
"Why treat everything as disposable when it wasn't built to be thrown away?" Leech said.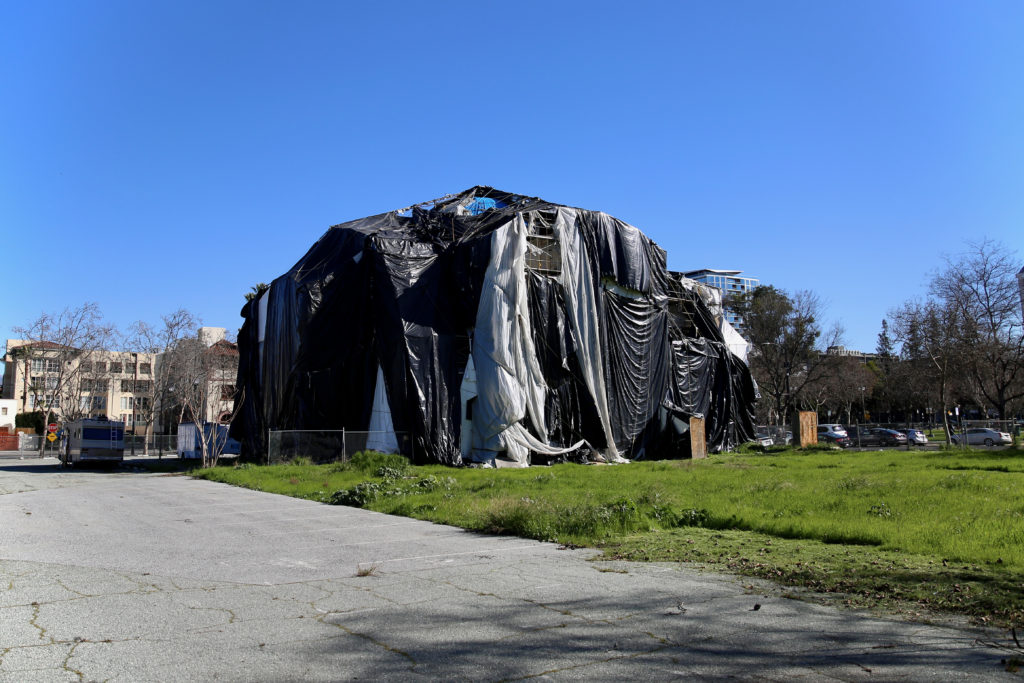 The city previously worked in cooperation with the Preservation Action Council when former Vice Mayor Chappie Jones proposed and received approval for a project in District 1 involving an endangered property in 2022. The project focused on the Ban Family Farmstead, a famed orchard on South Winchester Boulevard, which stood in San Jose for more than 130 years but was in jeopardy by redevelopment.
Jones allocated 90 days for the action council and site developers to relocate the property and any connecting properties. The two groups collaborated along with the San Jose's historic preservation officer and asked developers to help fund relocation efforts, costs that would've instead went towards demolition.
Despite the new year, the farmstead remains on the list of endangered properties while Leech's group continues to search for relocation.
Other popular landmarks on this year's list include the Burbank Theater, which has stood for 74 years and sits on the Santa Clara County Heritage Resource Inventory. Another, the First Church of Christ Scientist, has been in San Jose for 118 years. Last month, in another setback for preservationists, the city deferred a proposal for $200,000 to weatherproof the church as the structure continues to wither.
Pierluigi Oliverio, a San Jose planning commissioner, said residents miss the businesses and organizations that formerly occupied the buildings, but not the buildings themselves.
"That's the biggest loss of the community because the community strongly supported that business," Oliverio told San José Spotlight. "They miss and will continue to miss the business. I had never heard anyone talk about the actual structure, more or less than the business, the family that ran it, things of that nature."
Oliverio said the city always first considers if the buildings are able to be repurposed, but ultimately has to decide what is best for the city and what is most cost effective.
With the Burbank Theater, Oliverio said there is no parking area and that even if it were to be reused, residents would have little access to get to the structure.
Sam's Downtown Feed, a commercial business on the list that operated for 30 years, is vacant after going out of business last year. It stands on the outside of downtown and has other business owners in the area speaking up in its defense.
Rachel Garay, owner of My Gypsy Soul on McEvoy Street, wanted to purchase the property, but couldn't afford the owner's price. She said people will miss the building if it's torn down and that putting up a new structure would disrupt the aesthetic of all of the buildings on West San Carlos Street. While she understands the value that would come from a new building, she prefers it all stays the same.
"If it wasn't there, it would definitely be something you'd notice wasn't there," Garay told San José Spotlight.
Contact Madison Wilber at minute[email protected] or follow @minutewithmadison on Instagram.