Lawmakers in Silicon Valley have wrapped up a tumultuous and busy year.
2021 was marked with major decisions that will have a lasting impact on the region—as well as those that lay the groundwork for future changes.
With the world entering the third year of the COVID-19 pandemic, local businesses struggling to recover, housing costs exploding and San Joseans heading to the polls for a consequential election, here are some major stories to look out for in 2022.
Election season—and a new mayor 
The San Jose City Council will look significantly different by the end of 2022. San Jose will elect a new mayor to replace Mayor Sam Liccardo, who terms out at the end of the year. Half of the City Council's seats—all the odd districts—are up for election. Districts 1, 3 and 5 are open seats, with the current officeholders terming out, while Districts 7 and 9 have two incumbents running for reelection: Maya Esparza and Pam Foley, respectively. The primary is set for June.
At least seven people are competing for the coveted mayoral seat, including Santa Clara County Supervisor Cindy Chavez, San Jose Councilmembers Dev Davis, Raul Peralez and Matt Mahan, and former Nevada congressional candidate Jonathan Royce Esteban. Tyrone Wade, a former marriage and family crisis counselor, and Brian Smith, a political unknown in East San Jose, are also in the mix.
The election will also be consequential to the power split between business interests and labor unions on the San Jose City Council. Liccardo, who is more conservative and business-friendly, lost his council majority this year after Councilmember David Cohen unseated one-term Councilmember Lan Diep in the 2020 election.
The election is already shaping up to be expensive and combative. Liccardo is not ready to give up his influence. In November, he formed a political action committee to back his favorite candidates—who he has yet to announce. The PAC raised a whopping $400,000 during a single fundraiser event. The mayor's PAC appears poised to replace the defunct chamber of commerce PAC and compete against the powerful South Bay Labor Council's PAC, which spent about $400,000 to elect labor-friendly candidates in 2020.
At the county level, voters will weigh whether they want a new sheriff, district attorney and assessor. For the first time, all three county offices—which are held by longtime incumbents Laurie Smith, Jeff Rosen and Larry Stone, respectively—have numerous formidable challengers. Two supervisor races will take place in Districts 1 and 4, with Supervisor Mike Wasserman terming out and Supervisor Susan Ellenberg seeking reelection.
That means the heart of Silicon Valley could see 11 new leaders emerge from this election.
Pending approval from the City Council, voters might also decide whether to switch city elections to ranked-choice voting, which allows residents to select their first, second and third choices for elected officials, move San Jose's mayoral contests to presidential election years starting in 2024 and expand the City Council from 10 districts to 14, among other changes.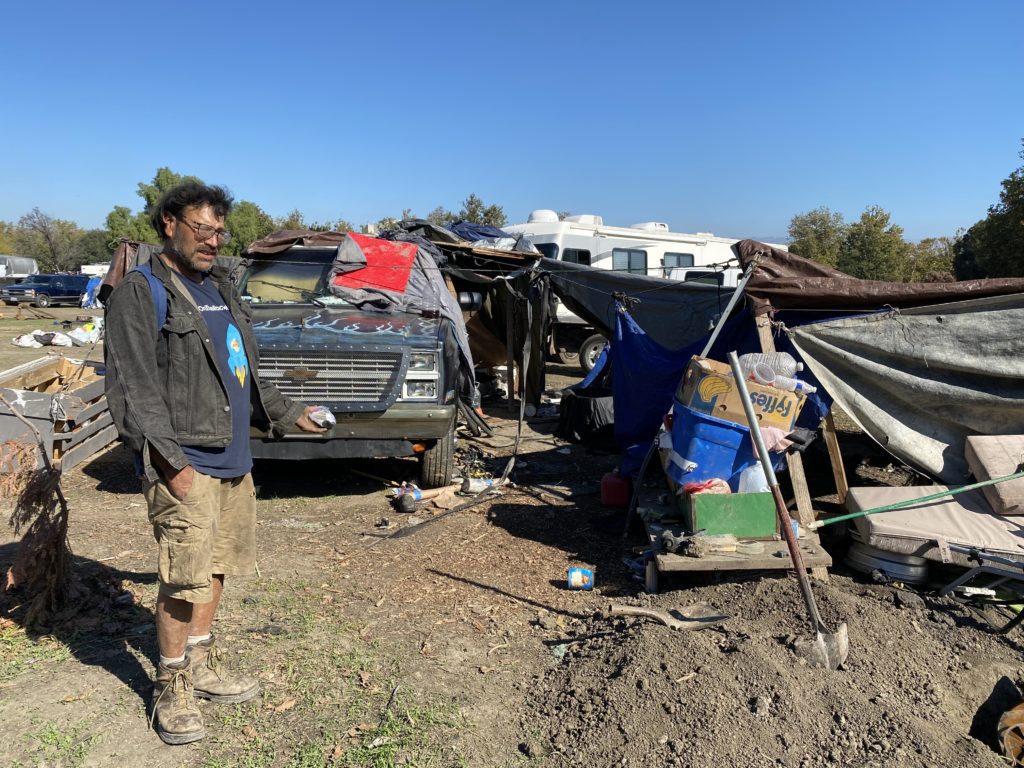 Solving the homelessness crisis 
With homelessness exploding across the South Bay and a record number of people dying on the streets, Silicon Valley's fight to end homelessness is sure to dominate headlines in 2022.
Local lawmakers have raced to provide more temporary housing through motel and hotel rooms. In September, Liccardo unveiled an ambitious goal of reducing homelessness 20% by next year through building more prefabricated modular homes. Santa Clara County also has a plan to end homelessness by 2025, but those plans have drawn much skepticism from those who have waited years and seen little results.
The county is expected to tally its homeless residents in a biennial count next year—the first since 2018 after COVID canceled the 2020 homeless census.
And San Jose officials are grappling with clearing a massive homeless camp—one of the largest in Bay Area history.
With a mandatory deadline approaching, San Jose lawmakers are scrambling to find solutions for a 40-acre encampment at Columbus Park in downtown San Jose where more than 150 homeless people live. The camp grew drastically in size with the pandemic.
The land is owned by the Federal Aviation Administration. The park sits under the flight path of Mineta San Jose International Airport and is unsafe due to its heavy noise pollution and proximity to runways. The FAA is threatening to withhold millions of federal dollars from San Jose if the encampment isn't cleared.
In October, the city shelved a plan to build a $1.5 million, 8-foot high fence around the park. Instead, lawmakers wanted to focus on clearing the camp and preventing illegal dumping. Others proposed deploying park rangers to keep the area clear. San Jose recently added barriers around the park, as unhoused residents and advocates cried foul.
COVID-19 recovery 
San Jose still needs to determine what to do with $40 million in remaining COVID-related federal aid after the City Council voted unanimously in November to delay allocation plans.
The American Rescue Plan, a sweeping $1.9 trillion coronavirus relief package signed into law in March, provided $350 billion overall to state, local, territorial and tribal governments. San Jose received a staggering $212 million cash infusion, the majority of which has been used to address next year's deficit, provide food and rental assistance to the most vulnerable residents and alleviate financial burdens for small businesses.
Some lawmakers wanted the remaining money to help build transitional housing for the homeless, hire more police and improve child and youth services such as childcare facilities, among other proposals. The city also considered investing in COVID-related food services and expanding San Jose Bridge, a homeless trash pickup program.
As federal and state COVID safety nets unraveled last year, San Jose will have to find new ways to support an uneven economic recovery in the region, where small businesses and consumer-facing shops continue to struggle to stay afloat.
The city is also working with local nonprofits through a $1.17 million federal grant to support struggling businesses in downtown, central and East San Jose. Local lawmakers also voted to extend a popular outdoor dining and business program through 2022 to help restaurants and other businesses operate on closed public streets, as new COVID variants emerge. The city's eviction centers will continue assisting local renters in 2022.
Google and the future of downtown San Jose
Downtown San Jose is on the verge of a transformative era, with several mega campuses in the pipeline.
San Jose lawmakers earlier this year approved for Google to build its plan for an 80-acre office and 4,000-unit housing complex in downtown San Jose. Dubbed as Google's Downtown West project, the campus has been called a city within a city. It will include a community center, parks and retail, cultural and education spaces. Experts believe such campuses will help revitalize the once neglected downtown.
Google expects to start construction late next year, with plans to finish the campus in the next decade.
In response to community protest against its development, Google agreed to dole out $200 million in a community benefits fund. But who gets to sit on the committee that would oversee the money is yet to be determined, and decisions on how funds should be distributed could take up to a decade.
County jails
More than a year after the Santa Clara County Board of Supervisors promised to replace the county's Main Jail South with a mental health facility, county lawmakers still can't decide on how to proceed.
Opposition to the county's plan to build a new jail started years ago, as advocates called for more mental health services. Tensions escalated after three correctional officers murdered an inmate who had a mental health disorder.
County leaders approved a plan to scrap the construction of the new jail in late 2020, but backed off the plan just a few months later. Some supervisors worried the mental health center would take years to build while inmates live in crumbling facilities.
Santa Clara County spent months soliciting opinions and concerns from the public—during which many spoke against a new jail. Supervisor Susan Ellenberg, who attended one of the community forums, asked the county to delay its decision in November, citing concerns about incomplete surveys and reports.
The board will revisit the issue in January.
New housing law 
San Jose has decided to abandon a controversial housing proposal called Opportunity Housing that would allow the city to build denser in single-family neighborhoods. Instead, lawmakers have plans to build on a similar state law, Senate Bill 9, that allows more homes on single-family lots.
The law takes effect Jan. 1 and lets developers build up to four homes on a single-family lot. In San Jose, 94% of the residential land is classified as single-family neighborhoods. The city's initiative and SB 9 share some similarities, but the state law doesn't have an affordability component, experts said.
The decision came after more than a year of intense debate. Advocates say the change in law would help address the city's crippling housing shortage, while opponents call it a threat to suburban, single-family neighborhoods.
The city has started to take applications for SB 9 projects, but officials are still working to potentially expand how the law works locally to make SB 9 projects more affordable—in addition to exploring the feasibility of building denser in historic neighborhoods. City officials said some provisions of SB 9 remain murky and sweeping changes are unlikely.
Contact Tran Nguyen at [email protected] or follow @nguyenntrann on Twitter.