After a whole year in a pandemic, many Santa Clara County residents hoped 2021 would bring something different.
The world reopened, which allowed for some beautiful moments in our community. But there was also turmoil and struggle for many living in Silicon Valley.
Here's a look at photos from this year in San Jose and beyond.
2020 election divides communities
The Bay Area is known as a liberal bastion in the United States, but former President Donald Trump was still able to strike a chord with many communities, particularly San Jose's Vietnamese community who held a rally on Jan .6, the day of the attempted coup to protest what they believe was a rigged election.
Close to 80 people, mostly Vietnamese-Americans calling themselves the "Vietnamese Movement for Trump," organized a rally and marched across the street from the Grand Century Mall in Little Saigon.
Libraries and other community spaces reopen
After months of shutdowns and isolation, the reopening of regional libraries felt like Christmas morning for patrons and staff alike. The Santa Clara City Library expanded access to indoor services earlier this year, alongside the Santa Clara County Library District and some branches of the San Jose Public Library.
It was an important marker in the city's reopening, as it was one of the last public spaces to remain closed throughout the pandemic. Its opening represented a return to normalcy for some.
VTA mass shooting claims 10 lives
Tragedy struck San Jose on May 26 when a disgruntled VTA employee opened fire on his coworkers at the Guadalupe Light Rail Yard at 100 W. Younger Ave., claiming the lives of 10 individuals including the shooter.
On the day of the tragedy, public officials and law enforcement from the city, state and federal level gathered to investigate and inform the San Jose community desperately waiting to understand how it all went down.
A day after, thousands of residents, comprised of family members of the slain victims, VTA employees and other San Joseans gathered at city hall to mourn together and remember the lives lost.
A San Jose icon threatened
The 61-year-old Berryessa Flea Market is still open for the public, but its future was threatened after the San Jose City Council took a vote on June 27 to rezone the land for a new development known as the BART Urban Village, a 3.4 million square foot project on the flea market site.
The weeks leading up to the controversial vote were marked with a hunger strike by several of the 450+ vendors and impassioned pleas by many residents who frequent the long-standing flea market in an effort to save the site. While their efforts were unsuccessful in deterring a vote, many are still working with the city to shape the future of the flea market.
Schools and community rethink relationship with police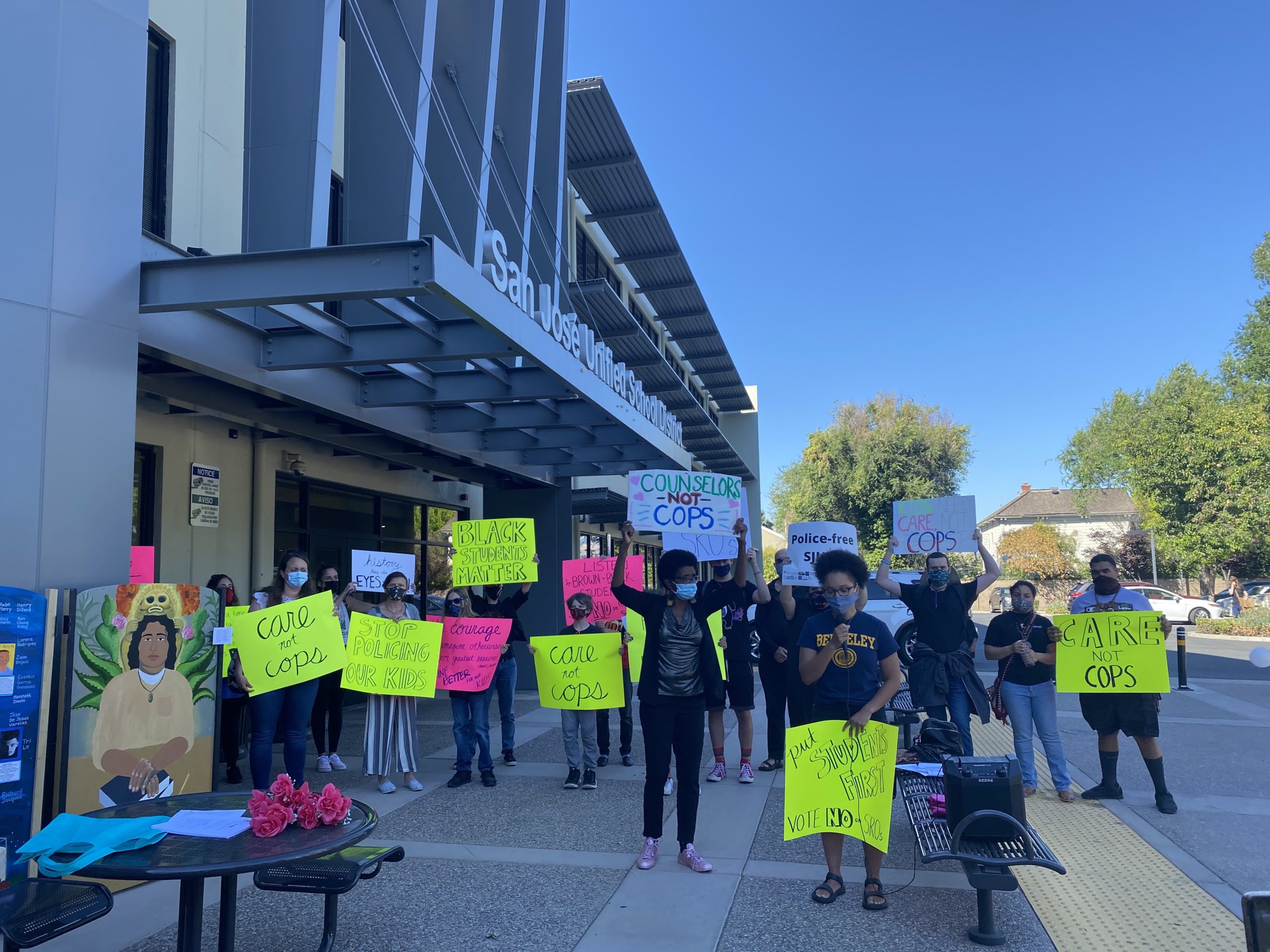 After an intense summer of protests calling for cities around the country to reimagine policing in 2020, one of the biggest conversations was around removing police presence from San Jose schools.
In fact, San Jose Unified School District, the largest school district in Santa Clara County, voted to end its contract with San Jose Police in 2021. The contract was later revisited to allow cops on campus for special events, but the conversation still persists in San Jose.
San Jose sweeps more than 200 encampments
The homeless encampment in Columbus Park remains, but the city swept 224 other unhoused sites in 2021. Despite guidelines from the CDC, San Jose cleared many of its camps, forcing unhoused residents to collect their belongings and find new shelter.
City data revealed 75% of those removals happened in Districts 3 and 7, which includes the city's downtown core and parts of East San Jose.
Housing crisis forces many to live in bleak situations
Uriel Camorlinga is one of more than a dozen residents abruptly forced out of their home on Santa Teresa Boulevard near Spina Farms in South San Jose because it wasn't up to code.
Many resorted to living without electricity, water and plumbing in those homes in an effort to avoid ending up on the streets.
While Camorlinga later received financial support from the city, his story is representative of the ongoing struggle to afford housing as prices continue to rise in Silicon Valley.
Vietnamese American Service Center opens and community rejoices
It wasn't all bad news in San Jose in 2021, especially on Oct. 23, when the Vietnamese American Service Center finally opened to offer a myriad of services to Santa Clara County's Vietnamese community—one of the largest enclaves in the nation.
The 37,000 square foot, three-story building is located at the intersection of Senter and Tully roads in San Jose. The $50 million project was much-anticipated by residents and took nearly a decade to finish.
Children finally eligible for COVID vaccines
On Nov. 3, youth ages 5-12 became eligible for COVID-19 vaccinations, offering many a source of hope as the pandemic continues on. Hundreds of children lined up with their parents at Emmanuel Baptist Church in East San Jose to get their first dose of the children-sized vaccines.
SJSU students fight for housing
However, many students at San Jose State University fought a different fight, as 11% of the population has experienced at least one night of homelessness in the last year. They asked SJSU President Mary Papazian to fulfill all aspects of the university's deal with the Student Homeless Alliance (SHA) before the year and her tenure ended.
SHA held a news conference a few weeks before Papazian's last day to remind the campus of unmet promises, depicting what 4,000 unhoused students looks like and how many were actually able to get housing through SJSU.
Homelessness is city's biggest failure and remains the most pervasive issue of the year
It's no secret that homelessness is San Jose's biggest problem, and as Mayor Sam Liccardo admitted in his annual State of City address, it's also the city's biggest failure.
Throughout the year, the city was able to house 4,900 residents, but as evidenced by the growing number of tents and blight, it wasn't enough to curb the rate of residents falling into homelessness.
Carole Roberts is one of the thousands of residents living in the city's streets, creeks and parks. The holiday season is not a hopeful one for local unhoused residents, as the cold and rainy weather makes the already trying conditions significantly harder.
Record breaking deaths in homeless community
The growing problem of homelessness is highlighted as Santa Clara County's annual homeless death toll breaks records once again—a somber reminder of the exacerbating housing crisis and inequality in one of the wealthiest regions in the nation.
Shaunn Cartwright, a longtime advocate for the unhoused community, helps organize the annual homeless memorial to remember the lives lost and raise awareness.
This year, more than 200 homeless residents died on the streets—141 of which were seniors.
"Most of them are preventable deaths," Cartwright told San José Spotlight. "This year, more than any other year, we would go to camps and every camp was talking about people dying."
Contact Jana Kadah at [email protected] or @Jana_Kadah on Twitter.