After more than three years of community wrangling and negotiations, one of the world's largest tech giants will have a home in downtown San Jose.
The San Jose City Council Tuesday voted unanimously to approve Google's Downtown West project, a multi-billion dollar plan by the company to expand into downtown San Jose.
"Thousands of our community members rolled up their sleeves. A lot of community members pushed and prodded and co-created," Mayor Sam Liccardo said of the project. "They encouraged Google to stretch and reach higher."
Google's path to San Jose began with eight activists in 2018 chaining themselves to chairs inside City Hall, staging a civil disobedience over the city's decision to sell public land to the tech giant. It ended Tuesday with a quiet Zoom meeting and a tearful speech from the city's economic development director.
On Tuesday, just one lone protester stood outside City Hall hours before the historic decision.
"I acknowledge that Google isn't going anywhere, and we do need Google in some ways," said Stephanie Avila, founder of local mutual aid group Houseless Homies SJ. "But we have to do it in ways where we're preserving the culture of San Jose and we're protecting the people of San Jose."
The project, first proposed by the tech giant in 2019, spans 80 acres near Diridon Station and features 7.3 million square feet of office space, 4,000 housing units, 15 acres of parks and a 30,000-50,000-square foot community center. It also boasts 500,000 square feet for retail, cultural, education and arts uses. A quarter of housing units in the area—approximately 1,000—will be affordable.
"This is not only the largest development in San Jose history, it's also one of the most significant and transformative large-scale, transit-oriented developments happening in the world," said Councilmember Dev Davis, whose district includes part of the project. She joked that she was so excited about the project she "could barely eat her dinner."
Davis, along with Councilmember Raul Peralez, met several times with Google representatives and local neighborhood associations in hopes of meeting the community's demands.
"It took the whole city to come together," Peralez said.
Google estimates that up to 25,000 people will work at the downtown offices.
City officials said the project allows for quick building of affordable housing, a key part of the plan.
"Moving quickly to develop affordable housing is the best way to discourage displacement," said Nanci Klein, the city's director of economic development.
Klein also said the city and Google are looking at ways to ensure small businesses aren't displaced.
Some community members have continued to oppose the project, saying Google will not build enough affordable housing units, and many residents—including Google's own workers—will be priced out of the units at Downtown West.
"Downtown is almost near its maximum capacity," said Jo'Leysha Cotton, a graduate student in the Department of Urban & Regional Planning at San Jose State University early Tuesday. "I just don't see how, other than the revenue coming from the city, I don't see how it will help issues such as housing supply. I actually think it will make it worse."
Downtown West faced concerns over the past year about gentrification and high rents in the area. In response, Google launched a $200 million community benefits fund to provide grants for programs serving low-income residents, addressing the causes of displacement and helping to preserve affordable housing in the area. The community benefits agreement includes $154.8 million for anti-displacement, homelessness and affordable housing efforts.
"The increase in property values will lead to an increase in rents, which lead to homelessness and displacement," said Sandy Perry of the Affordable Housing Network on Tuesday. "For this amount of misery to continue to exist in our city with this amount of wealth is unacceptable."
Cotton said she was concerned about the amount of affordable units going to San Jose residents to solve the region's housing crisis, and if low-income residents could actually afford them.
"What price is affordable?" Cotton asked. "Is it just affordable for those who are receiving a Google salary, or will it be affordable to janitors at Google?"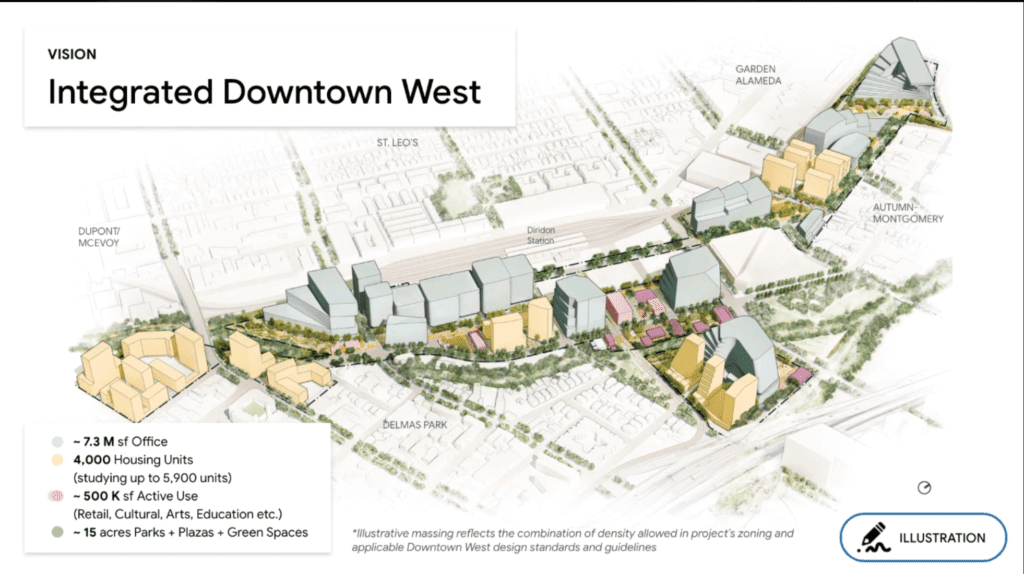 Members of the Diridon Area Neighborhood Group (DANG) praised the project and the amount of meetings held between Google representatives and the group.
"Thank you for listening, for caring about our concerns," said Kathy Sutherland, a member of the group. "Your outreach with the DANG has created a level of trust we didn't expect."
A poll released Thursday sponsored by the Silicon Valley Leadership Group, a prominent tech-driven trade association, shows 70% of residents surveyed support the project overall.
"The public opinion survey confirms that our local neighbors recognize the many tangible benefits of the Downtown West project," said Derrick Seaver, chief executive officer of the Silicon Valley Organization, the city's chamber of commerce. "San Jose cannot miss this once-in-a-generation opportunity to pivot into the next great American city and to promote local placemaking for a more inspired, vibrant community."
Downtown West cleared several hurdles over the past few months, including a unanimous recommendation from the city's Planning Commission.
Vice Mayor Chappie Jones said he was "pessimistic" about the project in the beginning, but said the project creates a framework on how the city can come together to get things done. "We're creating something special that I think we can all be proud of," he said.
Jones said he wanted to push Google to support more minority-owned businesses and include them in the planning process as the project builds out.
One of the project's most vocal opponents was the San Jose Sharks, whose home arena—the SAP Center—is just a few hundred feet away from Downtown West. The Sharks claimed the project could force them out of San Jose because of traffic, street closures and a shortage of parking caused by development. Team officials demanded the city nearly double the parking spots in the plan.
"We continue to work with city staff in good faith to find reasonable solutions to these extremely important issues that will impact the future of the SAP Center," Sharks spokesperson Scott Emmert told San José Spotlight on Monday.
In a new settlement announced Tuesday, the city will guarantee at least 2,850 parking spaces during construction of Downtown West as part of an agreement with the Sharks organization, according to Jessica Zenk, the city's deputy director of transportation. In exchange, the Sharks have pledged not to legally challenge the city's plans.
"The city and Google absolutely hear the Sharks' critical need for essential access," Zenk said. "We will absolutely continue to coordinate with Sharks Sports & Entertainment moving forward and firmly believe the Sharks will be able to succeed and thrive with the project as its neighbor."
The Santa Clara County Airport Land Use Commission also gave the project a thumbs down, citing concerns about building heights in the airport's path. Because of the commission's vote, the City Council needed a two-thirds majority vote in favor of the plan to override the airport commission's rejection.
Tuesday's vote clears the way for Google to draft design plans for each building proposed for Downtown West, which the council will individually approve or deny in the future.
"This project has inspired so many," Klein said, her voice breaking. "We have been drawn together to make a difference and contribute to the collective future of San Jose."
Google expects to break ground in either late 2022 or in 2023, with its first phase of building on Santa Clara Street expected to last three to five years. Full buildout of the project is expected to take at least a decade.
"We're not going to stop this vote," Avila said. "What we can do is put the pressure on the City Council to make these conversations equitable."
Contact Lloyd Alaban at [email protected] or follow @lloydalaban on Twitter.