A poll in 2015 found San Jose had one of the smallest LGBTQ+ populations of any metropolitan area. And in 2013, a county health assessment reported about 4% of Santa Clara County's population was estimated to be a part of the LGBTQ community.
Across the country, LGBTQ people have struggled to gain recognition in leadership positions and have been particularly underrepresented in government and other institutions across Santa Clara County. According to the 2013 health assessment, the LGBTQ community also faces various health disparities and inequities and struggles to access basic resources such as affordable housing and social services.
Activists have worked for decades for LGBTQ residents in Silicon Valley to have access to services they need, as well as for a safe and encouraging community to support them. In celebration of Pride Month, here are 15 influential LGBTQ leaders in alphabetical order by first name.
We also recognized the 15 most influential Black leaders for Black History Month in February and 15 women who shattered barriers for Women's History Month in March.
Alex Lee
Alex Lee was the first openly bisexual person elected to the state Legislature at age 25, and the youngest Asian American member of the Legislature. He grew up locally in Milpitas and San Jose.
When he was sworn into office, Lee told San José Spotlight in 2020 he would focus on housing affordability, since he sees it as the most pressing issue facing the Bay Area.
Lee was inspired to run his campaign like Sen. Bernie Sanders—who he was endorsed by—by denying campaign money from corporate donors, which included lobbyists from the fossil fuel industry. Lee said in 2020 that the decision was meant to reflect that political candidates like himself were to be held accountable by more than just their words.
"The important thing is to me, and I really stress this, trying to get more diverse people and young people into politics so that I'm not the only person that is ever there,"  Lee told San José Spotlight. "I don't want to be first and last."
Billy DeFrank
Billy DeFrank, born William Price, was a popular Black activist in the 1970s.
DeFrank was a drag entertainer and gay rights activist who worked to help develop LGBTQ communities across the state. He used the money he gained from his performances to support numerous LGBTQ organizations and causes.
The Billy DeFrank Gay and Lesbian Community Center opened in 1981 in San Jose, a year after DeFrank died of a heart attack. The center was founded after local activists witnessed Santa Clara County residents vote to repeal housing and employment protections to those in the LGBTQ community.
The center is still open today and serves members of the LGBTQ community who come from all over the Bay Area. The center serves more than 1,000 people each month.
Bonnie Sugiyama
Bonnie Sugiyama is the director of San Jose State University's PRIDE and Gender Equity centers. This comes full circle for Sugiyama, who began advocating for LGBTQ rights as a college student at Sacramento State.
During her time there, she advocated for and founded the PRIDE Center on campus. After graduating she moved to the Bay Area where she helped revamp Sonoma State University's Center for Culture, Gender and Sexuality before becoming the founding director of the PRIDE Center at SJSU. The center provides resources to LGBTQ students in the form of personal or academic assistance.
Sugiyama said the most rewarding part of her career is witnessing students' personal and professional growth.
"Our goal is to help students find themselves and be themselves," Sugiyama told San José Spotlight.  "But also to learn how to advocate for themselves and for their community, when they go out into the work world."
Evan Low
State Assemblymember Evan Low has lived in Silicon Valley his entire life, and during that time has been vocal in his stance on stopping discrimination against the LGBTQ community.
Low is a product of local colleges and universities—De Anza Community College and San Jose State University—before graduating from the Senior Executives in State and Local Government Program at Harvard University. He was the first Asian American elected to the Campbell City Council in 2006, and four years later at age 26 he became the youngest openly LGBTQ mayor in the country in Campbell.
Low was then elected to the state Assembly in 2014, making him the youngest Asian American legislator elected to the Assembly in California, at age 31. He serves District 28, which includes South San Jose, Los Gatos, Saratoga, Monte Sereno, Cupertino and his hometown of Campbell.
Gabrielle Antolovich
Gabrielle Antolovich is board president of the Billy DeFrank LGBTQ+ Community Center in San Jose, but has been an activist since the earliest days of their life.
Growing up in Australia, they saw their Yugoslavian parents attacked for not speaking English and for looking different than most everyone else.
Antolovich carried this flame for activism throughout their life. In high school, they protested against female students feeling pressured to wear exposing bikinis by sewing swimsuits that covered them neck to knee, and at one point protested capitalism by living in a commune.
Antolovich joined the first LGBTQ+ center in Sydney in 1969 after witnessing gay men being beaten. Before joining the leadership team and leading the Bill DeFrank Center, they were in charge of Voices United, another local organization that works with teenagers to stay away from alcohol, tobacco and other substances.
James Gonzales
James Gonzales is a police officer with the San Jose Police Department who has worked within law enforcement for more than 18 years.
Gonzales served as board president for more than five years of the Bay Area Municipal Elections Committee (BAYMEC). He also served as the former vice president of the San Jose Police Officers' Association, and before that, he served as the political and community relations director for the organization.
Gonzales came out publicly in 2008 during a live TV appearance where he was speaking against Prop. 8, which would have banned same-sex marriage in the state.
During his time at SJPD he has seen changes in favor of protecting the LGBTQ community. San Jose announced in 2016 that it would end targeted enforcement of lewd conduct against gay men in front of public restrooms. In 2017, the department also became the first in the nation to show same-sex couples in a hiring ad, in an attempt to recruit more LGBTQ police officers.
The department has also led the nation in raising a rainbow flag in 2019 after launching the "SAFE PLACE" program, which was established to tackle hate crimes by working with local businesses to promote more consistent reporting.
Judy Rickard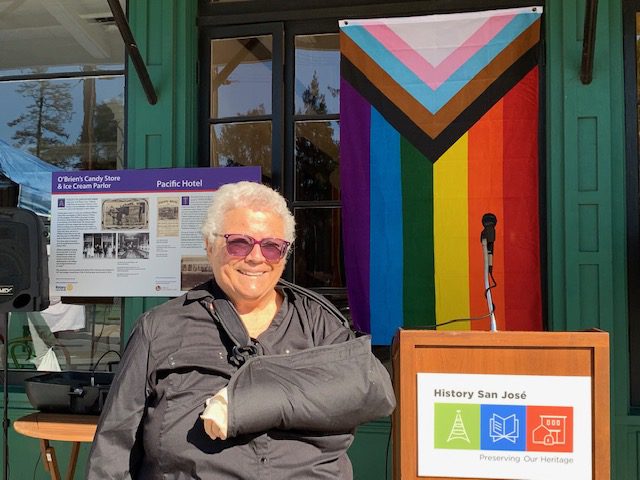 Judy Rickard has spent her life advocating for LGBTQ rights, which eventually led to being recognized by President Barack Obama in March 2013 as a Cesar Chavez Champion of Change for Immigration.
Rickard grew up in a family where her father and uncles were ministers, which helped shape her commitment to activism and transparency. Her first major hurdle came in her late 20s, when she fought against the anti-gay propaganda her minister cousin was sharing with attendees of the Los Gatos Church.
She came out as gay more than 50 years ago while in graduate school. She met her wife, Karin Bogliolo, in 2005 and they were joined together in a domestic partnership ceremony at the Billy DeFrank Center in 2007. Issues with immigration often played a role in the couple's ability to legally be together. The couple later eloped in Vermont, but while legally married, their marriage was not recognized by the federal government because of the 1996 Defense of Marriage Act.
She wrote a book, "Torn Apart: United by Love, Divided by Law" which discusses these experiences. She also wrote an article for the American Immigration Council on same-sex binational families.
Ken Yeager
Ken Yeager grew up in Riverside and moved to San Jose at 18 to attend San Jose State University.
Yeager's life in politics began after reading an op-ed in 1984, which was advocating against a bill that would've made it illegal to discriminate against sexual orientation. A week later he published his own op-ed announcing he was gay and wrote about the need for acceptance of gay and lesbians and never looked back.
He went on to win the race for a seat on the San Jose-Evergreen Community College District board in 1992, becoming the first openly gay elected official in Santa Clara County. He was elected to the San Jose City Council in 2000 and the Santa Clara County Board of Supervisors in 2006 serving until 2018.
As a supervisor, Yeager established the Office of LGBTQ Affairs to help improve the lives of LGBTQ residents. He now serves the community as the founding executive director of the BAYMEC Community Foundation, which provides education and services to LGBTQ community members.
"I knew that we had a fight for our lives going on, and I've been very active since 1984, trying to give political representation and equality to LGBTQ residents in the county," Yeager told San José Spotlight.
Nicole Altamirano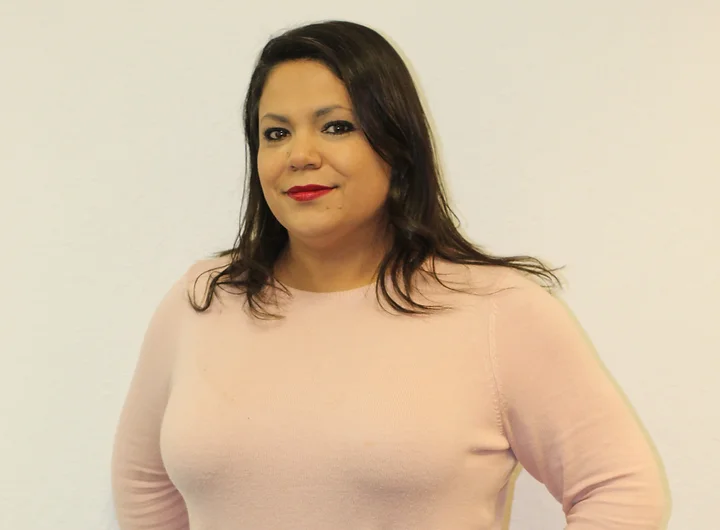 Nicole Altamirano took over as CEO of Silicon Valley Pride in 2020, after first being inspired by former CEO Thaddeus Campbell to get involved with the LGBTQ community.
Altamirano began as chief operating officer at Silicon Valley Pride and while there curated the "Hey Girl!" initiative, which focuses on women, transgender women and nonbinary individuals within the LGBTQ community.
"Really focusing on our diverse population, and not just having Pride, which has been historically geared towards cisgendered, gay, white males," Altamirano told San José Spotlight of her proudest accomplishments. "(But) really opening that for the beautiful, eclectic community that we reside in."
Altamirano also credits her dedication to the Silicon Valley Pride parade each year to carrying out Campbell's vision for it.
Omar Torres
Freshman Councilmember Omar Torres is the second openly gay member to serve on the San Jose City Council and the first openly gay Latino man on the council.
Prior to becoming a city councilmember, he served on the Franklin-McKinley School District board from 2014 to 2018, and on the San Jose-Evergreen Community College District board from 2020 to 2022.
His interest in public service first began at age 14 when there was a drive-by shooting near his elementary school. The shooting propelled him into action, helping organize the community and fight for a youth center and library.
Shane Patrick Connolly
Shane Patrick Connolly is chairman of the Santa Clara County Republican Party and was chief of staff for former San Jose Councilmember Johnny Khamis. He is also a leader for the Log Cabin Republicans, an LGBTQ Republican organization.
Connolly said two of the biggest influences in his life are his mother, who volunteered frequently, and his faith, which influenced him to get involved in his community and prioritize equality.
"I've always thought it was important for the LGBTQ community to not be beholden to just one political party or one ideology, but to have diversity in our viewpoints and to have broad support," Connolly told San José Spotlight. "Part of me being involved is making sure that there (are) voices in the community who provide a different perspective on some hot issues."
Sparky Harlan
Sparky Harlan is the former CEO of the Bill Wilson Center, which was founded on a dedication for housing support in 1973 and which she joined in 1983. For more than 40 years, Harlan supported the homeless youth population in San Jose in a variety of leadership roles.
Harlan is originally from Oakland, but grew up in Hayward and Tuolumne County, and as a teen she spent time in juvenile hall. It was during her time at San Francisco State University where she also experienced homelessness herself. These extreme life experiences led her to becoming a counselor and laid the framework for her to become director of the housing nonprofit Huckleberry House in San Francisco.
Harlan told San José Spotlight earlier this year that one of her greatest moments was buying a building in downtown San Jose in 1999 which she transformed into a drop-in services center.
Terry Christensen 
Terry Christensen has been a political science professor at San Jose State University for decades and even chaired the Department of Political Science from the late 1990s to the early 2000s.
Christensen is also the founding executive director of CommUniverCity San Jose, which focuses on community service projects for SJSU students that come from ideas by neighborhood residents in various parts of the city.
Christensen hosts his own monthly TV show titled "Valley Politics," which dives into politics and public policy matters within San Jose and Silicon Valley.
Christensen graduated with a bachelor's degree from Stanford University before earning his PhD at the University of North Carolina at Chapel Hill. He has also written and coauthored a total of nine books about local and state politics, including "Movers and Shakers," a book he cowrote about a 1982 study about political power in San Jose and other cities.
Thaddeus Campbell
Thaddeus Campbell was an LGBTQ leader who helped bring back the Silicon Valley Pride parade in 2015 during his time as Silicon Valley Pride's CEO. He served in the role for six years, and relaunched the annual parade after a decade without it.
"I really credit that to Thaddeus and he had a vision," Altamirano told San José Spotlight.
While working at Twitter, Campbell's goal was to ensure Silicon Valley Pride's parade was the most tech-forward celebration in the U.S., and for this reason he created an app to help guide festival attendees. He aimed to ensure the South Bay LGBTQ community had a place in Silicon Valley to feel respected, included and embraced.
Campbell was born and raised in Atlanta and graduated from Harvard University. He moved to San Jose in 1984 and died in 2019.
Wiggsy Sivertsen
Aimee Devereaux "Wiggsy" Sivertsen is a leading LGBTQ activist. After being fired from her counselor job in 1968 at Peninsula Children's Center in Palo Alto for being a lesbian, she became San Jose State University's first openly gay employee.
Sivertsen first got involved in politics in 1978 to help defeat Prop. 6, which would have banned gays and lesbians from teaching in California public schools. From there, she launched into leadership roles when it came to LGBTQ rights in Silicon Valley.
Sivertsen teamed up with others to form a regional LGBTQ+ political action committee known as the Bay Area Municipal Elections Committee (BAYMEC).
Contact Julia Forrest at [email protected] or follow @juliaforrest35 on Twitter.