Judy Rickard didn't realize she was a lesbian until graduate school. The 73-year-old spent the next 50 years of her life fighting for LGBTQ rights.
"I always knew I was different but I didn't know what that was," Rickard told San José Spotlight. "If you're different and you know it, it's one thing. If you're different and you don't get it, you're in limbo. I didn't have friends or relatives who were gay."
But even in the 1970s, Rickard was brave and determined. She faced off with her cousin, Marvin Rickard, a minister at the Los Gatos Church who was openly spreading anti-gay propaganda. She was 28 years old and had just come out of the closet.
"I could stay quiet and wither away or see if I could do something about it," she said.
Rickard went to a top county human relations official to complain about the growing hate against LGBTQ people in Silicon Valley, led by her cousin, with the hopes of bringing the issue to county lawmakers. Then it got personal: Rickard wrote her cousin a heartfelt letter.
"We are all people," she wrote. "It is wrong to discriminate against my community."
Her cousin responded that he never expected to receive a letter like that from a family member. Rickard had grown up in the church as her father and uncles were ministers.
That letter may have been her first act of bold activism—but it would not be her last.
Over many decades, Rickard worked closely with politicians from Ken Yeager to Ann Ravel to promote LGBTQ rights. President Barack Obama recognized her in March 2013 as a Cesar Chavez Champion of Change for Immigration and she spoke on a panel at the White House.
"She's as much of a long-time warrior as we have here in Santa Clara County," said Yeager, who co-founded the LBGTQ political action committee Bay Area Municipal Elections Committee (BAYMEC). "She holds her ground and gets everybody to agree with her at the end. Everybody likes her."
Rickard served on Yeager's board for the BAYMEC Foundation's exhibit "Coming Out: 50 Years of Queer Resistance and Resilience in Silicon Valley," which just opened at History Park.
Rickard's close friend, Arlene Rusche, describes her as diplomatic, forthright and a tireless worker for equal rights. While Rickard was a mover and shaker for LGBTQ rights in Silicon Valley, she also devoted time to fight for immigrants' rights.
"She supports rights for a lot of people," Rusche said. "It's not always just a gay thing; it's a people thing."
Rickard began advocating for American citizens to sponsor visas for LGBTQ spouses overseas after falling in love with her wife, Karin Bogliolo, who is from England and was not a U.S. citizen.
They met online in 2005 and Bogliolo, who was in Oregon visiting friends, invited her to come to a dance.
"I just liked her," said Bogliolo, adding that Rickard is loyal, kind and generous.
One night while watching a sunset on a Hawaiian cruise, the couple decided to stay together forever and tossed their leis into the sea.
In 2007, they were joined in a domestic partnership ceremony hosted by the Billy DeFrank Center on Valentine's Day. But they could only spend limited time together because Bogliolo wasn't an American citizen.
In 2008, federal agents detained Bogliolo at San Francisco International Airport. They told her she visited America too often and needed to leave the country for an extended period of time.
The couple eventually eloped to Vermont which had the shortest wait time for same sex marriage. Although they were legally wed, their marriage wasn't recognized by the federal government at the time due to the 1996 Defense of Marriage Act.
Rickard wrote a book called "Torn Apart: United by Love, Divided by Law" that same year, and later wrote an article for the American Immigration Council on same sex binational families.
"Lesbian, Gay, Bisexual, and Transgender Americans who fall in love with and marry foreign nationals are being asked to choose between country and spouse, country and career, and country and family," she wrote in the article. "I know this because I have spent the last several years in a battle with my own government to recognize my wife for immigration purposes."
The U.S. Supreme Court in 2013 ruled section three of the Defense of Marriage Act was unconstitutional, allowing married, same sex binational couples to sponsor spouses for immigration. Bogliolo received a green card and is now a U.S. citizen.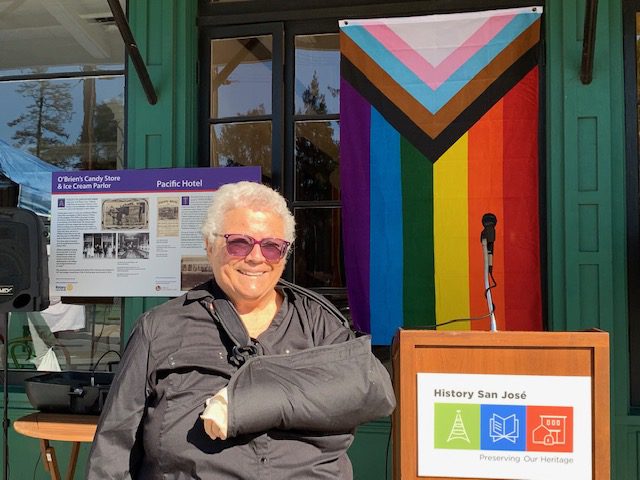 Rickard earned a Bachelor of Arts in journalism and a Master of Arts in mass communications from San Jose State University, where she met another LGBTQ icon—Wiggsy Siversten.
"She's really quite remarkable," Sivertsen said. "She sets her mind to do something, and she does it."
Rusche, her close friend, acknowledged it isn't easy fighting for LGBTQ rights.
"You get knocked down every once in a while, but we kept going," Rusche said. "In the early days, we'd go to a City Council meeting and people would get up and lambast us. To be in the same room as these people who really hate you is hard."
Rickard said the LGBTQ community has created positive change, but is saddened to see hate against the transgender community.
"I thought every time we made progress, it would be encompassing," she said, "but it hasn't always been that way. The challenge is for us all to pull together instead of apart."
Contact Lorraine Gabbert at [email protected]