Catch up on our current Coronavirus LIVE BLOG here.
5:30 p.m. April 8: Second inmate tests positive for COVID-19
The San Jose Police Department has confirmed a second inmate has tested positive for the fast-spreading coronavirus, though the first has already recovered and is no longer in custody.
This time, a 25-year-old homeless man was arrested by the San Jose police on April 6. He reported during the booking process at the Main Jail in San Jose that he'd been exposed to COVID-19 through a friend. He was given a mask, taken to the infirmary and tested for the respiratory illness. That test came back positive last night.
"The inmate remains quarantined and is being closely monitored by medical staff," the Santa Clara County Sheriff's Office said in a news release Wednesday. "The San Jose Police Department was notified of the possible exposure to the initial arresting officer(s) by the Sheriff's COVID-19 Investigations Unit as part of contact tracing."
Medical staff have been screening those arrested outside of the jail by asking if they have a cough, shortness of breath, fever or if they've been around anyone with COVID-19, according to the agency.
3:15 p.m. April 8: State makes strides to get more protective equipment
California officials have created a new pipeline that will bring 200 million masks to the state monthly, Gov. Gavin Newsom and Mark Ghilarducci, director of the governor's Office of Emergency Services said Wednesday.
A slew of nonprofit and private organizations and vendors have made agreements that will bring 150 million N95 masks and 50 million surgical masks into California monthly. In the coming week, the state will also acquire technology from defense contractor Patel that will sterilize as many as 80,000 masks daily so they can be reused.
"There are number of different efforts that are happening simultaneously," he said. "These are all sustainable, they will meet our needs in the short-, medium- and long-term. It's leveraging the power of California's buying capability, it is leveraging the great relationships we have with many organizations and agencies to build the capacity that we need."
The state has also asked the federal government for $1.4 billion from the Disaster Response Emergency Operations Account to purchase more personal protective equipment, which Newsom said would go not only to medical workers, but also to other front line workers like grocery store employees.
California's efforts come after state health officials said that anyone going outside should wear a face covering for added protection against the contagious coronavirus, which can be spread before symptoms are evident. Other states around the country are facing a shortage of such supplies, each competing with one another — and the federal government — to get the same equipment.
But Newsom said the new pipeline of masks coming to California each month would help ease local need as state officials continue to work on procuring sustainable supply pipelines for other protective equipment like hand sanitizer.
He added that where possible, California will help other states with procuring protective equipment.
"We need to go boldly and we need to meet this moment without playing small ball any longer," Newsom said. "We need to coordinate and organize our nation-state status … with our procurement capacity that quite literally is second only to the United States itself."
2:45 p.m. April 8: State reports highest daily coronavirus death rate
California Gov. Gavin Newsom on Wednesday offered an encouraging update to residents about the state's progress in finding and buying more protective equipment, like masks, shields and gloves, for frontline workers. But when he got to the part of his daily update about the number of infections, hospitalizations and deaths from the sometimes severe respiratory illness, he took a more somber tone.
As of Wednesday, 442 people across the state had died from COVID-19, an increase of 68 people in the past 24 hours and the highest death rate in the state to date.
"That's 442 families torn asunder since this virus hit the state of California. Our hearts go out to all of them," Newsom said.
Though testing is still limited, 16,957 Californians have tested positive for COVID-19 so far. Hospitalizations and the number of people being treated in intensive care units increased by about 4 percent from Tuesday. To date, 2,714 people have been hospitalized and 1,154 people are in ICUs around the state.
Meanwhile, the state is starting to detangle more details from those numbers to determine who is most affected by the fast-spreading virus, with a critical eye on race and ethnicity. Though not all cities and counties are reporting data, the state has received that information on 37 percent of the infections and deaths reported, or about 6,306 of the cases.
Thirty percent of those infected are Latinx residents, 6 percent are black Californians and 14 percent of the cases were from those of Asian descent. Those numbers "track modestly so within the lines of total population," Newsom said, but he warned that only so much can be extrapolated from that data because of the limited sample size. A team of 10 state officials is working to get more information every day, he added.
"A lot of attention is appropriately being placed, as it always must be placed, on disparities," he said. "Those issues preceded this crisis and they continue to persist in this crisis."
2:30 p.m. April 8: City officials raise awareness on domestic violence amid global increase
Amid rising violence against women and girls during the novel coronavirus pandemic, San Jose officials are raising awareness on domestic violence with resources available to people who may be victims or witnesses. In addition to calling 911 for police or medical attention, here are local resources available to domestic violence survivors:
Already around the world, nearly 18% of women and girls between 15 and 49 years old experienced sexual or physical violence by an intimate partner in the previous year, according to a study by United Nations Women, the global governmental entity for gender equity. But because COVID-19 and government response have heightened concerns around security, health and money — coupled with cramped and confined conditions — the U.N. said domestic violence is likely to increase during the pandemic.
The study found increased reports of domestic violence in France and Argentina by 30% and 25%, respectively, since each country's lockdown. In the United States, there has been an increase in cases of domestic violence and demands for emergency shelter, per the U.N. study.
11 a.m. April 8: County officials require businesses, individuals to report large amounts of PPE, ventilators
Santa Clara County businesses and individuals must report their inventories of large quantities of personal protective equipment and ventilators to get an understanding of supplies needed for medical professionals amid the novel coronavirus pandemic, county health officials said in a briefing Wednesday.
The new public health order, announced by county Health Officer Dr. Sara Cody, is meant to understand what supplies currently exist in the event of a hospital surge of COVID-19 patients.
"We know that there are actually many businesses in our community that do have some significant stocks of this kind of PPE, many of them are not being used right now," Santa Clara County Counsel James Williams said. "Getting this awareness will help us know what supply we can source here locally so we are not as reliant on scarce state and federal supplies."
Most residents will not meet minimum quantities, but businesses and individuals must report — though not submit — supplies of more than 5,000 nitrile or vinyl gloves, 500 N95 or surgical masks, 100 safety goggles, 100 face shields and at least a gallon of hand sanitizer, among other medical equipment. All ventilators, regardless of condition, must also be reported.
Inventory must be logged by next Wednesday through an online form available in five languages on the county Public Health Department website. Williams said the state Health and Safety Code allows the county health officer to obtain information on scarce and critical supplies, which requires information be made confidential.
Currently hospitals have medical supplies to care for patients, according to Dr. Jennifer Tong, who oversees the county's surge capacity. But while officials say measures like the shelter in place order may have slowed the spread of the virus, they expect numbers of cases and deaths to increase in the coming days and weeks.
"This is really an opportunity for our community to come together collectively," Tong said. "Most likely all of us will be impacted by knowing someone affected by COVID-19. And so through this collective effort, we can all achieve a better state together."
The order comes as San José Spotlight reported on nurses in Santa Clara County who feel they aren't being adequately protected as they respond to the coronavirus outbreak. Learn more about the new county order here.
9:55 a.m. April 8: Santa Clara County health centers get more than $3.6m for COVID-19 response
The Department of Health and Human Services will provide Santa Clara County health centers more than $3.6 million for screening and testing, medical supplies and boosting telemedicine capacity to respond to the novel coronavirus pandemic, according to the office of Rep. Zoe Lofgren (D-San Jose).
Funding comes from Congress' latest $2 trillion COVID-19 stimulus package, the Coronavirus Aid, Relief and Economic Security, or CARES, Act, which Lofgren supported.
"The pandemic has brought pain and changed life in Santa Clara County, but I am certain we will meet this challenge and persevere through this troubling time," Lofgren said in a statement. "I supported the CARES Act in Congress to immediately provide relief to families and small businesses while robustly aiding our local health care efforts."
The following health centers in Lofgren's Santa Clara County congressional district will receive the funding:
$1,675,370 for the San Jose Foothill Family Community Clinic;
$1,303,895 for the Gardner Family Health Network;
$660,830 for the School Health Clinics of Santa Clara County.
4:15 p.m. April 7: A dozen SCC Sheriff's Office deputies, workers test positive
The Santa Clara County Sheriff's Office on Tuesday confirmed 12 people who work for the agency have tested positive for the novel coronavirus.
Nine of the cases include deputies, including one patrol officer and eight assigned to a team at the Custody Bureau, though officials haven't said which jail the deputies were based. Two of those deputies have recovered from the respiratory illness and returned to work, according to the Sheriff's Office.
But two custody support assistants at the Main Jail and a records technician have tested positive for the virus in the meantime.
"All staff who tested positive for COVID-19 are self-quarantining at home and remain in good spirits," officials for the Sheriff's Office said in a statement Tuesday. "We are actively monitoring the situation by working closely with the Santa Clara County Public Health Department to mitigate further exposure."
1:20 p.m. April 7: CA Surgeon General does Q&A with residents
An hour after releasing a new set of tools and "playbooks" to cope with the state's stay at home order, California Surgeon General Dr. Nadine Burke Harris hopped on Twitter to answer Californians' questions about how to stay healthy during the pandemic.
The health order, aimed at slowing the spread of the novel coronavirus, has kept residents inside and many businesses and schools shuttered for the past three weeks.
Follow along with Burke Harris' answers on Twitter.
Q: How do we cope with anxiety attacks stemming from fear that we and/or our loved ones will contract and die from COVID? #AskDrBurkeHarris
– @ladycrim

— Office of the Governor of California (@CAgovernor) April 7, 2020
12:45 p.m. April 7: CA Surgeon General releases stress 'playbook'
California Surgeon General Dr. Nadine Burke Harris on Tuesday unveiled a set of tools to improve residents' physical and mental health as they continue to follow the state's stay at home order that has shuttered businesses and schools.
"While we take action to lessen the immediate impacts of COVID-19 on our communities and our health care systems, it is also important to minimize the secondary health effects of this pandemic," state officials said Tuesday on the newly-launched website. "Widespread stress and anxiety regarding COVID-19, compounded by the economic distress due to lost wages, employment and financial assets; mass school closures; and necessary physical distancing measures can result in an increase of stress-related health conditions."
The new toolkit includes crisis, domestic abuse and disaster assistance hotline numbers and a specific tip sheet for caregivers and children.
It also includes the California Surgeon General's Playbook: Stress Relief during COVID-19, which has tips to manage stress at home, how to make a plan to address the impacts of stress and other best practices to improve physical and mental health.
12:10 p.m. April 7: Are you stressed from the outbreak? Here are ways to cope
"The COVID-19 outbreak can be stressful and how you respond may be different from other people," San Jose officials said in a news release Tuesday. "Fear and anxiety about the disease can be overwhelming and cause strong emotions in adults and children."
Officials recommended ways to cope with stress: Take a break from the news, eat healthy, exercise and get plenty of sleep. They also say to unwind, do enjoyable activities and connect with loved ones. Here are other resources:
24/7 Santa Clara County Behavioral Health Services Call Center: 800-704-0900
Crisis Text Line: Text RENEW to 741741
24/7 Suicide and Crisis Hotline: 855-278-4204
11:40 a.m. April 7: SJ to host small business workshop
San Jose's Office of Economic Development will host a free small business online workshop from 3 p.m. to 4:30 p.m. on April 9 to offer more information on programs designed to help companies stay afloat during the coronavirus outbreak.
The workshop will include information from the Small Business Majority, an advocacy organization, focusing on payroll tax relief, the Paycheck Protection Program, Workshare and tools for small businesses and their employees. Register here to reserve a spot or email [email protected] for more information.
11 a.m. April 7: County officials discuss social determinants for COVID-19
While COVID-19 cases continue to increase in Santa Clara County, there are "soft signs, early signs" that the rate of new cases may be slowing, according to Evelyn Ho, a county Public Health Department spokeswoman, during a county briefing Tuesday.
But social determinants — factors around policy, society and environment that impact people's ability to live healthy — contribute to susceptibility of COVID-19 and other chronic illnesses. These factors include housing, access to affordable fruits and vegetables, health care access, transportation and history of trauma and discrimination, said Nicole Coxe, a county health official.
With COVID-19, Ho said history of poverty, structural racism, educational access and language barriers can prevent communities from following the county's shelter in place order, or even isolate when someone gets sick. Protecting essential workers is another concern for the county, which amended its order to require protocols for businesses not just to protect customers, but employees as well.
"We are continuing to further those discussions to ensure that all of our community has access and the ability to have the most protection for themselves and for one another as possible," Ho said.
10:45 a.m. April 7: Facebook to distribute $15M to local small businesses
Social media giant Facebook will give Bay Area small businesses $15 million in grants to keep companies afloat in the wake of a statewide "stay at home" order that has shuttered storefronts and offices for weeks.
The announcement Tuesday is part of the company's $100 million Small Business Grant program, which Facebook COO Sheryl Sandberg announced March 17. That program aims to help 30,000 small businesses across more than 30 countries where the tech titan's employees live or work. But the Facebook hadn't previously included promises about how much would go to specific regions.
"As thousands of small businesses throughout the Bay Area struggle mightily, Facebook has generously invested In a  $15 million bulwark against this storm," San Jose Mayor Sam Liccardo said in a statement Tuesday. "I am deeply grateful to Facebook, and to our many community partners who have generously supported our community through Silicon Valley Strong."
Facebook also plans to prioritize minority, women- and veteran-owned businesses for 50 percent of its grants in the United States "due to the disproportionate negative impact that COVID-19 will have on these businesses, their employees, and the communities that they serve," said Maxine Williams, Facebook's global chief diversity officer.
Businesses can check their eligibility and sign up for notifications to alert them when the grant application opens later this week on Facebook's grant website.
6:10 p.m. April 6: Team San Jose cancellations add up
Nearly 90 conferences and performances have been cancelled or postponed in San Jose this year due to COVID-19, city officials announced Monday.
Team San Jose, which manages the city's convention center and multiple theaters in the city has seen 19 conferences and 69 theater performances cancelled in its facilities since the virus outbreak hit the United States. Nearly 70 percent of the theater performances scheduled this year for those theaters are being rescheduled, city officials said.
The group manages the San Jose Convention Center as well as the California Theater, the Center for the Performing Arts, Montgomery Theater, San Jose Civic and South Hall sites. Team San Jose is a partnership between the San Jose Convention and Visitors Bureau and hotels, arts organizations and venues to drive economic development and other events to the South Bay city.
5:45 p.m. April 6: Santa Clara County confirms 13 homeless have contracted COVID-19
Santa Clara County officials announced Monday that 13 homeless people have tested positive for the novel coronavirus.
So far, the county has placed every COVID-19-positive unhoused resident and their family members in housing where they can isolate from others to slow the spread of the contagious respiratory illness.
Meanwhile, county officials have made strides toward housing other at-risk homeless residents, so far placing 265 others in "temporary shelter," though the county didn't specify what kind of shelter — whether hotel or motel rooms, trailers or some other kind of housing — each of those people had been offered.
All shelters in the county are now operating 24 hours a day and other facilities, like the Santa Clara County Fairgrounds, have opened in the past week to shelter more unhoused residents.
In San Jose 105 trailers provided by the state will be refurbished and used to isolate unhoused residents that have tested positive or are at a high risk of dying from COVID-19, including older people and those with existing health conditions.
For more information about the county's coronavirus response, visit its website. 
5:30 p.m. April 6: VTA light rail to resume service on April 9
Valley Transportation Authority will resume its light rail services on Thursday, April 9 on a "modified schedule" from 6 a.m. to 6 p.m. Monday through Friday.
The news comes after the agency stopped all light rail lines on March 25, and replaced the routes with buses because one operator trainee tested positive for the fast-spreading coronavirus.
"All vehicles have been deep-cleaned and are ready to be put back into service," the agency said in a weekly update for VTA Board members Monday.
The agency has also created new signage that will appear at 3,300 bus stops, transit centers and light rail platforms to encourage riders to keep a physical distance between one another while traveling and to consider whether their travel is indeed "essential."
4:20 p.m. April 6: California Judicial Council sets bail to $0, suspends most evictions during pandemic
The governing body for California's court system passed a slew of emergency rules Monday that included setting bail to $0 for most misdemeanors and certain low-level felonies, and effectively banned eviction proceedings amid the coronavirus pandemic.
The Judicial Council's rules are intended to protect the health and safety of the public, court employees, attorneys, detention facility personnel, inmates and law enforcement, a staff report said.
Superior courts must apply the $0 bail schedule by the end of Friday, the council wrote in its rule. It will apply to every person in custody and pretrial custody. While most misdemeanors and low-level felonies will have $0 bail, serious and violent felonies will be exempted from the new schedule, and superior courts can still deny bail.
The Judicial Council's decision effectively bans all evictions through the courts for nonpayment of rent or no-fault evictions, according to the Western Center on Law and Poverty. Gov. Gavin Newsom's eviction moratorium order, seen as insufficient by housing advocates, still allowed landlords to file for evictions of tenants and businesses amid the pandemic. The new eviction rules — effective until 90 days after Newsom lifts his state of emergency declaration — prohibit courts from issuing an eviction summons except where safety concerns apply.
3 p.m. April 6: California to give 500 ventilators to national stockpile
California Gov. Gavin Newsom on Monday announced the state would hand over 500 ventilators to the federal government to help other states hit hard by the fast-spreading coronavirus, particularly New York.
"We want to extend not only thoughts and prayers, but we're also extending a hand of support with ventilators," Newsom said during a news conference. "I just want to thank our team for assembling over the weekend the appropriate equipment, making sure these vents work, making sure that these were the vents that were recently refurbished and repurposed."
Throughout California, 14,336 people have tested positive for the novel virus, which causes a sometimes severe and deadly respiratory illness known as COVID-19. As of Monday 343 Californians had died from the disease.
But New York has become the epicenter of the outbreak in the U.S. with 131,239 confirmed infections and 4,758 deaths as of Monday, according to the New York Times. Officials there have been seeking supplies, including ventilators, for weeks.
12:30 p.m. April 6: $1,000 bounty announced for used or broken ventilators 
Santa Clara County officials have put out a call for used ventilators to help prepare for any possible surge in COVID-19 patients.
A "finder's fee" of $1,000 will be given to anyone who provides used or even broken machines, which are a necessary piece of equipment in treating the respiratory illness.
While there are currently 217 ventilators being used and 435 others still available as of Monday, Board of Supervisors President Cindy Chavez said the county still needs another 1,000 ventilators in its effort to get as many as possible into hospitals.
Chris Wilder, Valley Medical Center Foundation CEO, said this "innovative idea" to get supplies came out of the partnership between Santa Clara County, the city of San Jose and the Silicon Valley Leadership Group.
"These are expensive, high-tech pieces of equipment, but we know that they are out there," Wilder said. "We know that there are people who – if they're incentivized a little bit to give – their ventilators can be refurbished and put to use on the front lines so that we can succeed in battling COVID-19 where it's needed most."
Places that may have unused machines – especially in storage – include colleges and universities without in-person classes, elder care facilities, oral surgical centers and other health care establishments that aren't currently operating.
Once ventilators are received, they will be refurbished and tested by San Jose-based technology company Bloom Energy. San Jose Mayor Sam Liccardo said Bloom Energy refurbished 140 ventilators received in one weekend in days.
The announcement of this bounty for ventilators comes hours after Gov. Gavin Newsom said he's sending 500 ventilators to help ease the hospital surge in New York. But Chavez said Newsom's action provides even more reason to react locally.
Silicon Valley Leadership Group CEO Carl Guardino said local partnerships between the Valley Medical Center Foundation and government officials has raised $4.6 million as of Monday specifically for medical equipment and supplies.
"We know that the steps we've taken have already saved lives," he said. "Yet, we can do it even more efficiently and effectively in a valley of deep competition by being a valley of deep collaboration."
Anyone with a ventilator to donate can contact Valley Medical Center Foundation at (408) 885-5299 or [email protected]
10:58 a.m. April 6: Santa Clara County adds shelter beds for unhoused
After announcing Santa Clara County had sheltered every homeless person who tested positive for the novel coronavirus, officials said Monday the county has added additional shelter capacity for some of the most vulnerable populations.
County leaders said Friday they had housed 174 "vulnerable community members" in shelter or housing, though they didn't specify how many had COVID-19. Another 215 people are expected to be housed in the next few days.
When Bay Area health officials first initiated shelter in place on March 17, the county had more than 2,000 shelter beds, though social distancing measures decreased bed capacity by 300, according to Ky Le, director of the county Office of Supportive Housing. The county also worked to ensure shelters extended to 24-hour service and past seasonal winter services.
As of Sunday, the county increased capacity by 602 shelter spaces — a net gain of 300 beds — which has included spaces like the Santa Clara County Fairgrounds, Parkside Hall in San Jose as well as hotels and motels. Officials hope to increase spaces moving forward.
Supervisor Dave Cortese credited Measure A funds, approved in 2016, for bolstering the county's ability to house more people, especially amid the pandemic. Together with the Office of Supportive Housing, the Valley Homeless Healthcare Program has closed most clinics and now staff is conducting outreach to homeless encampments with education about COVID-19 and hygienic supplies.
There are more than 9,700 people who are homeless in Santa Clara County. "Like everything else with COVID-19 right now, we've got a long ways to go," Cortese said, "nothing is yet perfect."
6:30 p.m. April 5: Patients arrive at Santa Clara Convention Center medical facility
Two patients arrived Sunday to the newly-retrofitted Santa Clara Convention Center, which now serves as a 250-bed federal medical station for people infected with the novel coronavirus, Santa Clara County officials announced.
Patients are admitted to the convention center station by referral from other facilities, without walk-in services, according to county officials. This enables area hospitals to treat patients requiring hospitalization, increasing expected surge capacity for local health care systems to have enough hospital beds amid the outbreak of COVID-19, the disease caused by the virus.
"Today's patients will have the ability to recuperate in a safe setting while still sheltering in place – keeping all of our residents and essential workers protected," said Santa Clara County Supervisor Susan Ellenberg, whose district encompasses the convention center. "Our county continues to look to local partners as well as state and federal resources to help fight COVID-19."
The National Guard delivered beds, supplies and medicine to the convention center station. As San José Spotlight reported, the station is staffed by a volunteer group of physicians, nurses and paramedics provided by the state, though the county can also supplement staff.
12:00 p.m. April 4: New statewide testing figures released
In a Saturday morning briefing, Gov. Gavin Newsom struck an apologetic tone — saying he holds himself responsible for the lack of COVID-19 testing statewide — before announcing new initiatives to ramp up testing capacity.
"The testing space has been challenging for us and I own that as your governor to do better and more testing in California," Newsom said. "On the issue of testing, I own that and you deserve more and better."
The governor said 126,700 individuals statewide have been tested for the deadly coronavirus as of Saturday. Of those, 59,500 tests pending and some Californians are awaiting test results many for as much as 12 days.
"All of that is frustrating to you and it's certainly frustrating to me," Newsom said. "We are now in a position where I can confidently say it's a new day and we're turning the page."
The governor announced the creation of a new task force, which includes consultants and public and private leaders. The goal, Newsom said, is to increase "by five-fold" the number of daily tests in the state over the next few weeks. The group is working with UC Davis and UC San Diego to create five to seven "hubs" across the state where various vendors will provide testing.
The move includes trying innovative procedures for testing, some of which reveal results in under 15 minutes, boosting the supply chain and providing more data on testing capacity in real time. Newsom said the state has already decreased a significant backlog of tests in commercial labs.
On the topic of medical supplies, Newsom announced a new website — https://covid19supplies.ca.gov/ — that allows residents to donate supplies in 13 critical categories, including masks, hand sanitizer, gloves, wipes, swabs and more.
The state has already delivered some 41.2 million masks for frontline health care workers, he said.
Newsom said 2,300 Californians remain hospitalized with 1,008 people in ICU — a 10.9 percent increase in ICU beds in one day. As of Saturday, 12,026 people have tested positive statewide — that's a 12.4 percent increase in one day — and more than 237 have died.
Also Saturday, the governor provided a quick update on two initiatives announced earlier this month — one called HealthCorps, which asks retired medical workers to volunteer their time and expertise, and another to house homeless individuals who tested positive or are at risk of contracting the virus in hotel rooms.
Newsom said a whopping 79,000 people with medical experience signed up to help and the state has secured 7,178 hotel rooms for homeless residents.
But, the governor stressed, the most important thing Californians can do to stop the COVID-19 spread, is to stay home.
"We cannot allow cabin fever to come in," he said. "We can't allow people to start congregating again. Let's hold the line and keep doing the good work we've done in the state of California. We're not out of the woods… You do the math. This is serious. This is real."
1:37 p.m. April 3: California to provide COVID-19 positive homeless with hotel rooms
Gov. Gavin Newsom on Friday announced a first-of-its-kind million dollar partnership with the federal government to secure nearly 7,000 hotel rooms for high-risk and COVID-19 positive homeless individuals in California.
"If left unaddressed, we allow our most vulnerable residents in the state of California to be exposed to this virus," Newsom said.
Dubbed Project Roomkey, the initiative aims to secure 15,000 hotel rooms for the homeless and includes purchase agreements for long term, permanent housing. The hotel residents will get these options either through a right of first offer or a right of first refusal.
In total, 869 residents have been housed through the program.
Newsom said including occupancy agreements with extensions and purchase options was an important step to keep people off the streets as California continues to face its ongoing homeless crisis.
"This was the crisis we needed to address before the COVID-19 crisis and we're not walking away from meeting that crisis head on," Newsom added. "We're also beginning to process an orientation of focus and energy around long-term supports, so that we could get people off the streets in a permanent way."
As part of the agreement, FEMA will pay for 75 percent of the cost while the state will cover the remaining 25 percent. The state has secured a a whopping $800 million in grant money for the project as well as $150 million in emergency aid funds.
The hotels will provide essential services, such as laundry, an intake process, security and three meals a day for each person.
"It is at heightened crisis during this epidemic and if we do our part now it could be less of a crisis, as we come out of this," Sacramento Mayor Darrell Steinberg said at Friday's news conference.
The state government is also working with counties across California to identify additional sites, such as trailers. The state has bought more than 1,300 trailers from FEMA and other vendors, distributing about 580 across the state as of Friday.
"That is the incredible opportunity we all have together during this most difficult time," he added.
12:24 p.m. April 3: Survey of Santa Clara County patients helped launch shelter in place
A Centers for Disease Control and Prevention report published Friday details how a small study in Santa Clara County identified community spread of the novel coronavirus and helped launch public health orders like shelter in place.
After the county Public Health Department identified the its first case of the novel coronavirus on Feb. 27, health officials from the county, state and CDC began surveilling four urgent care centers in Santa Clara County between March 5-14, according to the CDC report.
Officials evaluated local patients — who had not recently traveled and had no known link to COVID-19 — for respiratory symptoms, such as fever, cough or shortness of breath. Using samples of 226 patients who met the criteria, officials found 23% had the flu. But of those who didn't have the flu, officials tested 79 people for COVID-19 and found 11% returned positive, the report said.
While acknowledging the study was small in size, the testing confirmed community transmission in Santa Clara County, informing how officials would respond to the outbreak, the report said. The county would initiate a series of policies like banning mass gatherings and, eventually, shelter in place on March 17, to slow COVID-19's spread.
"Local public health departments can use sentinel surveillance to assess the level of community transmission of COVID-19 and to better guide the selection and implementation of community mitigation measures, including the scale, duration and settings in which to focus these strategies," the report said.
10:15 a.m. April 3: San Jose nursing facility announces COVID-19 cases
The Canyon Springs Post-Acute nursing facility in East San Jose announced Wednesday it had multiple confirmed cases of the novel coronavirus.
All of the patients have been isolated and are being monitored every four hours for signs and symptoms, according to a statement posted to the facility's website. The facility did not disclose the number of patients who tested positive for COVID-19, the disease caused by the coronavirus.
According to the Mercury News, six people at Canyon Springs have tested positive, including two residents and four staff members. Twenty-one residents are being monitored and awaiting results, while three staff members are awaiting results, the newspaper reported.
Canyon Springs staff said they are working with county, state and federal agencies to implement new infection control protocols, which include daily screenings upon entry and temperature checks before direct contact with residents.
9:50 a.m. April 3: NBC Bay Area to host telethon for COVID-19 financial assistance fund
The $11 million COVID-19 financial assistance fund launched March 23 ran out in just three days after receiving 4,400 applications. Now — with a waitlist rising to about 6,800 as of Thursday — NBC Bay Area and Telemundo 48 have partnered with South Bay elected, nonprofit and private sector leaders for a telethon Saturday to raise funds to help low-income residents pay rent and other basic necessities.
"We are seeing the true strength of character from Silicon Valley in the face of this pandemic," said San Jose Mayor Sam Liccardo in a statement. "It's thanks to the generosity of our neighbors and community that we are able to continue striving to financially protect our residents."
Funds come from Silicon Valley Strong, a partnership between government, nonprofit and private groups to centralize resources for residents. Administered by Sacred Heart Community Services, the aid helps county residents through the Santa Clara County Homelessness Prevention System with immediate financial assistance of up to $4,000 per month of lost income. About half of applicants were extremely low-income, or those who earned $43,900 or less in a four-person household, according to Jennifer Loving, CEO for Destination: Home, one of the primary philanthropic partners behind the program.
On Tuesday, Loving tweeted the extended shelter in place, now until May, means two rent cycles and two months of bills, often without pay. Even federal assistance of $1,200 for Americans likely won't cover half of one month's rent in the county, and officials say some people may have to wait months to receive federal checks.
The telethon takes place Saturday at 7 p.m. View it on NBC Bay Area or on the news outlet's Facebook page. Donate by clicking here. Join the waitlist at by clicking here
The extended shelter in place in Silicon Valley means we must double down on providing financial assistance. Now it's 2 rent cycles and 2 months of bills. We got 4400 applications in three days & already have 5700+ on the interest list. This is already catastrophic. #COVID19 54/

— Jen Loving (@jenloving23) March 31, 2020
7:00 p.m. April 2: Local officials recommend non-medical face masks
Bay Area public health leaders are recommending residents use non-medical face coverings when they go out for essential purposes.
In an announcement Thursday, officials said covering your mouth and nose with cloth coverings can reduce the risk of transmission — but does not replace increased hand washing and social distancing. The cloth face coverings should be worn when going out for essential errands, such as grocery shopping, doctor appointments or going to the bank.
The recommendation follows guidance recently issued by the California Department of Public Health.
"Face coverings should not be medical masks or other similar products but include any type of breathable material that will cover nose and mouth," officials said in the announcement. "Medical masks are in short supply and need to be reserved for health care personnel. Examples of recommended coverings include bandanas and home-sewn fabric coverings."
Medical masks, such as N-95 and surgical masks, are discouraged for general use, officials said, because of the global shortage of personal protective equipment. Santa Clara County leaders instead ask residents to use homemade face coverings.
"Wearing a face covering is an additional strategy to reduce the risk of spreading COVID-19. We know that a person can spread the virus before they develop symptoms, or even if they never develop symptoms," said Santa Clara County Health Officer Dr. Sara Cody. "Face coverings are not a substitute for sheltering in place, frequent handwashing and social distancing, but they do provide an additional layer of prevention when engaging in essential activities."
Sheltering in place is still the most effective way to slow the spread of COVID-19, Cody reiterated.
1:30 p.m. April 2: Economic impacts of coronavirus 'profound,' Newsom says
On average in the last week, 111,000 California residents have filed unemployment claims each day, Gov. Gavin Newsom said in Thursday's briefing for the novel coronavirus response. Since March 12, 1.9 million Californians have filed for unemployment.
"The economic consequences are profound," Newsom said, referring to the country's historic 6.6 million unemployment claims filed for the week ending March 28.
In response, the state unveiled its own aid opportunities to accompany federal relief.
The state will offer a one-year reprieve for small businesses with less than $5 million in taxable sales to take a bridge loan of up to $50,000, allowing them not to pay sales tax with no penalties and no interest. This is meant to accompany federal assistance under economic injury disaster loans related to the pandemic and its response, along with payroll loans that will open Friday.
Newsom also unveiled a $50 million investment for micro-lending opportunities through the state's Infrastructure Economic Development Bank directed to people and businesses who won't qualify for federal loans.
Lastly, Newsom highlighted OnwardCA.org, a new job openings website founded by Fresno-based company Bitwise along with Silicon Valley giants Salesforce and LinkedIn. The site, Newsom said, currently has more than 70,000 openings and is expected to increase. Jobs are prioritized in four areas: health care, agriculture, logistics and grocers.
In the medical field, the state's Health Corps website has received more than 70,000 applications, the governor said, up from 25,000 on Tuesday. "It just gives you a sense of this civic moment and how people are doing just (an) extraordinary amount to try to participate in meeting it head on," Newsom said.
Information on state relief can be found at COVID19.ca.gov.
Governor @GavinNewsom provides an update on California's response to the #COVID19 outbreak and announces assistance available for small businesses and workers impacted by the crisis. https://t.co/Ty60NGEGgE

— Office of the Governor of California (@CAgovernor) April 2, 2020
11:45 a.m. April 2: HUD awards $10.5 million to 18th Congressional district communities
The Department of Housing and Urban Development awarded more than $10.5 million in grants to communities in Santa Clara, Santa Cruz and San Mateo counties for the coronavirus response, according to Rep. Anna Eshoo (D-Palo Alto), whose congressional district encompasses parts of each county.
Funding comes from Congress' $2 trillion relief package passed last Friday to address the effects of COVID-19. More than $9 billion of that is meant to address homelessness and affordable housing, Eshoo's office said.
"Californians facing homelessness and housing insecurity are particularly vulnerable during the COVID-19 pandemic," Eshoo said in a statement. "My congressional district remains a hotspot and in order to slo(aw the spread of the disease and comply with shelter in place orders, individuals need shelter. This critical funding will help local governments provide shelter to the homeless, preserve and renovate affordable housing, and provide resources to the homeless or those at risk of becoming homeless."
Communities in Eshoo's district receiving grants include:
San Jose: $8.15 million;
Santa Clara County: $906,287;
Redwood City: $448,039;
City of Santa Cruz: $353,464;
Mountain View: $348,702;
Palo Alto: $294,909.
11:18 a.m. April 2: What does hospital surge capacity mean in Santa Clara County?
After releasing a more detailed breakdown of hospital and testing data late Wednesday, Santa Clara County officials detailed plans Thursday morning for hospital surge capacity, meaning additional beds not normally used in hospitals but now available to help address the novel coronavirus outbreak.
Officials, including Santa Clara County Health Officer Dr. Sara Cody and state Gov. Gavin Newsom, have projected the number of cases to continue rising, particularly with expected surges in hospitalizations.
There are 1,456 beds available for surge capacity across 11 hospitals in the county, public health data showed Wednesday. With five surge beds in use, none are used by any of the 198 hospitalized COVID-19 patients who are in intensive or acute care. Still, there are 936 acute hospital beds, 92 intensive care beds and 392 ventilators available in the county.
"The capacity of our health care system to respond to large events is expandable and elastic," said Dr. Jennifer Tong, the branch chief for hospital surge capacity in the county Emergency Operations Center, in a statement. "Hospitals in our area are prepared to increase the number of hospital beds available to care for those affected by COVID-19."
Tong said her nearly 50-person surge capacity staff is focused on increasing availability of personal protective equipment for medical staff and adding more beds, like the 250-bed federal hospital at the Santa Clara Convention Center for COVID-positive patients to go after being discharged. She said hospitals need more volunteers and medical staff to meet demands. In doing so, the county plans to unveil an online form for residents to sign up to help with patient care, according to Tong.
Hospital Surge Response Plan and Data Updates | LIVE with the County of Santa Clara | 2020-04-02

The County of Santa Clara is committed to maintaining the health of our entire population. Join us Monday through Friday on Facebook Live at 10AM PST for the latest information on COVID-19. Today we are hosting a press conference about the County's effort to coordinate with hospitals in preparation for a surge and updates about COVID-19 data.Valley Health Connection:If you have symptoms including cough, fever, or other respiratory problems, contact your regular doctor first before going into any clinic or hospital. If you do not have a regular doctor or are unable to contact them, Santa Clara Valley Medical Center's Valley Connection can be reached at 1-888-334-1000 for questions and appointment scheduling if you are directed to go in for testing.Full transcript: https://pastebin.com/51e9PQR0

Posted by County of Santa Clara Public Health Department on Thursday, April 2, 2020
10:15 a.m. April 2: Elected officials, schools launch meals map
Hungry Santa Clara County families have a new resource to find places to get food, officials from San Jose, the county and local school districts announced Thursday morning in front of San Jose Unified, where volunteers handed out bags filled with meals.
Officials have launched a new interactive map showing all the locations where residents can pick up meals and other food. The tool comes as many in the region are out of work due to restrictive orders in the county and across the state to stay at home unless absolutely necessary. Students and parents also found out yesterday they won't return to physical classrooms before summer, though many children rely on school-provided lunches.
"I was doing this work in 2008 when the bubble burst and then we saw a really steady and dramatic increase in need, but it was a slow build," Leslie Bacho, chief operating officer for Second Harvest Food Bank of Silicon Valley, said Thursday during a news conference. "This is really an unprecedented moment when so many people are suddenly finding themselves in need of help."
Typically, Second Harvest gets about 180 calls daily to its Food Connection hotline at 1-800-984-3663, but that number has shot above 1,000 calls a day, Bacho said.
Meanwhile, schools across the county that typically serve about 100,000 daily meals to students during the school year have stepped up efforts to provide meals not only to students and their families, but to everyone in the community, said Santa Clara County superintendent Mary Ann Dewan.
"Many schools have spring breaks coming up next week or the week after, and part of our message today is we want to assure our families that even with spring breaks, we will have meals available for our families throughout the county," she said.
Those who want to volunteer or who need help during the COVID-19 outbreak can visit www.siliconvalleystrong.org to get more information about assistance programs and volunteer opportunities throughout the county.
11:00 p.m. April 1: Santa Clara County releases hospitalizations, testing data
Late Wednesday, Santa Clara County's public health officials released two new data dashboards showing details on COVID-19 hospitalizations and testing across the county. The county has a third dashboard that shows positive cases counts and deaths.
The data on the "Hospital Dashboard" shows the number of "acute" hospital beds, intensive care unit beds, ventilators and surge beds available as of Tuesday. Surge beds are the additional beds made available during a mass event. According to the dashboard, 198 people are currently hospitalized for coronavirus. There are 392 ventilators available and 227 are in use. As of Tuesday, the county has 936 acute beds, 92 ICU beds and 1,456 surge beds available.
The other dashboard features data on COVID-19 testing, a critical figure the county was slow to release last month as the number of coronavirus cases surged across the region. On March 23, health leaders released the long-awaited information — saying the county's public lab had tested 1,044 samples for 647 patients.
But, county officials warned, the numbers were incomplete because they did not include testing at private or commercial labs, which were required to only report positive cases. Two days later, the county joined six other Bay Area jurisdictions in ordering private labs to report all testing figures — positive and negative results — to the county.
The new "Testing Dashboard" includes testing conducted by Santa Clara County's public lab as well as academic and commercial facilities. It shows 8,246 patients have been tested for COVID-19 as of Wednesday, with 956 positive results, 7,138 negative results and 152 pending results.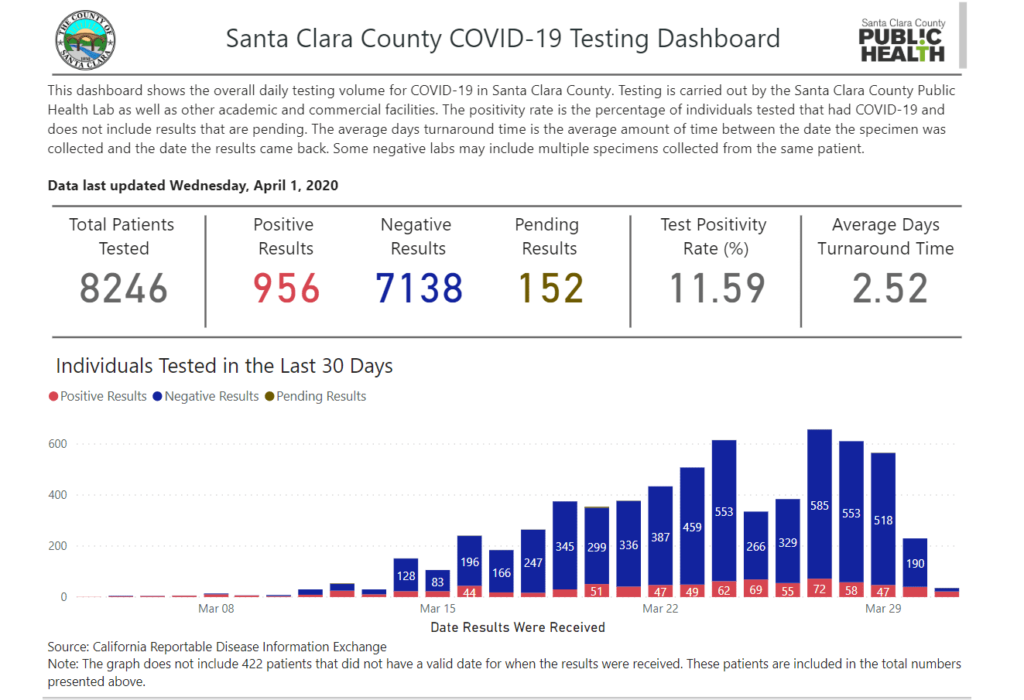 It's unclear how often the new testing and hospitalization data dashboards will be updated, a county public health spokesperson told San José Spotlight on Wednesday night.
6:20 p.m. April 1: Santa Clara County students won't return to classrooms this year
Superintendents across Santa Clara County on Wednesday said local schools would not reconvene physically this school year, following announcements by state officials yesterday and this morning telling parents they should expect to keep children home through the summer.
But that doesn't mean there won't be any classes for the 260,000 students who attend 31 school districts in the county, local education officials said Wednesday.
"The remainder of the school year now transitions from in-person classroom instruction to instruction and support for students through distance learning options as described by California Department of Education (CDE)," district officials said in a letter to parents Wednesday afternoon. "We will continue to navigate our way through this pandemic locally with the guidance of Dr. Sara Cody and the Santa Clara County Public Health Department so that we can ensure the health and safety of our students and their families as well as for our staff."
California Gov. Gavin Newsom and State Superintendent of Public Instruction, Tony Thurmond, on Wednesday urged school districts across the state to gear up for "distance learning" for the remainder of the year, despite the challenges remote classes pose for teachers, students and parents.
"The unified effort as we persist through these unprecedented and challenging times together has been nothing short of remarkable," Santa Clara County Superintendent Mary Ann Dewan said in a statement Wednesday.
Districts in the county will provide families with information on things like grading, graduation, transcripts, scholarships and summer school in the coming weeks, according to a news release Wednesday.
"Our community is strong," Dewan said. "Together, we will overcome the negative impact of these life-changing events. When school sites re-open, we will enthusiastically welcome back our students, staff and families to our campuses."
3:15 p.m. April 1: Should Californians wear masks to avoid COVID-19?
Officials across the country have hesitated to tell residents that they should wear masks to avoid contracting the novel coronavirus.
But on Wednesday, health officials in California acknowledged that there may be some benefit to wearing a mask, if used correctly. Some masks can help filter out particles from coughing and sneezing that could temporarily be in the air.
"The most important thing is physical distancing and when that is done with some additional face coverings you may get some additional protection," Dr. Sonia Angell, California's public health officer said during a news conference Wednesday.
But Angell warned that the benefits of wearing a mask or other face covering won't bear out if people still touch the mask or their face before washing their hands. Wearing masks also shouldn't make Californians feel they can get closer to one another physically.
"From an evidence perspective, our best defense against this virus are the types interventions we are putting in place and we must continue to reinforce," she said. "That is is washing hands, physical distance and staying at home as often and for as much time as possible."
Gov. Gavin Newsom said Wednesday his office would put out more guidance for residents curious about the benefits of wearing a face mask to help avoid contracting COVID-19.
The direction comes, however, as medical personnel across the state and country are low on protective supplies like masks and gloves needed to treat patients without risking infection. Though Newsom said the state has many efforts underway to get more supplies, many hospitals are still short, leaving frontline workers at risk.
3 p.m. April 1: Google offers free broadband access, will donate laptops
Google is planning to offer California residents free internet through broadband connections and WiFi hotspots at 100,000 locations throughout the state for at least three months.
"Those 100,000 points (of internet access) will help us substantially address the digital divide issues, the rural issues, the equity issues that are at play even in the best of times, but substantively are highlighted in these more difficult times," Newsom said during a news conference Wednesday.
The Mountain View-based tech titan also will donate "thousands" of Chromebook laptops to help improve internet connectivity across the state, according to Newsom. He did not provide details about how Google would distribute those computers, and representatives for Google did not immediately respond to a request for more information Wednesday.
Google's promise for free internet and laptops comes as Newsom told parents across the state to prepare for their children to remain at home through the rest of the school year, as the state attempts to slow the spread of COVID-19 through physical distancing. Many students throughout the state don't have internet or laptops, he said.
"We need more Googles," Newsom said. "We still have a little more coverage we are going to need in some of the more remote parts of the state, but this is a substantial enhancement that came just at the right time."
2:30 p.m. April 1: Newsom says schools will remain closed this year
Gov. Gavin Newsom on Wednesday sent a clear message to parents that they should not expect their children to physically return to class this school year.
"Based on the (state's) modeling, it should be clear that the right thing to do for children, the right thing to do for the parents, for households, for the community in which they reside is to make sure we are preparing today to set our school system up where we are increasing class time, but increasing it at home," Newsom said Wednesday.
Tony Thurmond, the superintendent of public instruction for California, told superintendents across the state that it "currently appears" schools will stay closed the rest of the school year because of the coronavirus in a letter published by EdSource. He reiterated that Wednesday during a news conference with the governor.
Local districts in the South Bay conceded last week that students won't return to classrooms before May 1, but haven't officially made an announcement that students won't return before summer break.
Chris Funk, superintendent of East Side Union High School District in San Jose, tweeted on Tuesday that the letter "was not a directive but an acknowledgment of our current reality." He said superintendents in the Bay Area will work together to make a final determination. "The key is patience, working together and each district doing all they can to implement distance learning with fidelity," he tweeted.
On Tuesday, county health officials extended a strict stay at home order that applies to the entire Bay Area region.
As the state's stay at home order remains in place without an end in site, Newsom also said he recognizes the state's "responsibility to make sure we are not only educating our kids, but we are feeding our kids."
To that end, California has received a waiver from the federal government to help beef up food distribution to students, Newsom said Wednesday.
1:45 p.m. April 1: Viva CalleSJ postponed
San Jose's Viva CalleSJ on May 17 has been postponed due to the novel coronavirus, officials announced on social media Tuesday evening.
The free annual program — managed by the city parks department with support from the Silicon Valley Bicycle Coalition — closes designated city streets for people to bike, walk and skate. The bicycle coalition, a nonprofit organization, has said Viva Calle draws more than 100,000 people.
"We want to wish you all good health in these difficult times," Viva Calle's post said. "We look forward to seeing you all once things are healthier and safer for all."
Additionally, the bicycle coalition announced Tuesday it postponed the "Bay Area Bike to Work Day" scheduled for May 14 to late September. Still, Jessica Waite, membership and outreach coordinator for the coalition, wrote in the announcement that biking "is a great, socially distant way to get some fresh air — just make sure you stay six feet apart from anyone you cross paths with!"
1:20 p.m. April 1: SCC Sheriff's Office confirms 11 COVID-19 cases as inmate recovers
Eleven people who work for the Santa Clara County Sheriff's Office have tested positive for the novel coronavirus, which causes the deadly COVID-19 respiratory illness. That number is up from six deputies on March 26 who were confirmed to have the virus.
Of those who have fallen ill at the agency, nine are deputies. One was assigned to a patrol division and eight others were assigned to the Custody Bureau. One of the deputies assigned to the Custody Bureau is now recovered and back at work, according to the sheriff's office.
The Custody Bureau includes several divisions at the Main Jail and the Elmwood Correctional complex, though the sheriff's office hasn't said where the deputies were based.
Another confirmed case within the sheriff's office is a custody support assistant at the Main Jail in San Jose and another is a records technician.
All of the deputies who have tested positive and haven't recovered are currently self-quarantining and "remain in good spirits" the Sheriff's Office said.
"We want to assure the public that our office remains dedicated to serving and protecting the community during these trying times," the agency said Wednesday. "Furthermore, we are doing everything we can to protect our staff and other first responders battling this pandemic."
Meanwhile, the lone inmate who has tested positive at the Main Jail has recovered, the agency added.
Medical staff at the jails have been screening new arrestees outside the jail by asking them if they have a dry cough, shortness of breath, fever or exposure to anyone with COVID-19 before bringing them inside the facility. As of April 1, there are no known inmates with COVID-19 in the county facilities.
1 p.m. April 1: SCC begins video arraignments
The Santa Clara County Sheriff's Office and the Santa Clara County Superior Court started conducting video arraignments, a program the agency says has proven to be so efficient and successful that it could become a more common practice.
"The Sheriff's Office has been proactively working on reducing the jail population and reducing exposure within the jail facilities," the agency said Wednesday. "We believe this program will not end here, but become a useful advancement in the arraignment process."
So far the video arraignments, which began Monday, have allowed four inmates to be released without having to be transported on a bus with other inmates or appear in a courtroom to hear their charges, reducing the opportunities for COVID-19 exposure, the Sheriff's Office said.
11:30 a.m. April 1: COVID-19 cases across Santa Clara County start to slow
Santa Clara County officials on Wednesday gave an uplifting update on efforts to combat the novel coronavirus, confirming the number of cases has started to slow.
Dr. Sara Cody, the county's director of public health, said Wednesday the county's aggressive measures have paid off as the number of positive coronavirus cases has steadily decreased.
But those numbers will only remain down if residents continue to stay indoors. County officials doubled down on the shelter-in-place order Tuesday, extending the emergency until May 3.
"Even though we were making progress and slowing the spread of COVID-19, it's apparent that we have to do even more," Cody said.
Cody fears an uptick in new cases if residents do not stay home will overwhelm the region's health care system. That's why the new order includes a new "social distancing" protocol, which narrowed the definition of essential businesses and will enforce stricter guidelines for residents who need to frequent those shops.
"By having the social distancing protocol, the idea was to create a tool that can be individually tailored to each facility rather than trying to come up with some complicated regulatory structure that wouldn't be workable and couldn't be developed," County Counsel James Williams said.
Supervisor Cindy Chavez added that it's important residents continue to socially distance themselves to protect essential workers, while Deputy County Executive David Campos ensured residents who cannot make rent this month will be protected under the county's moratorium on evictions.
County officials will be giving daily briefings at 10 a.m. Monday through Friday on the latest changes and numbers on the public health department's Facebook page.
11:15 a.m. April 1: Homeless shelter established in downtown San Jose
San Jose housing officials have established a 75-bed temporary shelter at downtown's Parkside Hall for people experiencing homelessness amid the novel coronavirus crisis.
The shelter, operated by the nonprofit HomeFirst, began accepting applications Wednesday by referral only from the Santa Clara County Office of Supportive Housing and the Valley Homeless Healthcare Program, city officials said. It does not take walk-ins.
Located inside the 30,000-square-foot Parkside Hall, the shelter's purpose is to protect unhoused residents from the pandemic and slow the spread of COVID-19, including with physical distancing, officials added.
On Sunday, Santa Clara County officials announced plans to use the county fairgrounds to shelter at least five dozen homeless residents and provide trailers to socially isolate people with mild cases or symptoms of coronavirus.
5:45 p.m. March 31: State superintendent suggests closing schools for the rest of the year
Tony Thurmond, the superintendent of public instruction for California, told superintendents across the state that it "currently appears" schools will stay closed the rest of the school year because of the novel coronavirus. School districts should put all efforts into strengthening distance learning, he said in a letter dated Tuesday that EdSource published.
Thurmond wrote it is unlikely that students will return to campuses before the end of the academic year because of safety concerns and the ongoing need for social distancing.
The state superintendent acknowledged difficulties the remote learning has created for students, families and educators, but urged safety first.
But Chris Funk, superintendent of East Side Union High School District in San Jose, tweeted the letter "was not a directive but an acknowledgment of our current reality." He said superintendents in the Bay Area will work together to make a final determination. "The key is patience, working together and each district doing all they can to implement distance learning with fidelity," he tweeted.
San José Spotlight has requested comment from the Santa Clara County Office of Education, which recently extended school closures until May 1 along with several other Bay Area counties.
Thurmond said the state Department of Education is prepared to assist efforts by school districts with guidance and resources. This includes webinars, training and forging public-private partnerships in tech and nonprofit sectors to expand home devices and internet access.
"We know that we are dealing with a never before seen health crisis that challenges us in many ways," Thurmond wrote. "But we also believe that as it relates to educating California students we must rise to meet that challenge, that we are stronger together, and that if we work together we can do more together for all of our students."
Read the letter posted by EdSource here.
4:50 p.m. March 31: Bike to Work Day gets pushed to fall
The Silicon Valley Bicycle Coalition has pushed its annual Bay Area Bike to Work Day from May 14 to September 24.
"It wasn't easy to come to this decision, and it wasn't made alone," the organization said in a statement. "In conjunction with our partner Bay Area bike coalitions, we took a look at our world's current health crisis and knew Bike to Work Day could not continue as planned this year."
4 p.m. March 31: Verily offers explainer on free COVID-19 testing as senators question privacy
Alphabet-owned Verily has released a new video explaining how residents in the Bay Area, including those in Santa Clara County, can get free testing for the novel coronavirus as part of its "Project Baseline."
The project was launched in collaboration with Gov. Gavin Newsom's office as well as federal, state and local health officials. Residents can sign up online using a Google email address and get tested without leaving their car, according to the company.
"Expanding access to reliable screening and testing is critical to containing the spread of the COVID-19," the group said in a statement Tuesday.
But as Verily expands and promotes its by-appointment, drive-thru COVID-19 testing program, a group of U.S. senators on Tuesday pushed the company for information about how it would protect the privacy of patients who show up for testing.
Sens. Robert Menendez, Kamala Harris, Richard Blumenthal, Sherrod Brown and Cory Booker each signed the letter, asking Verily to respond to a list of questions by April 6.
Those questions include whether the company is in compliance with the federal Health Insurance Portability and Accountability Act, or HIPAA rules, as well as California privacy laws. It pushes the company to make the screenings available to those who don't have a Google email account, or who want to take a screening anonymously. The senators also asked Verily to not use data collected from the COVID-19 screening for commercial purposes or sell the information.
3:12 p.m. March 31: 14 fire department staff now test positive, 15 monitored
The San Jose Fire Department says 14 members of the fire department have tested positive, one more from its last count on March 20. The people who tested positive are a mix of sworn firefighters and civilian staff, according to Erica Ray, a spokeswoman for the fire department.
On March 20, the fire department said 13 firefighters had tested positive, one of whom had been hospitalized but has since been released. Ray declined to say Wednesday whether the 14th additional staff member is a civilian staff or sworn firefighter. All of the 14 fire staff, though, have not returned to work.
As of Wednesday, an additional 15 sworn and civilian fire staff being monitored, Ray said in an email.
Last week, other city employees who tested positive included one reserve police officer, an airport employee and a worker at the city's wastewater plant.
Police and other first responders, including firefighters, paramedics and other medical staff in Santa Clara County now qualify for expedited coronavirus testing if they show symptoms of the virus, the county announced on March 19.
Editor's Note: This post was updated to clarify that members of the fire department who tested positive are a mix of sworn and civilian staff, as well as to show the number of officials who had tested positive rose to 14, with 15 additional staff members being monitored.
3:12 p.m. March 31: Mountain View suspends evictions through May 31
Following temporary eviction moratoriums enacted by Santa Clara County and Gov. Gavin Newsom due to the novel coronavirus, the Mountain View City Council adopted renter protections on Friday. The ordinance took effect immediately until May 31.
Mountain View's ordinance protects all residential rental property, including mobile homes and mobile home lots. The county ordinance, passed last Tuesday, also covers all tenants of residential dwellings and commercial properties.
Mountain View tenants must let landlords know if they can't pay rent within seven days after rent is due. Renters must provide proof of hardship related to COVID-19 two weeks after rent is due.
Mountain View allows tenants to repay past rent within 120 days after the ordinance's May 31 expiration, similar to Santa Clara County's ordinance. The city will also offer mediation to assist in forming repayment plans and resolving disputes.
In Santa Clara County, the cities of San Jose, Santa Clara, Palo Alto and now Mountain View have passed their own ordinances.
1:50 p.m. March 31: County extends, expands 'shelter in place' order
A week before Santa Clara County's initial shelter in place order – the first of its kind in the nation – was set to expire, residents found out Tuesday they will remain hunkered down through at least May 3.
This latest update, announced by Santa Clara County health experts and elected officials, keeps all non-essential businesses closed and aims to limit interactions across the region by adding specific social distancing requirements within essential businesses and a narrowed list of construction projects that will be allowed to stay operational.
Dr. Sara Cody, the county's director of public health, said Tuesday she's starting to see the number of positive coronavirus cases slow, but that trend will only continue if people continue to limit public contact and stay inside.
"The incredible sacrifice everyone has made, I believe it's starting to bend the curve," Cody said. "We need to keep at it – we just need to keep at it."
Since Cody's first order took effect March 17, the county has seen the number of cases increase from 138 to 890. While Santa Clara County remains the epicenter of the area's outbreak, she said the collective efforts to slow the spread are vital.
"The goal is to decrease, to the greatest extent possible, the average number of contacts that each of us has with each other every day," she said. "So, please remember that every unnecessary contact with another person increases the chance that the virus may spread from one person to another."
From the start, health officials' goal in issuing the "stay at home" order was to keep the area's hospitals from being flooded by COVID-19 patients. County Executive Jeff Smith said none of the county's 11 hospitals with a combined 1,475 beds, have not reached capacity to date, but each have surge plans in place.
Currently, 152 confirmed coronavirus patients are hospitalized in the county, with another 90 patients suspected to have the respiratory illness. Out of 300 total ICU beds in Santa Clara County, 119 are currently available. Right now, 209 ventilators are being used out of the 611 ventilators available, though the county is also expecting to receive another 500 ventilators.
To continue to keep residents updated, the county will also start hosting daily briefings Monday through Friday at 10 a.m. on the latest changes and numbers.
Live Stream: Shelter in Place Order is Extended to May 3, 2020Full transcript: https://pastebin.com/be1PPb1UVisit our website for updates on novel coronavirus: https://direc.to/dy1P

Posted by County of Santa Clara Public Health Department on Tuesday, March 31, 2020
7:40 p.m. March 30: San Jose to host second eviction moratorium webinar
San Jose housing officials will host another webinar on Tuesday for both tenants and landlords to discuss the temporary eviction moratorium due to the novel coronavirus crisis. Already, San Jose, Santa Clara County and state Gov. Gavin Newsom have halted evictions amid the crisis in differing capacities.
Last Thursday, Rachel VanderVeen, deputy director of the city's Housing Department, outlined the city's eviction moratorium, which applies to people who cannot pay rent because their finances have been upended by the virus and governments' ensuing responses. VanderVeen also took questions from residents following the presentation, which was posted on YouTube.
The webinar will take place at 1 p.m. Tuesday. Join via Zoom at https://zoom.us/j/494686529 or dial 669-900-9128 and use webinar ID 494 686 529. City officials said the webinar has room for 500 participants.
7:26 p.m. March 30: Library registers more than 1,000 readers for spring reading challenge
In less than three weeks, the San Jose Public Library has recorded more than 1,000 people who signed up for "Spring Into Reading," an online reading and learning challenge amid the county's shelter in place orders. The county's order took effect March 17, the same day all city libraries closed.
To win a grand prize, readers must finish four hours of reading — or four books for pre-readers under 5 years old — plus four additional activities, yielding an activity badge.
Prizes include a backpack with school supplies for readers ages 5 to 10, while teenagers can get Airpods. Adults can get headphones and a portable charger. Register at https://www.sjpl.org/spring.
7:24 p.m. March 30: City suspends non-urgent services
San Jose officials announced they temporarily suspended vehicle abatement services and some illegal dumping response.
In an update Monday, city officials said they will not investigate reports of abandoned or illegally stored vehicles, while they will only address high-priority illegally dumped items such as hazardous materials blocking cross-streets or ramps. However, the city will continue investigating reports on issues such as streetlight outages, graffiti and potholes, which can be reported through the city's 311 website and mobile app.
5:30 p.m. Santa Clara's power company offers $30 credit to customers
Santa Clara officials on Monday announced that Santa Clara's city-owned electric utility, Silicon Valley Power, will give each customer a one-time $30 "environmental credit" on every residential electric bill.
The credit will show up in the next month or two, according to the city. Residents don't have to do anything to receive the credit.
5 p.m. March 30: Facebook offers $25M for health care worker stipends
Facebook has offered $25 million for stipends for medical personnel who need things like transportation and childcare money, or who need funds to stay in a nearby hotel after a long shift at the hospital.
"We didn't have the money to do that," Gov. Gavin Newsom said Monday during a livestream with Facebook founder Mark Zuckerberg and wife Pricilla Chan, who is a notable pediatrician and philanthropist.
3 p.m. March 30: Newsom unveils state platform to recruit medical personnel
California is putting a call out to people with medical training to help as the coronavirus pandemic spreads across the state.
A new website launched Monday — www.healthcorps.ca.gov — asks retired doctors and nurses, as well as students in their final year of schooling or those currently working on getting their license to sign up on the website to allow the state to place those with medical knowledge where they can help. But it's not just doctors and nurses who have worked with acute physical illness that state officials are seeking. The state is looking for dentists, pharmacists and behavioral health professionals, such as psychiatrists to sign up on the newly-launched website.
Officials have been working to secure new facilities around California for beds and medical equipment as health experts predict significantly more people will need hospitalization from the contagious virus in the coming weeks. State officials say the need is expected to outpace the existing supply of beds and manpower in the next eight weeks, though the state is working to fill the gap now.
"To meet this moment, we're opening additional health care sites to treat people affected by COVID-19 and to relieve the pressure on our health care system by providing care for non-COVID-19 cases," the new website states.
Qualifications to sign up include:
Be 18 years of age or over
Be eligible to work in the United States
Have a valid driver's license or passport, and a social security card
Have a valid California License for clinical practice (if you are a MD, DO, etc.) or are a medical student or nursing student
Have no negative licensure/certification actions (for licensed/certified professionals)
Those who sign up will be given malpractice insurance coverage and will be paid for their work, California officials said.
2:03 p.m. March 30: Santa Clara County DA releases PSA on hate crimes
The Santa Clara County District Attorney's Office released a public service announcement with information about hate crimes, as researchers, advocates and officials have noted a rise in discrimination — particularly for people of Asian descent — due to the coronavirus.
In the video, prosecutors of diverse backgrounds condemned terms like the "Chinese" or "Italian" virus to describe COVID-19. For perspective, more than 38% of Santa Clara County residents identify as Asian, according to census data, and people of color overall represent nearly 70% of the county's population.
"Viruses do not have ethnicities, religion, sexuality or gender," Cheri Hawkins, a deputy district attorney, says in the video.
District Attorney Jeff Rosen says if people hurt or threaten others because of their background, "you'll have a lot more to worry about than COVID-19."
The DA's office encouraged victims of hate crimes or witnesses to call local law enforcement. The PSA will soon be available in Chinese, Vietnamese and Spanish, officials said on Twitter.
Advocates and researchers have noted a rise in discrimination amid the pandemic. The Asian Pacific Planning and Policy Council, Chinese for Affirmative Action and San Francisco State University's Asian American Studies department created a database where people can report racist anti-Asian incidents.
In the first four days of creating the online form earlier in March, more than 370 cases were submitted, according to Russell Jeung, a San Francisco State professor and the lead researcher for the reporting center, "Stop AAPI Hate."
"This is a very typical American response to the 'yellow peril threat,'" Jeung told KQED. "Health policies have historically been used to discriminate against people of color. And this is just another case of it."
The incident report form can be found here and is available in eight languages, including Chinese, Vietnamese and Korean.
This Virus has no ethnicity. We do – and we are in this together. If you are a victim of a hate crime, please contact your local law enforcement agency.

(Chinese, Vietnamese, and Spanish versions will be available soon.) pic.twitter.com/keo0lEsy9I

— Santa Clara DA (@SantaClaraDA) March 30, 2020
12:19 p.m. March 30: Bay Area to extend shelter in place until May
Bay Area governments announced county health officials will extend the three-week "shelter in place" order until May 1. The previous deadline was April 7 after the order took effect on March 17.
"We have said an extension might be expected as we work together to slow the spread of the COVID-19 disease," officials said in Monday's press release, adding more details on the extended order would be unveiled in the next day or two.
In addition to Santa Clara County, the existing order impacts Alameda, Contra Costa, Marin, San Mateo and San Francisco counties, as well as the city of Berkeley. These areas represent a core part of the Bay Area, which has a combined population of more than 6.7 million people.
After the Bay Area's original shelter in place order took effect, state Gov. Gavin Newsom issued "shelter at home" statewide on March 19 with an indefinite deadline.
10:50 a.m. March 30: Google donates $1 million to Silicon Valley Strong
Google has donated a $1 million grant to Silicon Valley Strong, an initiative that centralizes resources for residents and small businesses amid the novel coronavirus pandemic.
San Jose Mayor Sam Liccardo's office announced the Mountain View-based tech giant's contribution Monday morning. The Silicon Valley Strong fund is intended to help residents who are at the highest risk of displacement, small businesses at risk of closure, and community-based organizations to serve people impacted during the crisis. As of Monday, $14 million has been pledged to the fund, according to Rachel Davis, press secretary for Liccardo.
"As we continue to face this pandemic head-on, it's thanks to the help and generosity of neighbors like Google, that we are able to continue to financially protect our residents and small businesses," Liccardo said in a statement.
The Silicon Valley Strong initiative was launched on March 19 by local governments and nonprofits. The Silicon Valley Community Foundation manages the fund, which can be found here.
On Friday, Google CEO Sundar Pichai said the company was pledging more than $800 million to help support small and medium-sized businesses, health organizations and governments, as well as healthcare workers responding to the crisis.
9:36 a.m. March 30: SJSU alumni develop 45-minute COVID-19 test
Amid a widespread lack of testing in the U.S. to determine the full effects of the novel coronavirus, two San Jose State University alumni helped develop a 45-minute test to detect the virus, according to the university.
Dr. David Persing, class of 1979, and Rich Nolasco, class of 2008, work for Sunnyvale-based Cepheid, a molecular diagnostics company which recently got emergency approval from the Food and Drug Administration for its Xpert Xpress SARS-CoV-2 test.
The rapid molecular diagnostic test is designed to detect the virus, which causes the COVID-19 disease. In 45 minutes, it can be administered at point-of-contact locations with patients, such as hospitals, emergency rooms and urgent care centers.
"When I found out that Cepheid was coming up with a test to detect the virus, I knew it would make a huge and positive impact," Nolasco said in a statement.
Santa Clara County public health officials have told San José Spotlight existing testing takes about 5 to 7 days to return results to patients. A lack of testing in the U.S. has made it difficult to know the full scope of the coronavirus pandemic's impacts across the country. The Centers for Disease Control and Prevention has issued guidelines restricting who gets tested for COVID-19, but this often excludes people who may be asymptomatic, or those with mild or moderate symptoms.
As San José Spotpotlight reported, even in Santa Clara County — the epicenter of the coronavirus outbreak in the Bay Area — people have had difficulty getting tested, which county officials say may undercount cases by the thousands.
The Cepheid test started shipping out last week, according to STAT News, a health news website.
1:00 p.m. March 29: Another fund to help small businesses
Local business leaders have announced a new fund to help small businesses survive the economic fallout from COVID-19.
Verizon has committed $2.5 million to the fund, announced by the Local Initiatives Support Corporation, a national social organization that supports schools, housing and businesses. The money will help provide "critical aid to small businesses facing an immediate financial threat due to the COVID-19 pandemic," according to Jesus Flores, who oversees the Alum Rock Santa Clara Street Business Association.
Funds will be allocated in grants up to $10,000, with priority given to entrepreneurs who are immigrants, minorities and women.
You can find more information, including how and when small businesses can apply, by clicking here.
4:00 p.m. March 28: Second confirmed case at SJSU
San Jose State officials announced a second positive COVID-19 case at the downtown campus — this time it was an employee.
The camus employee was in the student union over the past week, according to Patrick Day, vice president for student affairs, and Dr. Barbara Fu, the acting medical director at the university's student health and wellness center. The person is off campus now and recovering at home.
"We remain in touch with this individual and support their healthy and safe return to the university," Day and Fu said in a statement.
SJSU administrators closed the student union through spring break to allow for extra cleaning and sanitation. The university has also started to notify people who may have had contact with the employee and could be at risk of exposure. "We realize news of this kind can create concerns and anxiety in a time of ongoing change," Day and Fu said.
This is the second case reported at SJSU. On March 17, a student who lived off-campus also tested positive.
12:00 p.m. March 28: Bloom Energy shifts to refurbishing ventilators
San Jose-based technology company Bloom Energy is stepping up to provide life-saving ventilators after a call from Gov. Gavin Newsom to help hospitals facing a critical shortage.
Newsom on Saturday joined Mayor Sam Liccardo and Bloom Energy CEO K. R. Sridhar to tour the company's assembly line in Sunnyvale and speak to a row of workers, clad in blue face masks and gloves, who were working on the ventilators.
According to a statement on Bloom Energy, the company is using "its expertise and capabilities in product end-of-life management" to refurbish thousands of out-of-service ventilators from across the country for hospitals and medical facilities in need of the breathing machines amid the COVID-19 pandemic.
"We are working with state agencies and customers – many of which are hospitals and medical device companies – to identify supplies of unused, out-of-service ventilators," company officials said.
Liccardo said Saturday he's "amazed" at the work Bloom Energy has accomplished in a short amount of time.
"This isn't just a story about brilliant minds, it's a story about inspired hearts tackling this crisis through innovation," the mayor posted on Facebook. "I'm grateful for the exceptional leadership of Governor Gavin Newsom, who embraces the vision of our valley."
Any organizations that have out-of-service ventilators can email [email protected] or visit this website.
8:30 p.m. March 27: Santa Clara County unveils new COVID-19 data dashboard
Santa Clara County on Friday unveiled a new dashboard aimed at giving residents a real-time look at the number of cases reported in the county, where the novel coronavirus has created especially deep roots. The new dashboard also offers a historical look at the rise in cases over time, and some demographic breakdowns when it comes to infections.
Below is a look at the Dashboard as of March 27.
5:27 p.m. March 27: Santa Clara County gives two-week update 
Following the first two weeks of California's stay-at home order, Santa Clara County officials Friday urged residents to keep staying indoors, fearing that not complying with the state order will cause a surge of new cases.
County Executive Jeff Smith said social distancing takes at least two weeks before the spread of the coronavirus starts to slow down, but maintained that staying at home is the most effective strategy to stay healthy.
He added that it's important for residents to not rely on statistical projections as an alibi to leave the house.
"If you want to stay healthy it's really not important to be counting numbers and trying to look at curves and projections — what's really important is to stay at home and stay away from other people as much as you can," Smith said.
Supervisor Cindy Chavez said residents should be using social distancing as "medicine," adding that the county is looking at China as a model to contain the spread of the virus.
"The reality is we're going to have to really use social distancing as if it was medicine," she said. "It's as if the doctor said to you, 'If you take it every day, you're not going to end up in the ICU or at the hospital.'"
1:35 p.m. March 27: Newsom orders statewide moratorium on evictions
California Gov. Gavin Newsom issued an executive order on Friday immediately banning evictions because of the novel coronavirus pandemic. The moratorium lasts through May 31.
Several cities and counties across the state — including San Jose, Santa Clara and Santa Clara County — have already halted evictions amid the outbreak. Newsom had previously issued an executive order that authorized local governments to halt evictions for renters impacted by the pandemic.
The new order prohibits landlords from evicting tenants for nonpayment of rent and stops enforcement of evictions by law enforcement or courts, according a press release from the governor's office.
It also requires tenants to declare in writing — no more than a week after rent is due — that they cannot pay all or part of their rent because of COVID-19, the disease caused by the virus.
According to the order, reasons for not paying can include being unable to work because they, a family member, or someone in the household were sick with a suspected or confirmed case of COVID-19. It can also include being laid off, lost hours or other income reduction from the pandemic or governmental response, or they had to miss work to care for a child whose school was closed.
Tenants must show documentation of the pandemic's impact on paying rent, such as termination notices, paychecks, bank statements, medical bills or a signed notice from an employer or supervisor explaining an employee's financial circumstance, the order says. However, tenants don't have to submit it to the landlord in advance but can provide it before paying past-due rent.
In doing so, tenants have to repay full rent in a "timely manner" and could still face eviction after the state moratorium is lifted, the governor's office said.
Because it takes effect immediately, the order provides relief to tenants whose rent is due April 1.
On Wednesday, state legislators wrote to Newsom asking him to issue an order banning evictions in California during the pandemic. The lawmakers told Newsom less than 50 of California's 540 cities and counties had limited evictions during the pandemic. More needed to be done, they said.
"(California) has taken good steps on this front, but we need to go further faster," state Sen. Jim Beall, D-San Jose, tweeted on Wednesday. "A comprehensive approach is needed to keep people in their homes."
11:45 a.m. March 27: Have questions on San Jose's eviction moratorium?
The start of a new month is fast approaching, meaning residents in the South Bay will have to pay rent. For some, that will be hard, or even impossible, after being out of work due to a statewide "stay at home" order that shuttered some businesses last week.
San Jose was one of the first cities in the state to pass a temporary moratorium on evictions during the COVID-19 outbreak. About a week later, Santa Clara County supervisors did the same for the entire county.
On Thursday, San Jose's Housing Department Deputy Director Rachel VanderVeen offered an overview of the city's eviction moratorium, which applies to people who are struggling to pay rent because their finances have been upended by the novel coronavirus. VanderVeen also took questions from residents following the presentation. Watch below.
11:15 a.m. March 27: Destination: Home pauses applications for financial assistance to low-income residents
Since starting its $11 million COVID-19 fund on Monday to help people with financial assistance, Destination: Home received thousands of applications that have caused the organization to pause aid as of Thursday.
In the first 12 hours of launching, the Santa Clara County nonprofit organization received 1,400 applications, tweeted Jen Loving, CEO for Destination: Home, on Thursday. Three days later, by Thursday, the organization received 4,400 requests for assistance, which pays for rent and other basic needs.
"Today we had to make a difficult decision to pause accepting applications because we have already exceeded the resources we worked so hard to raise," Loving tweeted Thursday. "We essentially ran out of money in 3 days. We are facing catastrophic financial suffering here."
Funding came as part of the Silicon Valley Strong effort in partnership between government, nonprofit and private groups. The aid helps vulnerable, low-income county residents through the Santa Clara County Homelessness Prevention System with immediate financial assistance of up to $4,000 per month of lost income.
About half of applications for the fund were from households classified as extremely low-income, Loving said, which would be less than $43,900 for a four-person family. Individuals in that bracket make less than $30,750.
"We knew the need would be great, but we were all surprised by how quickly the requests for assistance came in," said David Low, director of policy and communications for Destination: Home, on Friday.
The county, meanwhile, halted evictions temporarily on Tuesday amid the pandemic, but this does not relieve tenants of paying past-due rent altogether. Americans have also filed for unemployment claims in unprecedented numbers while food banks have been overburdened.
In the meantime, county residents can be added to the interest list through the Sacred Heart Community Service, which administers aid.
The organization is now asking more companies and individuals to consider donating.
Loving tweeted federal resources for financial assistance are likely coming, "but that does not help us right now. I feel scared in a way that is hard to describe, and I have been in this work a long time. We will do everything we can to raise more money as quickly as possible."
Today has been very hard. We launched our $11M #COVID19 financial assistance fund on Monday. We begin receiving applications immediately, sometimes as quickly as twice a minute. We had 1400 applications in less than 12 hours. Today we have 4400. Families are all in desperate 31/?

— Jen Loving (@jenloving23) March 26, 2020
8:01 p.m. March 26: Two San Jose parks close
The city of San Jose announced Thursday two city parks will be closed to the public until further notice starting Friday, due to overcrowding concerns.
Alum Rock Park situated in the city's East Side as well as the staircase and trail on Communications Hill will close.
Following the first week of a state mandated shelter-in-place order, a record high number of Californians crowded beaches and parks last weekend, despite calls from local and state leaders to stay at least six feet away from others when venturing outside.
While temporary, city officials are concerned the number of people visiting will make social distancing impossible in these public spaces. City leaders said the closures are necessary to contain the spread of the virus and "reduce stress" on first responders, park rangers and emergency services.
To prevent the closure of other parks, San Jose leaders advise maintaining social distancing in public spaces and following the state's stay-at-home order.
5:20 p.m. March 26: Another SCC deputy tests positive
The Santa Clara County Sheriff's Office announced Thursday that another deputy — now the sixth person in the department — has tested positive for COVID-19.
The deputy was assigned to the Custody Bureau, officials said, and was one of the three deputies who were previously identified as having potential exposure. The deputy has been self-isolating at home.
"We are continuing our investigation to identify any additional potential exposures to staff and inmates," the sheriff's office said in a statement.
The Custody Bureau includes several divisions at the Main Jail and the Elmwood Correctional complex, though the sheriff's office hasn't said where the deputies were based. While four of the five cases include deputies on a single team at the Custody Bureau, one of the deputies who has tested positive is a patrol officer.
4:45 p.m. March 26: San Jose mayor urges residents to donate blood
San Jose Mayor Sam Liccardo urged residents on Thursday to donate blood, highlighting an urgent need as blood drives nationwide have been canceled during the novel coronavirus outbreak.
The American Red Cross blood drive cancellations have resulted in a drop of more than 200,000 donations this year, Liccardo said. Blood supply is drying up, but it is still crucial for public health, he said.
"Although so much of our economy has stopped and so much has changed in the last couple of weeks … we know that we're still going to have, unfortunately, car crashes. We're still going to have traumatic injuries," Liccardo said, before donating blood himself. "We need you all to step forward, if you are willing and able."
Giving blood is safe, he added, and the American Red Cross is taking extra precautions during the pandemic to ensure it remains so.
Individuals can schedule appointments to donate blood at www.redcrossblood.org.
1 p.m. March 26: SVLG donation fund fetches more than $4M for COVID-19 response
A fund set up by the Silicon Valley Leadership Group has received more than $4 million in donations to Santa Clara County medical professionals and hospitals responding to the novel coronavirus outbreak, the business association said Thursday.
A week ago, the group launched the donation drive with San Jose Mayor Sam Liccardo and Cindy Chavez, president of the Santa Clara County Board of Supervisors, to collect money and supplies for the Valley Medical Center Foundation. The resources are meant to go to hospitals in the Santa Clara County health care system.
"Silicon Valley must step up even more to ensure we have a healthy region while ensuring we have a healthy economy," the group's CEO, Carl Guardino, previously said.
The group represents more than 360 companies in the region.
To donate, visit https://www.svlg.org/covid-19-updates/.
11 a.m. March 26: VTA suspends light rail service after operator trainee tests positive
The Santa Clara Valley Transportation Authority shut down light rail service Wednesday night after an operator trainee tested positive for COVID-19.
The entire light rail service was shut down at 11:30 p.m. until further notice, transit officials said. Six trains were in operation at the time and sweeps were made so customers weren't left stranded on platforms.
Light rail ridership for VTA has declined by 82% since Santa Clara County's shelter in place order, transit officials said. Officials will now focus operational resources for bus service.
In the meantime, transit officials said light rail vehicles will remain in the operating division and undergo more cleaning, in addition to the operating division itself. VTA was already conducting enhanced cleaning and sanitation efforts.
9:45 a.m. March 26: Almost half of Kaiser San Jose's hospital beds filled with patients for COVID-19
Almost half of the beds in Kaiser Permanente's San Jose hospital have patients for the novel coronavirus, according to an executive vice president for the managed care consortium.
In a March 19 interview with the Journal of the American Medical Association, Dr. Stephen Parodi said Kaiser's San Jose Medical Center "actually has almost half of the hospital filled with either COVID-confirmed or persons under investigation."
This has resulted in Kaiser scrambling for personnel and personal protective equipment for them, he added. The San Jose hospital has 242 beds, according to Kaiser's website.
One intensive care unit at the hospital was filled entirely with COVID-19 patients, Parodi said, which has resulted in the hospital repurposing another unit to take care of regular intensive care patients.
He also offered insight on two hospitals in Santa Clara County with each having about a quarter of COVID-19 patients in the ICU.
Many of the patients that had been receiving outpatient care the week before that were relatively doing well, he said, with a cold and cough but then "rapidly deteriorated." Parodi said people can appear relatively stable, but require intubation within hours to assist with breathing, or rapid response.
He said the "jury's still out" about which demographics are more vulnerable to end up being hospitalized due to the virus. People as young as their 30s and 40s are requiring intubation, as well as older patients in their 70s and 80s. Mortality expected from the disease is unclear, too.
"It's time now to scale," Parodi said in the interview. "Open your surge plans up, get them going even if you haven't seen it in your community. It will be there and you need to be ready."
On Wednesday, a senior official at Kaiser's San Jose hospital told the San Francisco Chronicle the percentage of COVID-19 patients this week was lower than the previous week, when Parodi spoke. Irene Chavez, senior vice president and area manager for the hospital, told the newspaper the significant numbers shouldn't be surprising because the South Bay is a COVID-19 hotspot and Kaiser has many local residents as members.