Rows of cots, hand washing stations and other medical supplies have been retrofitted inside the Santa Clara Convention Center as it transitions into a temporary federal medical station to treat less-severe COVID-19 patients.
The coronavirus has been ripping through the South Bay, with Santa Clara County counting 542 confirmed cases and 19 deaths as of Friday. As those numbers are expected to surge in the coming weeks, the convention center, which is located at 5001 Great America Parkway, will help ease the strain on health care facilities by hosting 250 beds for patients who have been discharged but are in need of a safe, isolated place to recover.
"Patients who are well enough to leave the hospital that don't otherwise have a safe place to return can come here for ongoing care," said Dr. Jennifer Tong, branch director for the hospital surge countywide planning team, which is working to prepare health care systems countywide.
While the site – one of eight across the state – was initially intended for patients with conditions unrelated to coronavirus, such as recovering from surgery, Tong said they wanted to avoid the risk of accidental exposure from individuals who have yet been tested.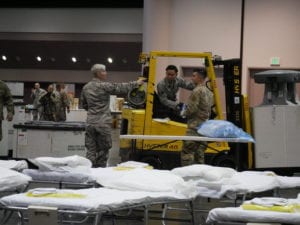 The federal medical station could be operational as early as next week, after the Army Corp. of Engineers – along with other federal, state and local officials – first toured the building Monday.
The station will be staffed by a volunteer group of physicians, nurses and paramedics provided through the state, which county staff can supplement with behavior health and social workers moving forward.
Because of its low-acuity setting, Tong said there's no need for ventilators onsite, but patients will be able to stay socially isolated there for two to three weeks, as needed, especially if they come from crowded homes or no home at all.
Around 35 members of the California Air National Guard 146th Airlift Wing, who mobilized to set up the Riverside Fairgrounds medical station in Indio earlier this week, were on pace to have the Santa Clara station complete within 12 hours.
The convention center's 262,000 square-feet of open meeting space proved ideal for this purpose, as it can also support refrigeration, laundry and parking needs. Santa Clara Councilmember Kathy Watanabe, whose district includes the center, said Friday she's excited the city could offer the facility's space, especially since it's near multiple modes of transit and away from residential areas.
"We're fortunate that we have these facilities that can be repurposed for such a positive impact, not just for the area but statewide as well," Watanabe said.
Contact Katie Lauer at [email protected] or follow @_katielauer on Twitter.