While the lobby of Renascent Place, a 160-unit affordable housing complex in San Jose is white-glove clean, a few steps inside residents' living quarters the smell of mildew becomes almost overpowering.
"It's nasty as hell," said Jina Monarch, a resident at Renascent Place. She's lived at the complex since it opened in February 2020. By her estimate, she's been homeless, on-and-off for 28 years. Monarch, a cancer survivor, said the mildew smell has made her emphysema worse.
A resident last month triggered a fire in their room, activating the building's sprinkler system. The sprinklers caused leaks that warped some of the floor tiles and forced management to strip down some of the insulation on some of the walls on the third floor.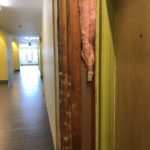 The residents say the exposed walls, wiring and tiles still haven't been addressed by management.
Monarch's car has been vandalized and she's still waiting for management to fix a broken window in her apartment.
Afraid for her life, she said she's "barely" in her room anymore because she doesn't feel safe.
Renascent, a 160-unit affordable housing complex established by the county was touted as a place where low-income and homeless residents who were struggling with their vices could defeat them with the help of a roof over their heads and resources a phone call away. The complex includes a bicycle repair training facility operated by Good Karma Bikes, a multi-use community room and a courtyard with workout equipment, barbecue grills and planters for growing fruits and vegetables.
The project's managers, John Stewart Company and Abode Services, also promised internet, onsite medical and mental health services and job training.
Three residents told San José Spotlight none of those services have been provided. Instead, they tell of a raucous, almost lawless environment where residents self-medicate, drugs and alcohol are exchanged, management prohibits guests and issues excessive lease violations since the facility opened last year.
Both Abode Services and the county referred requests for comment to Charities Housing, which manages the property.
Officials from Charities Housing denied the allegations in a letter to San José Spotlight. The company said services have never ceased, but have been heavily modified due to the COVID-19 pandemic. According to a statement, Charities Housing has provided numerous on-site social activities and said it had 14 workers on staff.
"The COVID-19 restrictions have greatly impacted and limited the types of services that can be offered at this time," said Lisa Caldwell, the director of property management at Charities Housing. "The team is constantly working to provide engaging opportunities within those limitations and look forward to the day when the restrictions are lifted and services can be greatly expanded."
Caldwell also said the company takes security "very seriously" and has two security guards at the site 24 hours a day, seven days a week.
"There is free public Wi-Fi in the common areas that are paid for by the property that the residents can use at any time," Caldwell added.
Another property, Second Street Studios, funded by nonprofit First Community Housing, has been rocked by similar allegations.
Resident Gina Estrada said she faced eviction in four days for bringing her boyfriend into her room when she spoke to San José Spotlight last week. Estrada said she needed her boyfriend to help her move around because management failed to install the necessary handicapped bars in her third-story room.
When management found out her boyfriend was living in her room, she said, they gave her a 10-day notice of eviction.
"They (the management) just keep pulling us down. They said they would provide security but the security was told that the building comes first," Estrada said. "People should come first here."
Tenants first moved into the 2.5-acre site in February 2020, where they were each given 360 square foot apartments. Under Section 8, the federal government's largest housing assistance program, residents pay a third of their income for rent, in addition to the cost of utilities.
The formerly homeless residents are hoping for change. Estrada said she'll be without a home in a few weeks, leaving behind Monarch. While some might consider Monarch's situation the better of the two, she doesn't feel that way.
"This should feel like home because this is our home," Monarch said. "But it doesn't feel anything like it. It hasn't been home."
Contact Lloyd Alaban at [email protected] or follow @lloydalaban on Twitter.
Spotlight Letter 3-16-21