Denise Russell hasn't paid rent at her 3,600 square-foot San Jose beauty salon in six months.
Dustin David Salon's landlord is sending rent collectors to his home in Los Gatos. He's several months behind.
Although they're now able to provide services outdoors, South Bay salons are reeling over the state's months-long flip-flops on whether they could open. The policies have taken a financial, physical and emotional toll.
Russell was ecstatic to re-open Special FX Salon & Day Spa in July after four months of being shuttered. Like most other businesses in Santa Clara County and across the state, Russell was forced to shut down in March as California locked down to try and fend off COVID-19. She understood the necessity but eventually became restless.
On July 13, Russell was prepared to open her doors in accordance with state and industry guidelines. She spent thousands on masks, plexiglass shields, sanitizer and even producing her own safety video for her clients.
"The day we get in here to do work… my phone starts blowing up," Russell said. "I'm busy doing hair. And then I get a text that we've been closed down."
Hours after reopening, Santa Clara hair and nail salons, barbershops, tattoo parlors and other personal care businesses were told to shut down again. Russell and her employees were defeated.
"Our energy goes from being really excited to be reopened, to just super low and bummed out," she said. "So we had 'til midnight to be closed again."
Days later, Gov. Gavin Newsom announced salons would be able to resume outdoor operations, with restrictions.
So Russell pivoted again. She bought tents and portable shampoo bowls, among other supplies. Then, before opening, she found out she wouldn't be able to do the "high end" services she usually provides, like shampooing and coloring. Those services make up nearly 80% of Russell's revenue.
Industry guidance for salon owners includes having outdoor operations "under a tent, canopy or other sun shelter as long as no more than one side is closed, allowing sufficient air movement," according to a document from California Department of Public Health and California Department of Industrial Relations.
The back-and-forth restrictions and lack of communication are a failing on the part of the state, said Fred Jones, legal counsel for the Professional Beauty Federation of California.
"We know that we're a lot safer than so-called 'essential businesses,'" Jones said.
Dustin David, of Los Gatos, said at first the lockdown was "the sabbatical I've never taken and always needed."
The break turned from relaxing to stressful, however, when he realized the landlord for his salon was not going to be flexible with the rent. He's received letters telling him his payments will be due in full and has collectors showing up at his door.
"That's been the most challenging thing," said David, who switched to outdoor services at his salon and started making house calls. The extra physical work, he says, has been exhausting, too.
"I feel like a pack mule," David said of the house visits. He has to bring all of his materials with him, from tissue, sanitation supplies, colors, foil and towels, among other odds and ends. "It takes a tremendous amount of work."
And with that extra work, the cost for a cut and color go up. Some clients are understanding but others are not.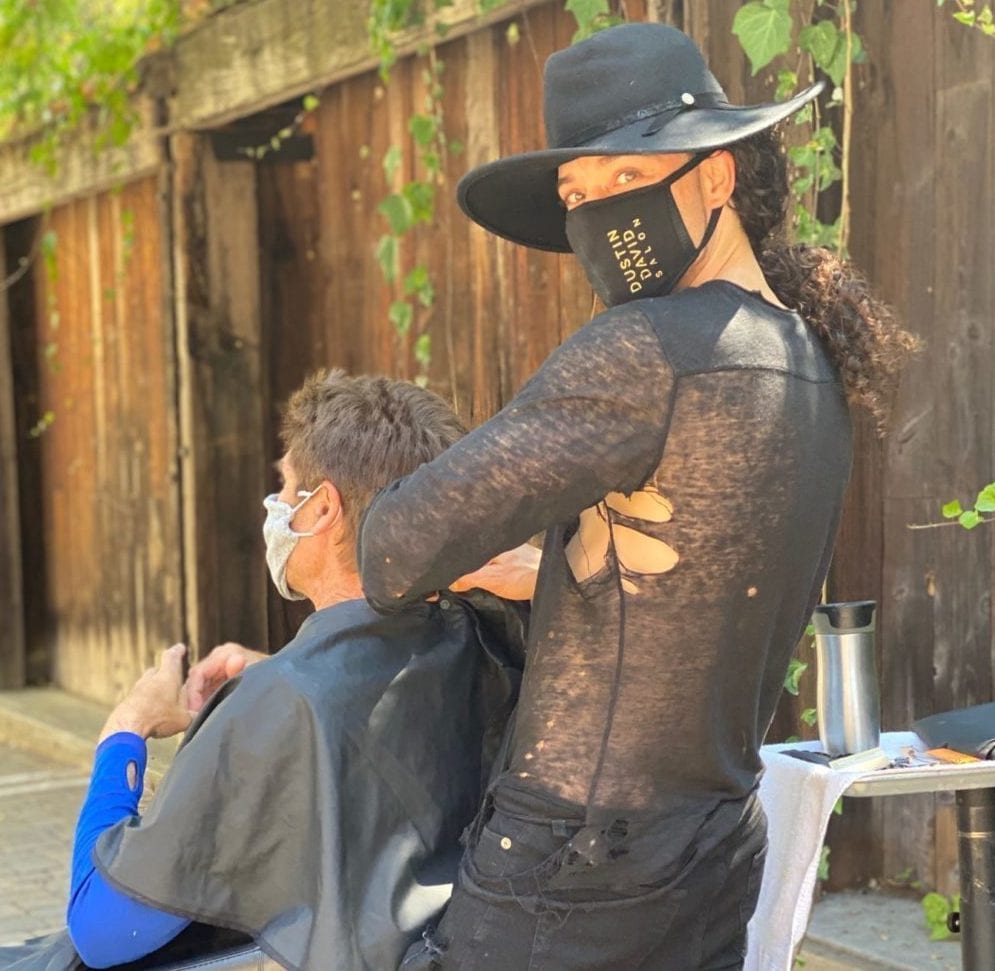 A large portion of the 1,600 hours of training and licensing for hair stylists involves the knowledge and practice of strict sanitation procedures, which Russell, Jones and David said should be taken into account when considering how to regulate salons during the pandemic.
Meanwhile, Russell and her stylists are lugging chairs, baskets and equipment in and out each day to the parking lot in front of the salon. It takes extra time but she says she's excited to see her clients again, as well as her stylists. She said her salon is barely hanging on. Of the 20-plus stylists that would normally be working, there were just eight outdoors Tuesday.
"I feel very passionate about this. I love what I do," Russell said, her voice pained. "We have 35 people that work (at Special FX) and that's 35 families that have been out here struggling."
South Bay salons open for service:
Special FX Salon & Day Spa: 1711 Branham Ln a13, San Jose. (408) 264-4505
Royal Shaving Parlor: 227 N Santa Cruz Ave, Los Gatos. (408) 395-1234
Julie's Barbershop: 2221 S Winchester Blvd, Campbell. (408) 370-0603
Downing Center Barbershop: 15543 Union Ave, Los Gatos. (408) 377-4550
Society Barbershop: 946 Lincoln Ave, San Jose. (408) 430-9261
Atelier Salon: 377 Santana Row #1175, San Jose. (408) 244-4222
Know of other open salons? Leave a comment below.
Contact Madelyn Reese at [email protected] or follow her @MadelynGReese on Twitter.