Fear of another school shooting has rekindled in parents' minds now that San Jose Police officers will no longer patrol campuses within the East Side Union High School and Alum Rock Union School Districts.
The move is part of a nationwide reexamination of law enforcement's role in society, especially as officer presence has not impacted safety and often leads to negative social student outcomes. The East Side Union High School and Alum Rock Union school districts severed contracts with San Jose police last month, joining school districts like Oakland, San Francisco and Minneapolis that severed agreements with law enforcement. The San Jose Unified School District will consider a similar proposal Aug. 6.
For school leaders, the answer is to create a culture where teachers, students and administrators report suspicious circumstances or people, while relying on law enforcement only for actively dangerous situations.
But a number of parents fear removing officers from school campuses exposes their kids to dangerous situations and could be deadly in the event of a school shooting. Instead, some parents are calling for better officer training, which is echoed by national commentary, including family members of students killed by a gunman at a Parkland, FL high school in 2018.
"This will work until another mass shooting," said Hollis Shaner in response to a San Jose Spotlight story in June.
"Now active shooters will have free range," chimed in another person who calls themself a "concerned parent."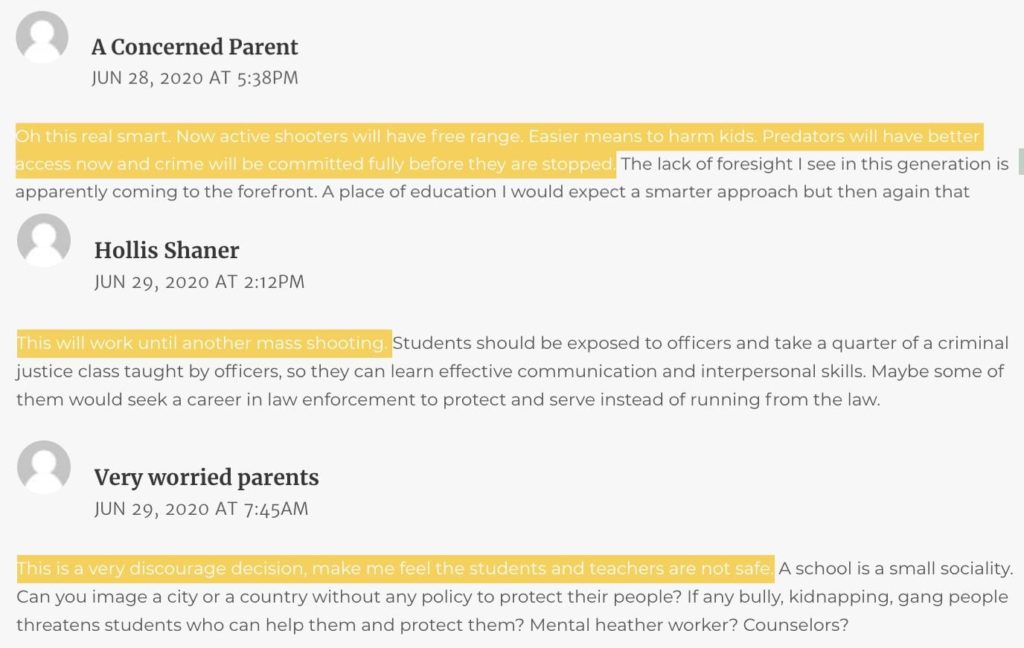 When asked how schools can protect students from gun violence without police, East Side Union High School District Superintendent Chris Funk focused on the idea that each person on campus has a role.
Funk pointed to having a campus monitor, an adult who patrols the property, manages visitors and reports students out of class. Schools also have advisors and administrators who are monitoring things during passing periods and in between classes, he said, as well as paying teachers more to take on supervision duties. Only Mount Pleasant and Evergreen Valley high schools had officers on campus consistently before contracts were nixed.
Although none of these administrators carry guns, Funk believes their presence and visibility can help thwart dangers such as school shootings.
"That's why I say it's all eyes and ears open, because we all have to take responsibility to keeping our campuses safe," Funk said. "Even if an officer is on campus, they can't stop every fight from happening, and that's an unrealistic goal. If someone were to bring a gun on campus, there's no way an officer will know that."
Funk conceded that a school resource officer would provide a faster response to active shooters, but said San Jose Police Chief Eddie Garcia adopted a policy that specifically designates a patrol officer to respond to an active shooter regionally.
"But the reality is when you think about how many active shootings there's been in the last decade and the number of schools across the United States, the chances of an active shooter being on campus is very very low," Funk added.
There have been more than 1,300 school shootings in K-12 schools in the U.S since 1970, according to the Center for Homeland Defense and Security.
Still, according to David Ropeik, a retired Harvard instructor and risk communication consultant, the statistical likelihood of a student being killed by a gun in school is 1 in 614 million and the occurrences have been getting less common since the 1990s.
Additionally, data does not show that violent events are already happening in East Side Union High School District schools.
Funk said 31 citations and five arrests were made across the district's 30 schools during the 2019-20 school year, which represents less than one percent of the district's 22,000 students. "I think the data is clear that having officers on campus do not prevent this type of activity," he added, "and that there's not enough activity to warrant, having officers on campus."
There's also no evidence showing that an expansion of campus cops created safer schools, according to Marc Schindler, head of the Justice Policy Institute.
"In fact, the data really shows otherwise — that this is largely a failed approach in devoting a significant amount of resources but not getting the outcome in school safety that we are all looking for," Schindler told NPR in 2018.
A 2019 report published by the U.S. Department of Homeland Security analyzing 41 incidents between 2008 and 2017 reported that nearly half of schools that were attacked had one or more full-time school resource officers, while another 20% employed officers part-time.
East Side Union High School District Trustee Lorena Chavez said there's an opportunity for teachers and students to take more responsibility in preventing on-campus violence, especially by changing the culture around snitching and informing adults before concerns arise or fights brew.
"We should be at a point where … we support each other as family to keep each other from making mistakes or a bad choice," Chavez said. "That's going to mean that our staff across the board is gonna have to step it up – our students as well. We're going to have to learn a different way of operating without the police, and I think it's important for the district to support defining what that looks like."
Contact Katie Lauer at [email protected] or follow @_katielauer on Twitter.