The quaint character of downtown Willow Glen stores and eateries is re-emerging, even though the COVID-19 pandemic hit businesses hard.
Last week, tree-lined Lincoln Avenue, between Minnesota Avenue and Willow Street, saw foot traffic increase as customers wandered into retail boutiques like Bella James, to paint pottery at Petroglyph or shop for gifts and lunch with family. With those encouraging signs, the Willow Glen Business Association plans to pull out all the stops this holiday season to lure business back.
The local business association—established in the 1930s—plans to host a Small Business Saturday on Nov. 27 to help buoy the economy. This will be followed with a Holiday Bubbly Walk on Dec. 4, which helps residents discover Willow Glen establishments while sampling champagne and enjoying lunch with friends in town beforehand. 
"We're excited about the response to the Bubbly Walk and anticipate about 1,000 people attending," said Willow Glen Business Association member Kandy Stevens. "The response has been very positive and uplifting."
Throughout December, the association has created a list of holiday events to help businesses get back on their feet. There is the annual Christmas tree lighting on Dec. 2 and a strolling Santa on Lincoln Avenue during the weekends of Dec. 11-12 and Dec. 18-19.
Willow Glen's unique history
With its charm and variety of restaurants, mom-and-pop stores, crafting studios and gyms, downtown Willow Glen offers multiple enticements. Tucked amidst a residential neighborhood with an elementary school and library nearby, customer favorites include Hicklebee's bookstore, where famed Harry Potter author J.K. Rowling read "Harry Potter and the Sorcerer's Stone;" Bertucelli's La Villa, where customers purchase the family's famous raviolis; and shops like Whatnots & Dodads that attract residents from nearby neighborhoods.
Brenda Tirado, a native of the area, enjoyed window shopping with her daughter after sharing lunch at Lincoln Avenue's Siena Bistro. Tirado said she's seen changes on the avenue, but loves being able to walk to the restaurants and shopping.
"That's why we live here," she told San José Spotlight. "It's one of my favorite things about it."
Nearby laughter bubbled from the bustling lunch crowd at Crepevine. Manager Nuri Ramos said although some days are busy, the last two weeks have been slow. After being closed for three months during the pandemic, Ramos said the inconsistency in diners is still unnerving. 
"The concern is always there, because we never know when we'll have to close again," Ramos said.
A newcomer to the scene is Arepas Latin Cuisine, which opened at the former Tacomania location that recently closed. Owner Joanna Torres knows it's risky to open a new restaurant, especially during a pandemic. She's counting on her South American cuisine to brings a new taste to the community. So far, the restaurant has seen a good turnout. Arepas is the only Venezuelan restaurant in the area.
"People say (the food) has amazing flavor and they want to try something different," Torres told San José Spotlight.  "Around lunch and dinner time, it gets really crazy. I think I need a bigger kitchen."
Hicklebee's bookstore has been part of downtown Willow Glen since 1979. With its walls decorated in storybook characters and shelves full of books, toys and stuffed animals, it invites children to play, find a cozy nook to read or listen to stories told by renowned children's book authors. On Nov. 3, author and illustrator Brian Selznick shared his recent work, "Kaleidoscope." Selznick was the first in-person author the bookstore has hosted since the pandemic began.
The bookstore's loyal customers pivoted to curbside pickup during the pandemic, which kept the shop in business. Customers returned immediately when the store reopened in July 2020.
Employee Barbara Black said support never wavered for the shop.
"It's the people who come in time after time," she said. "The community's been outstanding in supporting us."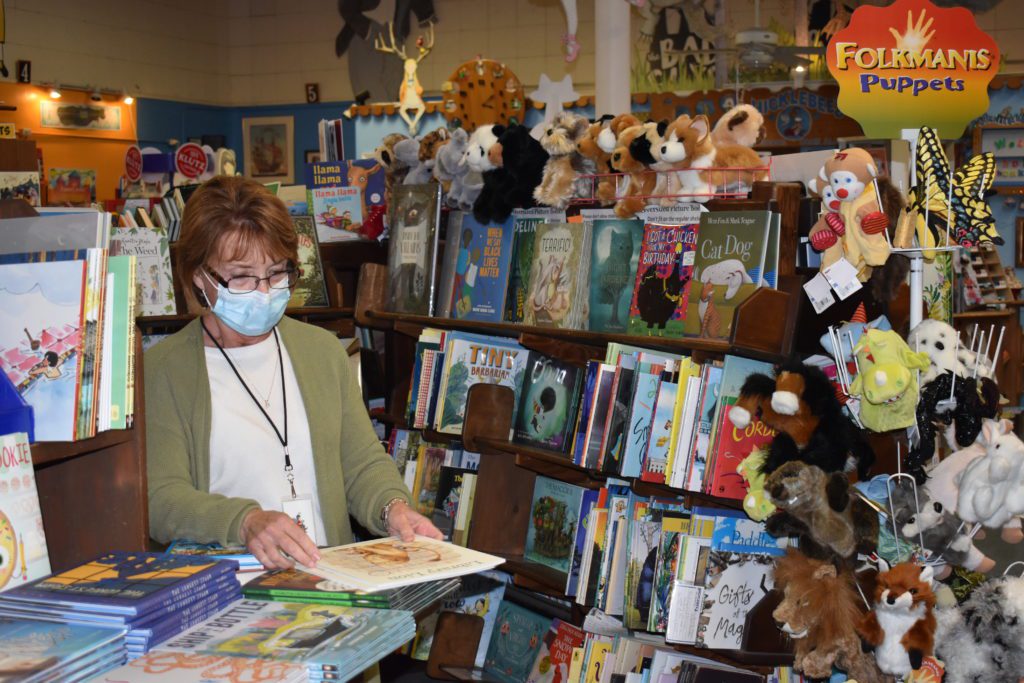 Support from city and residents
San Jose Councilmember Dev Davis, who represents District 6, said the outdoor dining Al Fresco program she developed with Mayor Sam Liccardo in May 2020 helped restaurants survive and brought energy to the avenue. The program allowed businesses, especially restaurants, shuttered by the pandemic to extend onto sidewalks, parking lots and closed streets.
"There's just a really good mix of stores, places to eat and things to do that make it a fun atmosphere," Davis told San José Spotlight. "People want to go and spend time there."
The San Jose City Council extended the program to Dec. 31. Davis would like to see it remain beyond year's end. 
Outside dining saved Bertucelli's La Villa. The Italian deli, which first opened in 1988, has been owned by the Bertucelli family for 29 years. Owner Patty Bertucelli said because of outdoor dining, the business fared fairly well through the pandemic.
"I'm humbled our customers were very loyal and supported us the entire time," she said.
Although Bertucelli didn't have to lay anyone off, she lost three employees and finding new workers remains difficult. She said she hasn't been able to fill the vacancies for six months. 
SusieCakes, which opened five years ago, had a steady stream of patrons. Most of its employees are women, and the business lost a few workers during the pandemic due to distance learning and childcare issues, but it's now doing well, said manager Rebecca Berroteran.
"People came back to us," she said. "We're the neighborhood bakery so we get our regulars and people stop in after lunch for a sweet treat."
That loyalty was validated by repeat customer Ursula Carrasco. "The cakes are just excellent. They're old-style like my grandmother made," she said.
Resident Jane Curry, who has lived in the area for 30 years, said Willow Glen rivals Los Gatos. Willow Glen, annexed into San Jose in 1936, has remained a tight knit, supportive community.
"This is a real neighborhood where people know each other," she told San José Spotlight. "It's an extraordinarily diverse population of people that care about the area."
Contact Lorraine Gabbert at [email protected]