Some unhoused people who received temporary housing after being swept off land owned by Apple are now worried they'll end up on the streets again.
Participants of the program, who have lived in Casa Linda Motel at 1669 Monterey Rd. in San Jose since September, said the program paid for by Apple and managed by HomeFirst was supposed to help them fix up their vehicles, pay for registration fees and get them into a more stable living situation.
Many of those promises remain unfulfilled, participants said, with the motel program coming to an end in May.
"This was the deal—that they're going to pay for our vehicles and help us register so that if we don't get housing, we have something to leave here with," Michelle Fisher, a participant of the motel program, told San José Spotlight. "Apple gave money to the wrong people."
Apple paid HomeFirst several million dollars to provide nine months of motel shelter and a year of case management for those swept from the land owned by the tech company. HomeFirst declined to disclose the exact amount paid by Apple.
HomeFirst acknowledged that participants were told their vehicles would be repaired, but spokesperson Lori Smith said the promises didn't come from the nonprofit. HomeFirst won't pay for those expenses.
"We do address transportation issues if and when they are necessary for a housing plan to be successful," Smith said.
All the participants also had an opportunity to get a housing plan, Smith said.
"However, engaging in support services is not required, and not everyone engages," Smith told San José Spotlight.
The nonprofit receives millions in city contracts to run shelters, tiny home communities and warming locations.
People in the Casa Linda Motel program used to live in a sprawling camp near Component Drive in North San Jose. The land is owned by Apple. Many found stability and a sense of community at the site after living there for several years. Last September, Apple decided to sweep them off the land, citing sanitation and privacy reasons.
Apple didn't respond to an inquiry about the issue.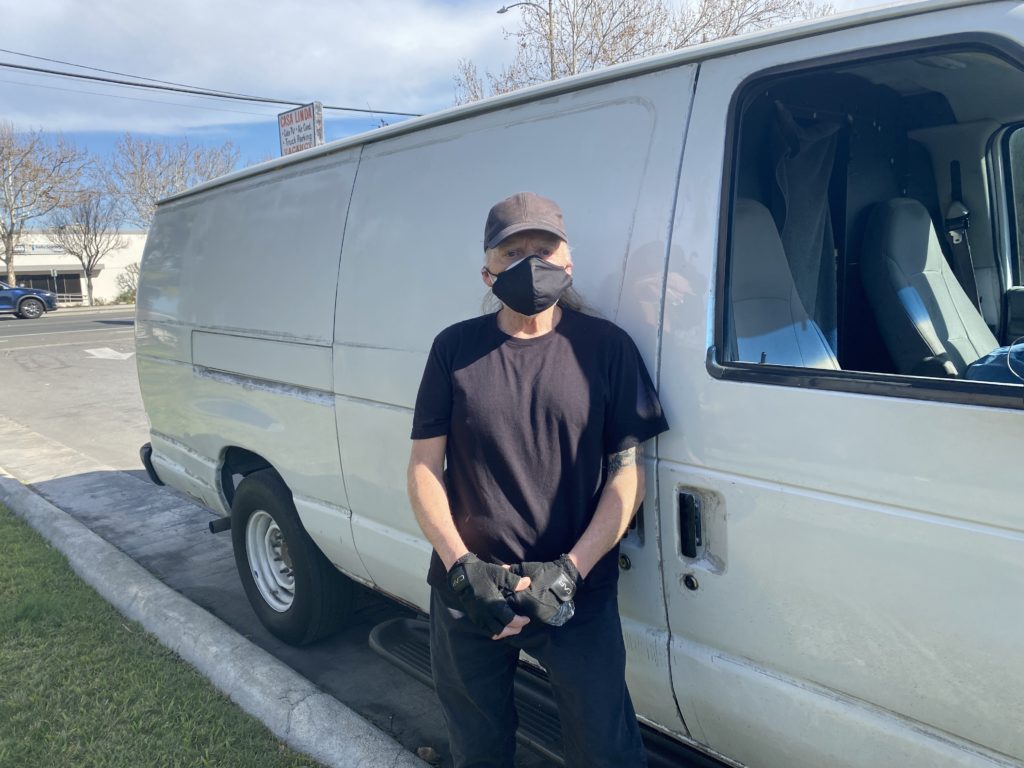 Hostile workers, little help
Out of 40 people who accepted shelter through the motel program, only two or three people have found more permanent housing, participants said. More than half the participants have been kicked out of the program—some for breaking program rules, but others were removed unjustifiably, they claimed. HomeFirst said the program has a 71% enrollment rate.
Those who remain at the motel said there are roughly 15 people left—all of whom are in limbo.
When Nathan Tavani, 70, moved into the motel last September, he said HomeFirst promised to pay for his parking tickets, which total $150, and registration for his van, which costs $3,300. Tavain bought the van from a junk yard and the previous owner hadn't paid the registration fees for years.
"I didn't know the registration was going to be as much as it was," Tavani told San José Spotlight, adding HomeFirst won't pay for any of it. "When we asked questions or raised concerns, they said, 'if you don't like (the program), there's the streets.'"
Participants also claimed some workers on-site were hostile, had little experience as social workers and enforced rules selectively. They only get two meals a day and are prohibited from cooking in their rooms.
Lynn Shipman, who ended up homeless after an abusive relationship, almost lost her motel room last year after she took a temporary night security guard job in Milpitas. Saipman said she sometimes slept at her job because she couldn't afford driving back and forth every day. On-site workers evicted Saipman for not sleeping in her room, even though she checked in with them daily. An unhoused advocate intervened and helped Saipman get her room back.
"I feel like they were just picking on me," she told San José Spotlight. "Isn't that the whole point—to get a job and get back on our feet? And here I was being punished for it."
HomeFirst didn't address claims about its workers.
Uncertain future 
Participants said case managers help them fill out housing applications—sometimes weekly—but they never hear back. With the May deadline looming, many said they will be out on the streets again.
"I get that nobody owes us anything," participant Richard Bebee told San José Spotlight, adding he's grateful he gets to stay out of the winter elements. "But if there's so much money out there, and these big companies say they want to help the homeless crisis, then help us."
Homeless advocate Gail Osmer called into a Wednesday city meeting to urge San Jose officials to look into the program at Casa Linda Motel.
"Staff at HomeFirst has not lived up to what they promised," Osmer told San José Spotlight. "I'm just concerned where these people are going to go in May. And I'd like to find out where the money went, because HomeFirst hasn't done a thing."
Contact Tran Nguyen at [email protected] or follow @nguyenntrann on Twitter.