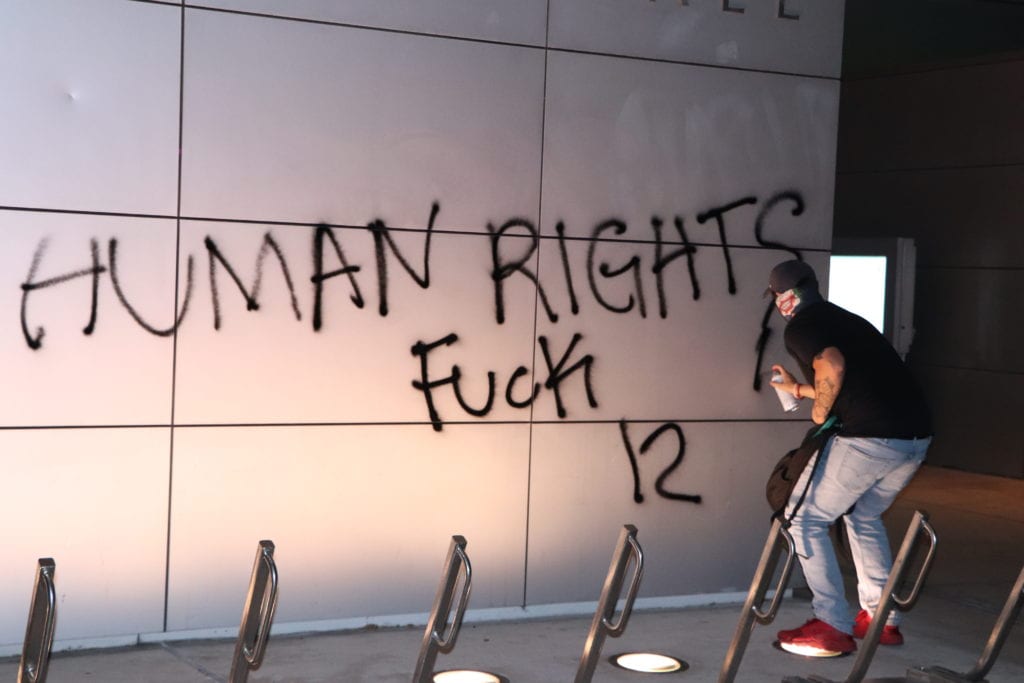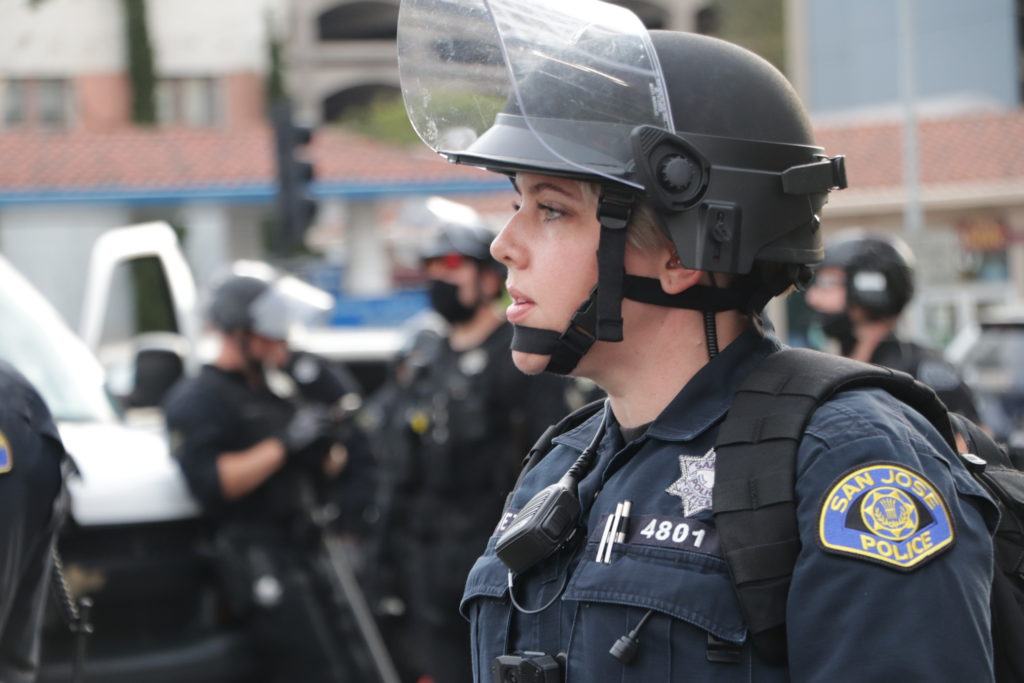 As protests erupted for the third day in downtown San Jose on Sunday over the killing of George Floyd, an unarmed Minneapolis man, city leaders imposed an 8:30 p.m. curfew beginning Sunday.
"This police department wants peace, wants to continue to have dialogue with this community (and) doesn't want any community member harmed," said San Jose Police Chief Eddie Garcia. "I also want my officers to return home safely every night."
The citywide curfew from 8:30 p.m. until 5 a.m. will last for the next seven days. Though the protests have centered in downtown San Jose, police leaders say they've heard about looting happening in other parts of the city.
"One of the major reasons it's citywide is some of the intel that we're getting with regards to looting is not just in downtown," Garcia said. "(The curfew) enables our officers to have those tools to stop before it happens."
The police chief said people could be arrested for violating the 8:30 p.m. curfew. But City Manager David Sykes clarified that essential workers, members of the media and people going out to care for family won't be arrested.
Garcia added that officers will be "judicious" in enforcing the curfew.
"We're not going to be proactive with it, we're not instituting martial law if someone's out of their homes," Garcia said. "This is a call for our officers to be able to mitigate any necessary agitators in crowds."
But the curfew didn't appear to deter protesters on Sunday, nearly a week after Floyd was killed by a former Minneapolis police officer who was seen in a video pressing his knee into Floyd's neck for nine minutes. The officer, Derek Chauvin, was charged with third-degree murder and manslaughter.
Sunday's protest started with more than 1,000 demonstrators at San Jose City Hall. As the 8:30 p.m. citywide curfew approached, protesters began marching through downtown while chanting "George Floyd" and "I can't breathe."
Some protesters were complaining and venting their grievances directly to police officers. More than 50 officers were at the scene, lined up in riot gear.
"(I hope) we all can just get along in San Jose," said Jewelvette Holmes, 52, a protester from San Jose. "I don't want any more violence, but if that's what it takes, we need it."
Many protesters requested police to kneel down in solidarity and at least one officer did.
More than a handful of demonstrators spray painted graffiti on downtown buildings. Many of them wrote "F–k the police" and "ACAB" — which stands for "all cops are bastards."
"Personally, I think the justice system in America is extremely flawed from the top down and this is the first major movement I've seen where people are standing up for themselves and saying, 'No more,'" said Jonathan Brandel, 28, a protester from Morgan Hill.
Dozens of officers followed the marching protesters on police motorcycles and cruisers.
Police say they will arrest protesters in San José if they don't go home. It is 25 minutes after curfew. #GeorgeFloydProtests @SJSpotlight pic.twitter.com/UClUk6zyeM

— Luke Johnson (@Scoop_Johnson) June 1, 2020
After 8:30 p.m., police announced over loud speakers that protesters were subject to arrest if they did not go home. They fired at least one round of rubber bullets.
About an hour later, the group of demonstrators dwindled down to about 50 people and were surrounded by police on 9th Street, between E. Santa Clara and San Fernando streets. The demonstrators ran from police through the adjacent neighborhood and jumped over backyard fences. Some officers chased the protesters, but no arrests were visibly made.
A few people violating the curfew were detained and told to remain in a backyard. Police left the area 20 minutes later without further instruction.
Santa Clara officials joined San Jose in ordering an 8:30 p.m. curfew, Sunday, announcing it minutes before it was set to start.
The cities join 40 other cities in implementing a curfew to control riots erupting after Floyd's death.
"Santa Clara and San Jose have shared city borders where both Westfield Valley Fair and Santana Row shopping districts are located and have been identified as locations of potential interest for protests and raids," a news release from Santa Clara officials said.
San Jose's police chief was asked why the city waited until Sunday to implement a curfew when other cities have been doing it for days.
"We wanted to give the community a chance to vent… we wanted to take a 'wait and see' approach,'" Garcia said, adding that it will be a tool to break up agitators.
Floyd's death has sparked a national reckoning over police killings of black people, leading to six days of protests across the country from Minnesota to New York, Denver, Chicago and Oakland.
Garcia said San Jose police made more than 100 arrests during the protests — including the woman who drove her SUV through the crowd Friday — and had grounds to use tear gas and rubber bullets against protesters.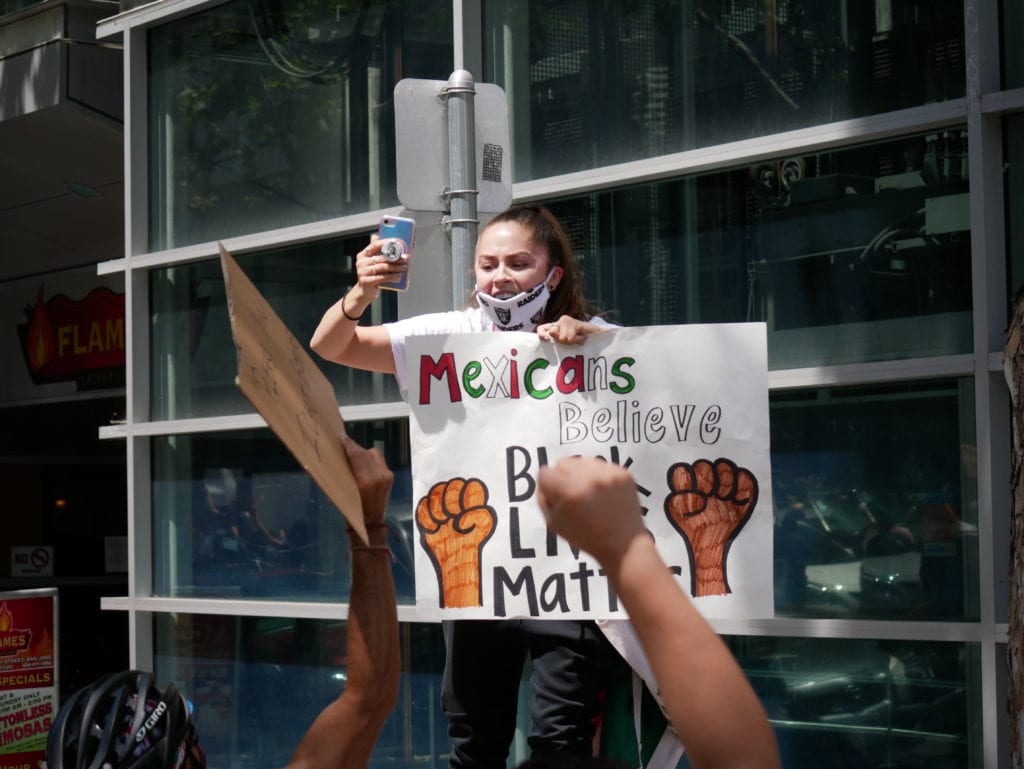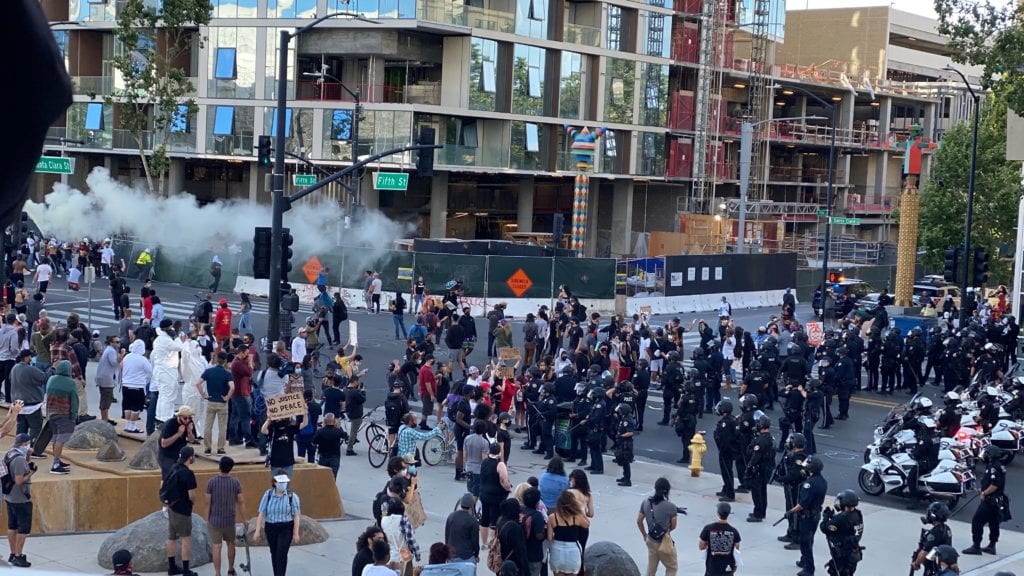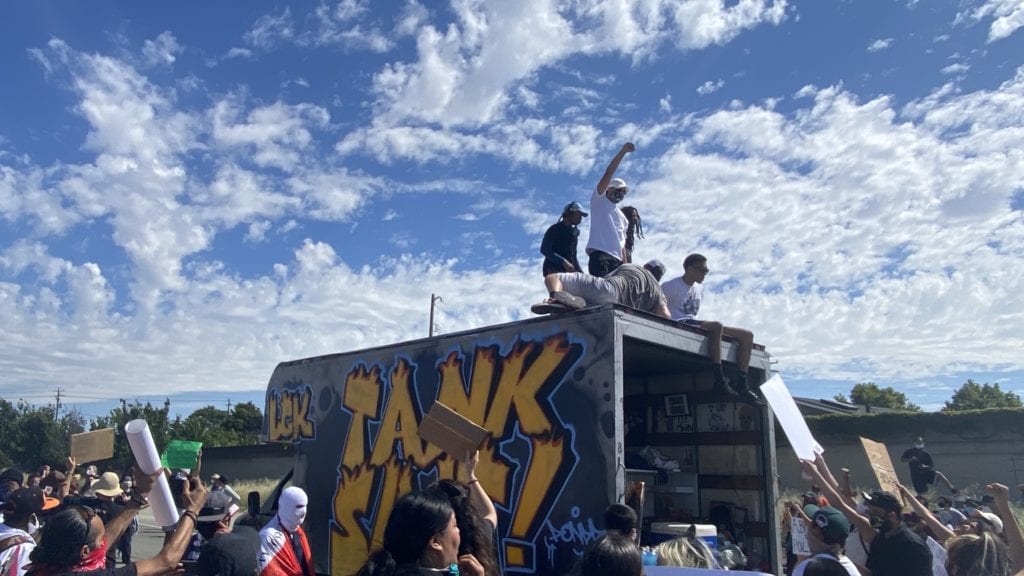 "I think every police department in the country wishes that once they gave a lawful dispersal order that people are going to disperse and not continue with the violence," Garcia said. "So after that is when tactics come into play that I've seen (and) you've seen every large metropolitan city in this country, unfortunately, have to use."
Sunday marked the third day in a row of protests in San Jose. On Saturday, protesters marched along Fourth Street toward City Hall before meeting the police line. The face-off led to police officers firing rubber rounds and drawing their batons.
The demonstrations began Friday night with hundreds of people spilling into the streets and marching to Highway 101, blocking traffic for nearly an hour. An SUV rammed through the crowd, protesters threw rocks and water bottles at police officers, set off small fires and vandalized nearby downtown businesses. One officer was hurt by an unknown object hurled at him.
San Jose's independent police auditor will investigate any video sent to them, Garcia said.
One San Jose police officer is under investigation after videos surfaced on social media showing Officer Jared Yuen saying expletives to protesters and licking his lips before police started to use force.
"I'm not happy with his actions. I'm sure if Jared was sitting here he'd be embarrassed as well," Garcia said. "But I will tell you I know Jared, and he's a good kid, who made a mistake, who let his emotions get the better of him. He's put his life on the line for this police department, on many occasions."
Garcia said investigators will consider all of Yuen's service in the department during the investigation.
"He's going to be accountable for his actions and he'll have to deal with the consequences," Garcia said, adding that the police department will look into every allegation of misconduct during the protest.
Mayor Sam Liccardo joined Garcia and Sykes on Sunday to discuss the city's new curfew.
"We should remember that each one of the hundreds of officers who have stood out on these protests face a large number of people, some of whom have been very angry," Liccardo said. "They've done so while dodging bottles, detonating fireworks, sometimes worse."
Liccardo said that officers showed an "exceptional demonstration of restraint" at the protests.
However, some protestors alleged that officers shot indiscriminately at people on the street.
Tim Harper, a 40-year-old construction worker said he helped move an injured officer during the protest Friday. Later that night, while trying to help a child who had been hit with a rubber round, he said he was shot, too.
"I had to come out here because I'm proof of how corrupt these people are," Harper said. "I helped one of them drag (the officer) to the car. I wasn't aggressive, I had my hands up and they still shot me. It doesn't matter what color skin you have."
Liccardo took a knee with protesters Sunday.
"I joined several of the protesters earlier today at City Hall, and I'm proud that with very few exceptions, our communities demonstrate passion for justice non-violently." Liccardo said Sunday. "And I expect them to continue to do so. Their protest is righteous, their outrage is justified by the horror of George Floyd's death."
However, Liccardo denounced violence at the protests.
"We have, however, seen episodes of violent conduct, ranging from the horrific as we saw with a woman who drove her SUV through the crowd entry to bystanders . . . to the awful assault on a police officer (that) sent him to the (medical center)."
In the wake of Floyd's death, Liccardo and other city leaders quickly denounced the actions of the Minneapolis police officer.
"San Jose is united in outrage over the atrocious crime committed in Minneapolis and in sadness over George Floyd's horrible death," Liccardo said in a statement Friday. "SJPD will take a measured approach in facilitating peaceful protest, but there will be no tolerance of violence to our people or damage to our city."
Garcia earlier in the week made it clear that such behavior from police officers would not be tolerated to a class of new San Jose police recruits.
"Our communities need us and unfortunately our communities of color sometimes needs us the most," Garcia said to the recruits. "Your community trusts you, and you need to treat that so preciously… this tarnished our badge and made your job harder. I was disgusted when I saw this. You have the ability to shine this badge back up again."
Contact Mauricio La Plante at [email protected] or follow @mslaplantenews on Twitter. Contact Luke Johnson at [email protected] and follow @Scoop_Johnson on Twitter.