Explosive sounds of rubber bullets and shrieks from the crowd were nowhere to be heard Friday, instead replaced with music, chants and a "die-in" at San Jose City Hall.
Friday's peaceful Black Lives Matter rally brought out thousands of people, but it was starkly different from a protest last Friday demanding justice for the police killing of George Floyd, which turned ugly with officers spraying tear gas, firing rubber rounds and crowds vandalizing businesses, setting fires and throwing objects at cops.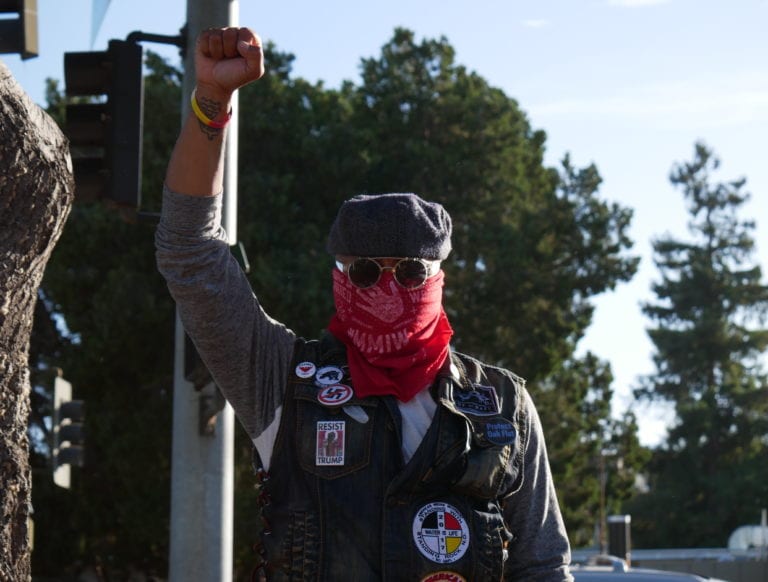 But similar to last week, this demonstration wasn't only about Floyd. Janea Perry, 15, wore a sweatshirt that highlighted decades of struggle, activism and oppression in the black community – featuring the likes of Colin Kaepernick, Tommie Smith and John Carlos.
"People only know those two names – there's so much more," Janea said, referring to Floyd and Breonna Taylor, whose recent deaths at the hands of police sparked protests around the country. "(The size of the protests) should have always been this way, but I also feel like most people don't know the actual reason or history why we're out here."
The seventh day of unrest in San Jose was marked with moments of silence, a march to the San Jose Police Department and a rendition of "Happy Birthday" in honor of Taylor's birthday. The evening at City Hall, which drew thousands of people to the plaza, felt like both a memorial and a celebration of life including an alter featuring poems, candles and pictures of other victims killed by police, while speakers and a band motivated protesters.
There seemed to be no police interaction at all, aside from occasionally blocking traffic for protesters.
#SanJose City Hall's lively

Thousands came out to the protest for #GeorgeFloyd and marched across Downtown this evening. There's now music, flag twirling, and dogs(!!)

It feels like part memorial, part celebration. Only police in sight were blocks away on Santa Clara Street pic.twitter.com/GlRsXBZn2i

— Katie Lauer (@_katielauer) June 6, 2020
Despite the number of Black Lives Matter signs and chants, Janea and her friend Sarai Sanford, 17, worried that some were there just to get out of quarantine, especially seeing the popularity of posts about protests on Instagram, Snapchat and Twitter.
"I'm blaming it on the quarantine, because (police killings) happen all the time and nothing like this ever happens," Sanford said. "They're not late, but they're late – our first time out here, it was when we were in elementary school. I'm not even sure (why we come out here) at that point, but we're just kids, there's not much else we can do."
Janea's father, Jason, said he's proud to be out on the streets with his entire family, including his wife, Renea, and their youngest daughter, 11-year-old Jalea.
"The kids are all into it, and it makes me feel very good," Jason said. "It makes me feel very good that a whole bunch of nationalities are out here for this, because it's bigger than the police killing us. The police have to answer to somebody, they're just executors."
While he appreciated the peaceful movement Friday, the 52-year-old said trying to change the system through peaceful protest comes with challenges, though he knows violence is not the answer. Live-streaming the march on Facebook, Jason said he wanted to bring attention to police brutality and a broken criminal justice system.
"I've been coming out this last week, and I plan on continuing to come out," Jason said, "even if I have to continue to take off work. It's important."
Contact Katie Lauer at [email protected] or follow @_katielauer on Twitter.