Through my art, I hope to make people aware of the extreme inequality in our region and their inability to put themselves in the shoes of struggling people.
Our society is very judgmental and cruel to poor people. Upper-class people are so dismissive of poor and uneducated people. When they want to help, they often are still condescending.
A lot of the homeless are much more in touch with reality than the privileged, but they're stuck trying to live on nothing. While a lot of the homeless are communal, those who tell us what is best for us want nothing more than to put each of us in a single-occupancy room. In isolation. Gone and forgotten.
Our government's solutions to homelessness are inadequate as a homeless person goes from asking for help repeatedly to dying in the streets. With my sketches, I aim to explain the journey of homelessness. I welcome feedback.
Many styles for all your mental health needs, except…
Amanda, my partner, has a mentally ill daughter. She hates the words "mentally ill." She has what is called anosognosia, which means she doesn't have an awareness of societal norms that dictate right and wrong or her own condition for that matter.
She is used to being arrested and simply thrown in jail. The authorities never seem to pause and notice that something obviously is not functioning well.
A mental health worker could check in on her but the jail staff says if she wants mental health treatment, she has to ask for it.
"We don't baby people here," they say.
A lot of the mental health programs they'd put her in would have really ignorant staff who had no insight into her condition. They put her in a board-and-care with a social worker who looked about 17 years old and ignored the fact she needed rehab.
After a landlord illegally locked her out of her home, she was arrested for standing up for her rights. She was kicked out for nonpayment of rent as the direct payments she was receiving from SSI were no longer being made.
She still does not understand why she was kicked out. She spent 10 months in jail and 5 months at Napa hospital because she was considered incompetent to stand trial.
These days she is staying out of trouble at her father's place. She's still into speed, something the court did not address. I kept wishing someone would have brought up the treatment she needs.
Dialing for shelter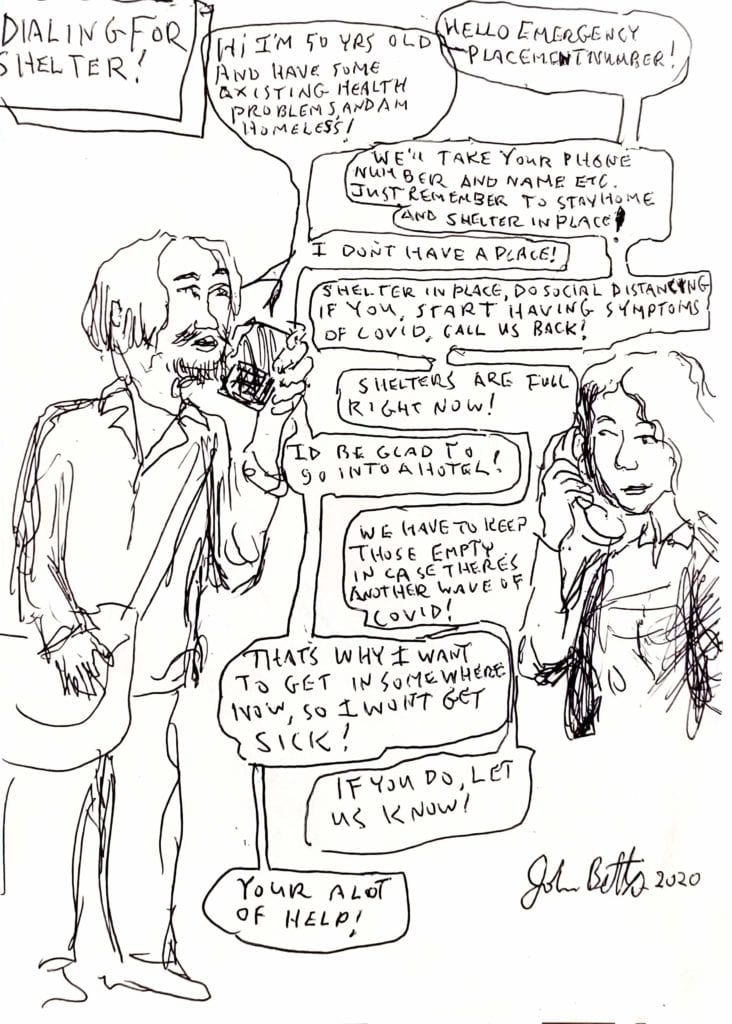 We went to Santa Clara County's Office of Supportive Housing. They really did not want to talk to anyone and just kept telling us to call the COVID-19 placement number.
Even though the media talked about Gov. Gavin Newsom having the state book thousands of hotel rooms for the vulnerable in San Jose, they kept trying to not use the hotels and rerouted people to the shelters.
They did this as they claimed hotel rooms had to remain empty in case of a COVID-19 spike. The people on the hotlines are people with no background dealing with homeless people. They just kept telling the unhoused to go home and shelter in place.
DIfferent county personnel always tell different versions of the criteria for housing. Some even talk to us about having to work 5 hours a day to receive shelter.
Post-COVID-19 shipwreck
This is commentary on San Jose's Housing Department where officials stated people could not stay in state-loaned trailers because they had defective wiring.
If you actually wanted to house people, you'd see how trivial defective wiring is.
Sorry… hands are tied
Agencies that are supposed to help people are always giving this excuse. Santa Clara County health officials dictated who could be housed in the hotel rooms and trailers. It brought a lot of hope to a lot of desperate people.
But the trailers basically were not used. In all these agencies, the top dogs don't allow any feedback from those they actually are supposed to serve.
Too little too late cemetery
Whatever resources are available to the poorest people ought to be more publicized and accessible.
The places where homeless people can get shelter are not readily available and the ones that do exist are getting worse. I've seen a desperate woman asking for a blanket on winter nights to be denied by a staff person who refused to give her one. Instead, the woman was given a lecture.
People die when people don't care.
John Betts is part of a group of current and formerly homeless columnists writing for San José Spotlight's In Your Backyard column to shine a light on the homeless experience in Silicon Valley.