The San Jose-Evergreen Community College District will be adding a new trustee to its board after the Nov. 7  special election.
The community college district, which is governed by a seven-member board, has five candidates vying for the District Area 7 seat: Diego Barragán, Lisanna Dominguez, Stephen Eckstone, Clay Hale and Anthony Macias. The seat became vacant after former trustee Omar Torres won the San Jose City Council District 3 seat in November 2022. 
Michael Borja, spokesperson for the Santa Clara Registrar of Voters, said about 53,754 ballots were sent out to San Jose-Evergreen Community College District. Approximately 20,000 students attend San Jose City and Evergreen Valley colleges each semester.
Here are the candidates running for the open seat:
Candidates
Macias is a law student, retail manager and a San Jose City College alum. He said the college district's abysmal transfer rate motivated him to run. A native of San Jose, Macias said the city is worth fighting for. In addition to educational issues, he is hoping to address homelessness and the lack of affordable housing. 
"I want to make our community colleges places of opportunity," he said, adding he wants to revive the Pathway to Law program — where students earn an Associate of Arts in legal studies, with an ABA accredited Paralegal Certificate.
He wants to offer support services to homeless and low-income students, including free school meals. He said the district should explore creating student housing options and making campuses tuition-free.
Macias has run for numerous offices but has yet to win. In 2022, he ran for San Jose-Evergreen Community College District Trustee Area 2. He ran in the 2020 primary for Santa Clara County Board of Supervisors District 2 seat and in 2018 he ran for the Santa Clara Valley Open Space Authority District 6 seat. He also ran for the State Senate in 2016. Macias did not respond to a request for comment.

Stephen Eckstone, a journalism and communication studies professor at San Jose State University, said he has experience in marketing roles in higher education with expertise in strategic planning, image development, qualitative research, research design and creative development.
Eckstone said he has an understanding of the specialized needs for higher education and nonprofits. He said his work has been instrumental in the adoption of strategic approaches to marketing, recruitment and student retention. Eckstone did not reply to a request for comment.
As director of operations at consulting firm Voler Strategic Advisors, Diego Barragán, 42, said he learned problem solving within a team dynamic and budget conscious project management. He served as congressional assistant for Congresswoman Zoe Lofgren and legislative director for former San Jose Councilmember Xavier Campos.
His priorities include making college affordable, expanding opportunities for career advancement and ensuring high school students are prepared for college.
"For our youth… I hope my story shows them obtaining a graduate degree is possible," he told San José Spotlight in July. "For parents, they will have an advocate who will be mindful of the affordability to support a student in college."
Lisanna Dominguez, 39, believes in the transformational power of education and the value of community college. She gained professional experience working with educational nonprofits, including as chief of staff for the Silicon Valley Education Foundation. She served as vice president of strategic planning and development for the Latino Education Advancement Foundation, which empowers community college students, and as director of programs for the Hispanic Foundation of Silicon Valley. She is endorsed by South Bay Labor Council.
Her priorities include increasing enrollment, ensuring career path options for students and college prep classes for transfers to four-year universities.
"I have so much experience in education nonprofits. My position as a trustee could help build out those opportunities for the community," Dominguez told San José Spotlight in July. "It's my drive and commitment to ensure students have viable options for higher education."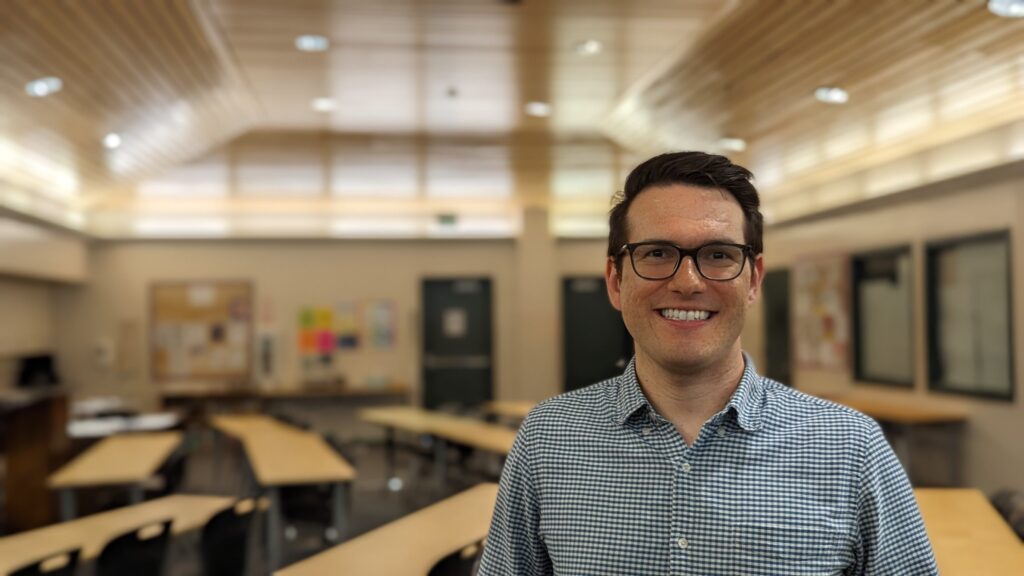 Clay Hale, 28, is an East Side Union High School District teacher and East Side Teachers Association Union site representative. He advises high school students in a dual enrollment program partnered with Evergreen Valley College. As a first-generation college student and gay man, he said he's an advocate for change.
Hale wants to increase community college student transfers and graduation rates, establish community partnerships and ensure funds support student success. He also wants additional campus resources for mental health support and on-campus housing solutions for students, faculty and staff.
"As a teacher I know what it takes to support our students," he told San José Spotlight in July. "Many of our students are first-generation college students. I want to make sure they feel supported navigating the community college process. I have the direct experience it takes as a college advisor on Evergreen College campus to aid in student success."
Vote Centers
Voting is open and available from 9 a.m.- 5 p.m. through Nov. 6 at:
Lowell Elementary School, Classroom E, 625 S. 7th St., San Jose
Town of Los Altos Hills, Council Chambers at 26379 Fremont Road, Los Altos Hills
Roosevelt Community Center, Dance Room at 901 E. Santa Clara St., San Jose
Registrar of Voters, Building 2 at 1555 Berger Drive, San Jose
The African American Community Service Agency Multipurpose Room at 304 N 6th St, San Jose will be open for voting on Nov. 7.
On Nov. 7, Vote Centers will be open 7 a.m.–8 p.m.
Contact Lorraine Gabbert at [email protected].