San Jose will be one of the few cities in the nation to require gun shops to record firearm purchases after a unanimous late-night vote Tuesday.
The new rules will seek to prevent so-called "straw purchases," or a firearm purchase where someone buys a gun and passes it off to someone else who should not own a weapon.
There have been 30,000 such purchases in the U.S. in the past year according to the Giffords Law Center, though it is unclear how many happened in San Jose.
"We know a significant number of crooks and gangs get firearms through straw purchasing," said Mayor Sam Liccardo. "This set of ordinances is really focused on narrowing the flow of guns to those which are clearly legal, and hopefully doing something to deter the flow of guns that are unlawful to own."
Gun shops in San Jose will be required to video and audio record all purchases to ensure each purchase is legal. Buying a firearm from or inside a residence would be prohibited.
Employees and owners will be required to question potential buyers to ensure they're not looking to start a straw purchase. The ordinance will also require shops to display suicide prevention posters and perform at least one inventory check each year.
"For obvious reasons, this issue is very important to me," said Sarah Huff Brancato, whose son Michael Munns was the first homicide in San Jose in 2020. She called in to support the proposal.
The proposal follows calls for stricter gun control measures after the May 26 mass shooting at a VTA light rail yard in downtown San Jose left 10 dead, including the gunman. Liccardo's office, however, has been working on gun safety measures for more than a year.
The council approved an initial draft of the ordinance in 2019, but implementation paused due to the pandemic. Chicago already has similar laws in place, and San Francisco almost adopted similar rules in 2015, but its last gun shop closed before the city could do so.
Councilmember Dev Davis felt conflicted about the new measure because she grew up around guns and worried it might alienate lawful gun owners.
"I feel like I'm in the middle of this issue, and it's a tough place to be in the middle because the issue has gotten so polarized in the past decade and decade and a half," Davis said.
Like Davis, Councilmember Raul Peralez grew up around guns and shot recreationally, but said he always believed in stricter gun control measures.
"In addition to that history, I have always welcomed a more restrictive gun industry. And I've felt that way since I was a child," Peralez said. "It's really baffled me as to how this particular industry has been, in essence, untouchable in many places throughout the country."
Gun rights activists say these regulations will restrict law-abiding firearm owners of their rights and will run gun shops out of the city.
"These are small businesses. It's already hard enough to do business in the gun retail market," Brian Wang, owner of the San Jose-based gun safety school Monarch Defense, told San José Spotlight. "But now the city of San Jose is taking arbitrary control, arbitrary schemes just to make life hard on these gun stores. It's very clear they're trying to take the last couple of gun stores in the city and just kill them."
Another caller, who declined to identify himself, said the regulations would restrict law-abiding citizens with guns who could help stop a mass shooting. He called the regulations a "wrongheaded and simplistic effort to solve the problem of gun violence."
"Tragedies like the one at the VTA that you are attempting to respond to will not be eliminated by this regulation," he said.
The rules are part of sweeping reforms Liccardo announced last week to require gun owners to carry liability insurance—something he proposed in 2019 after a mass shooting at the Gilroy Garlic Festival before shelving plans due to the pandemic.
Liccardo also wants to require gun owners to pay fees to support emergency medical and police response related to gun violence. It's unclear how much gun owners could pay in fees, a decision left up to the full City Council.
Neither of those two measures was up for a vote Tuesday.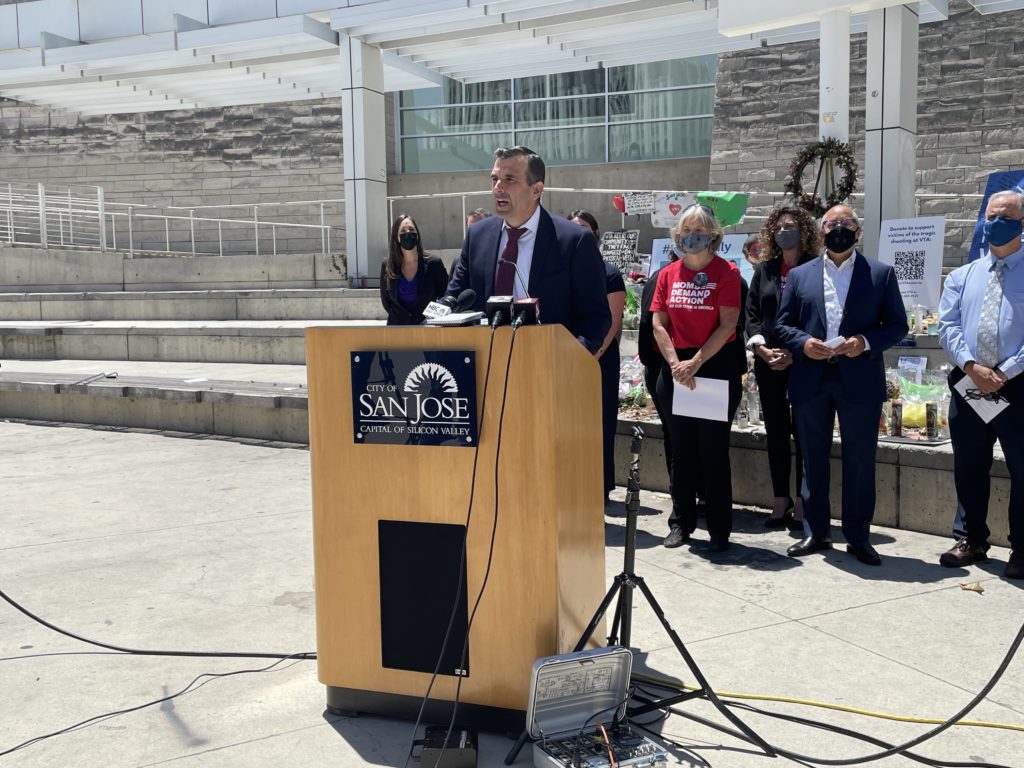 Gun lobby groups vowed to challenge the new law.
"It is outrageous that Mayor Liccardo wants to use big brother-style 'omniveillance' to record gun owners' every move," Taylor Svehlak, director of public affairs for the Firearms Policy Coalition, told San José Spotlight. "This Orwellian requirement would be rightly universally opposed were the city to impose similar video- and audio-recording mandates in mosques and churches, book stores or abortion clinics."
City Attorney Nora Frimann said gun laws are challenged often, but expressed confidence the city would prevail.
"We think we've threaded the needle on this and what we're bringing forward is defensible," Frimann said.
The VTA mass shooter, a 57-year-old employee, had three 9mm pistols and 32 high-capacity magazines, according to the Santa Clara County Sheriff's Office. Authorities said the shooter fired 39 bullets. The magazines, which held more than 10 rounds, are illegal in California.
The three guns were legally obtained and registered, according to FBI Special Agent in Charge Craig Fair.
"Even preventing one of these straw purchases from happening would be a success," said Councilmember David Cohen. "I'm excited we're thinking of creative ideas here in San Jose. That we're not scared or shying away from this debate. That we're using the opportunity to try new things to make our communities safer."
Contact Lloyd Alaban at [email protected] or follow @lloydalaban on Twitter.