Santa Clara faces rough waters as it contends with budgetary shortfalls, continued development and policing reforms, the mayor said in a recent State of the City speech.
As the Mission City adapts to the growing economic toll of COVID-19 during shutdowns and rising number of cases nationally, Mayor Lisa Gillmor and city staffers spent nearly two hours going over financial and public safety concerns, as well as infrastructure improvements and pandemic responses.
The meeting, which was the first in a series of virtual speeches last week, drew 900 viewers
City finances are a looming challenge, Gillmor said. COVID-19 has taken its toll on the city's $1.3 billion operating budget, due to drops in tax revenues across the city. And it's likely to get worse.
City Manager Deanna Santana detailed the expected fiscal shortfalls, including a $10 million deficit for the remaining year, and $22.7 million next year.
Despite a hiring freeze and stricter spending controls, the city is looking for ways to make up the gaps. Around $300 million are fixed costs, so solutions would be come out of the remaining 70 percent of available dollars.
The deficit equals the entire Parks and Recreation Department budget, half of the Fire Department budget and one third of the Police Department's budget.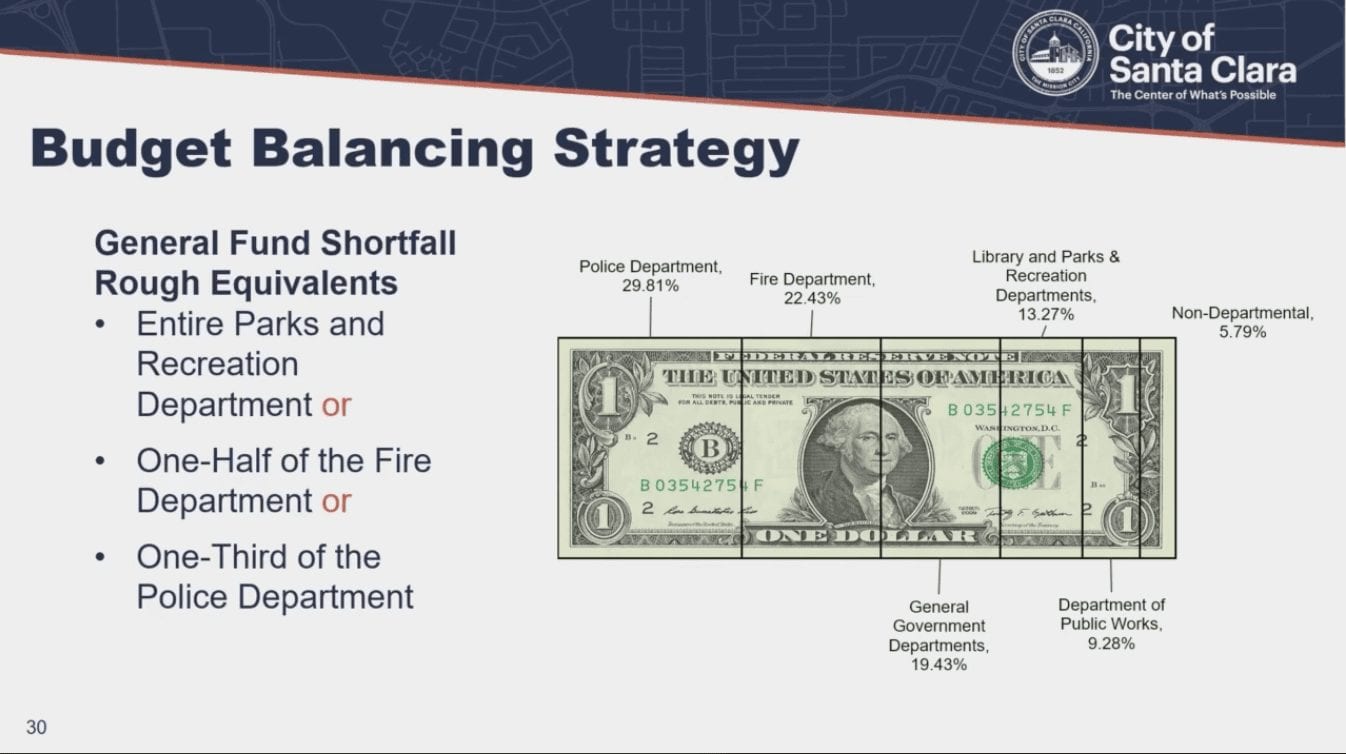 "In terms of our departments and what would have to be reduced, this really gives some light in terms of the magnitude of the problem that we are dealing with," Santana said.
Focusing on finding revenue, Santana said the council is considering a transient occupancy tax for voter approval.
The proposed tax might not generate new revenue, since the hospitality industry was hit hard by the coronavirus, but she said it could help stem service cuts. She said a 2 percent tax could generate $3 million.
The City Council plans to discuss the tax ballot measure June 23.
But COVID-19 isn't the only unexpected challenge in 2020. Gillmor also discussed the protests against racism and police violence.
"As mayor, I feel a sense of duty to make some sense of this tragedy by making Santa Clara a better place," Gillmor said.
Working with Police Chief Pat Nikolai, the two signed President Barack Obama's call to address police use of force by involving communities in discussion, reports, feedback and reforms.
Asked why the police budget is $77 million while community development department has a $20 million budget, Santana said the budget reflects the city's values, which includes public safety. Gillmor added that she's willing to consider assigning some police duties to social services and outside agencies, a plan many allude to as a push to "defund police."
But not everything was doom and gloom.
Santa Clara is getting a new pop-up COVID-19 testing site at the Northside Library and the annual cleanup campaign will run from Aug. 10 through Sept. 4
"Our houses have probably never been as clean, but we have a lot of things that we need to throw out, donate and clean up," Gillmor said.
During the speeches, councilmembers provided updates on developments in their districts.
District 1
The north side of Santa Clara has had a year of renovations, said Councilmember Kathy Watanabe.
She recapped upcoming improvements for a host of public spaces, including the Agnew, Fuller and Fairway Glen parks. Watanabe also applauded efforts dealing with RV parking and street racing, and highlighted new development projects, including the Related Santa Clara project, set to break ground in early 2021.
"It was encouraging to see that despite how this pandemic has impacted our city, there is still a great deal of interest in Silicon Valley, but more importantly, Santa Clara," Watanabe said.
District 2 
Speaking about housing affordability within District 2, Councilmember Raj Chahal highlighted a recent $1.5 million grant awarded to the Bill Wilson Center for rental assistance, and the now-spent $1.1 million for small businesses needing help to pay rent and employees.
"Keeping that in mind, I would like to appeal to our billion-dollar businesses which operate in our city to dive deep into the issues being faced by our residents," Chahal said. He suggested businesses should help pay for grants or find other ways to aid residents.
As the council's only minority member, Chahal said he'll be a voice for better race relations in Santa Clara. "I'm glad our mayor and chief have already given their commitment to work on this issue," he said.
District 3 
Councilmember Karen Hardy said renovations are back on track at Machado Park to replace its old playground equipment.
Hardy said she's hoping for a ribbon cutting for the district's only park by the time the Santa Clara County Public Health Department allows all playgrounds to reopen.
District 4 
Councilmember Teresa O'Neill's address Thursday focused on parks. She said the Central Park Masterplan is underway, addressing questions of financing, pond maintenance and integration of the library and recreation center. The El Camino Specific Plan draft is available online for public comments, she said.
Grants for the Magical Bridge accessible playground have been received, but more funding is still needed, O'Neill said, including online donations from the public.
Additionally, San Tomas Aquino Creek Trail is being cleaned and repaired, Homeridge Park is getting a new playground, turf and restroom, and repaving streets will begin, starting with Kiely Boulevard, Woodhams Road and Homestead Road.
District 5 
Filling in for the vacant District 5 seat, Gillmor recapped efforts to revitalize the city's downtown, which was demolished for redevelopment in the 1960s. The efforts include a Downtown Precise Plan, community task force and workshops for resident feedback. She said the project is scheduled to be completed by summer 2021.
Conversations are ongoing with VTA to bring BART into Santa Clara, she said. But while San Jose's Berryessa station began service earlier this month, construction isn't expected to start in the Mission City until mid-2022.
Gillmor also touched on development in District 5, including student and affordable housing at The Republic next to the historic train station and Summer Hill senior housing project in front of Target on El Camino, which has been delayed.
District 6 
Since Councilmember Debi Davis was unable to join the meeting, Gillmor also reported that Agrihood, one of the largest affordable housing projects in Santa Clara County with 361 units, is still underway.
She said the city anticipates receiving millions in funding for transportation improvements and affordable housing from the Santana West office project, located on the San Jose side of Stevens Creek Boulevard, after the neighboring city initially waived those fees.
A road diet to redesign traffic flow on Pruneridge Avenue has been delayed until more public input can be gathered, and the city is looking at traffic calming efforts for residential streets around the nearby Apple campus.
Contact Katie Lauer at [email protected] or follow @_katielauer on Twitter.