As 2021 draws to a close, San Jose residents share their hopes for the coming year.
Many want to see an end to the COVID-19 pandemic, which has negatively affected their health, work and travel. They also would like to see people treat each other with more kindness.
Retiree Felice Lopiccolo said although vaccination levels are high in Santa Clara County—more than 91% of residents ages 12+ and 81% of people of all ages are vaccinated and 50% of residents ages 16+ have received a booster shot—she wishes more people would step up. She is tired of COVID-19 hot spots requiring schools and businesses to close. 
For student Nicholas Mino, 16, the pandemic is personal. Mino lost his grandfather to COVID-19 and much of his family were infected as well.
"One thing that I'd like to change in the following year is definitely more vaccinations and more booster vaccinations," he said.
Pandemic fatigue was expressed by many at Westfield Oakridge shopping mall and downtown Willow Glen in San Jose last week.
Nancy Biltran, 27, who works in human resources and was visiting from Texas, said she'd like to say goodbye to COVID and have life get back to normal. She is tired of people having to wear masks.
Accountant Tao "Cathy" Ning, 25, wants to be able to return to China to visit her homeland and family.
"I miss my family a lot," Ning said. "I haven't seen them since before the pandemic happened. In the new year, I hope I can focus on important things: the people that I love and care about."
Adriana Perazzo, 17, would like life to be less stressful.
"I want to see my mental health change for the better," she said, "and be able to look at things in a more positive way." 
Some spoke of how COVID has affected the economy from jobs to affording rent. Family nurse practitioner Brianne Ross, 29, said due to the pandemic, working in health care has been tough these past couple of years.
"I'm seeing a lot of good providers change professions or quit completely," Ross said, "because they're frustrated and fed up with the inability to get COVID (fully) dealt with."
Service technician Reynaldo Salazar, 31, who has a two and three-year old, said more and better paying jobs are needed to improve living conditions for families. He said the pandemic made finding work even more difficult.
"I'm always looking for better work," he said. "Hopefully COVID goes away."
The lack of affordable housing became a critical problem for families faced with less income from cut hours or being laid off work during the pandemic. Essential workers also risked or contracted COVID-19 while working on the front lines, making it even more challenging to stay afloat.
Fast food worker Melanie Juarez, 17, said rents are extremely high and not sustainable.  She recalls when apartments rented for $600 a month, rather than the $2,000 per month her family currently pays.
"I'd like to see rents go down," she said. "Not a lot of people can afford it."
During the last few years, the number of homeless people has multiplied with encampments popping up in San Jose and throughout the Bay Area. In his State of the City address Thursday, Mayor Sam Liccardo said homelessness is the city's biggest failure.
Laureen Garcia, 66, who lives in Santa Clara, said she'd like to see more shelters for the unhoused.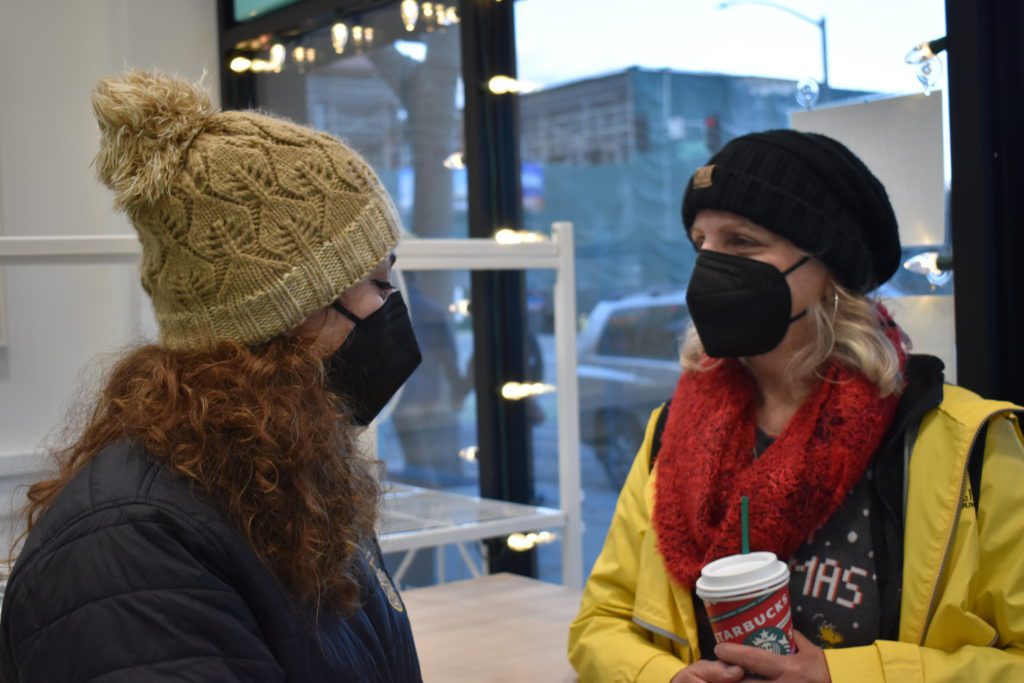 For some, the Christmas season brought the need for human kindness to mind. Personal trainer Joe Williams, 45, would like to see people "take it back to loving each other."
Dan Leund, 58, hopes people have more tolerance and humanity both in person and on social media.
"You've got to treat others how you want to be treated," Leund said. "Opinions come across as confrontations."
Dr. Mark Gonnerman, 63, hopes people slow down and take time to really listen to one another and connect more, especially following the trauma of the pandemic.
"We've all gone through this together, but some generations have suffered more than others, the elders and the young," he said. "We need that kind of awareness and more empathy."
Contact Lorraine Gabbert at [email protected]