The shelter-in-place order issued by regional health officials March 17 aimed to decrease the spread of coronavirus, but it has also dramatically affected the look of the Bay Area.
The South Bay is no exception. With traffic coming to a halt, air quality and visibility has greatly improved. Nitrogen dioxide, a key pollutant, dropped by about half in parts of the Bay Area following shelter in place, according to Ronald Cohen, director of the Berkeley Atmospheric Science Center.
Take a tour of the South Bay and beyond, including Peninsula hotspots, iconic San Francisco landmarks and the East Bay via aerial photos courtesy of San Martin-based 111th Aerial Photography. The images range from eerily empty parking lots at Apple, Valley Fair and Stanford Shopping Center to a lack of commuters crossing the Bay Bridge and Golden Gate Bridge.
San Jose
Santana Row features a luxury hotel and more than 70 shops and 20 restaurants. During the shelter in place order, a number of its restaurants are offering a range of curbside to-go options and Lululemon is offering a free virtual yoga series Saturday mornings at 9 a.m. starting on May 2 on Santana Row's Instagram.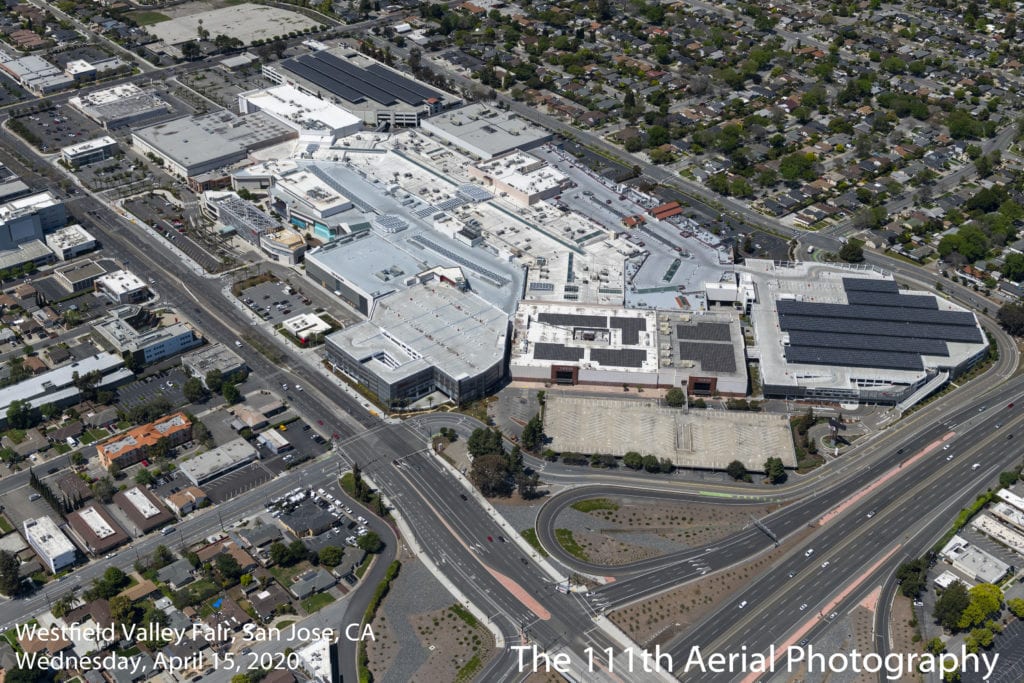 The newly-expanded Valley Fair mall, which in March unveiled a 500,000-square-foot expansion, including a new three-story flagship Bloomingdales and high-end stores like Prada, Versace and Armani, remains mostly empty on April 15.

The San Jose Flea Market, which is usually open Wednesday, Friday, Saturday and Sunday, will remain closed during the stay-home order, which will now be extended through May.

Emma Prusch Farm Park includes San Jose's largest barn, which houses 4H livestock. No classroom field trips to the farm can take place under the orders.

School buses for San Jose Unified School District sit idle in their yard as distance learning replaces classroom instruction. School districts have struggled to provide lunches and computers to students in need, but tech titans like Google and Apple have jumped in to donate free WiFi, Chromebooks and iPads in rural and underserved areas.
San Jose leaders last week voted to expand and refocus city resources to plan and implement an ambitious WiFi program to offer free school district-funded broadband services to the city's east side.
Milpitas
The Great Mall, among the largest outlet malls in California, includes restaurants, a movie theater and Dave & Buster's arcade. The arcade and shopping center remain closed while residents shelter in place.

BART connects San Francisco and Oakland with Alameda, Contra Costa and San Mateo counties. The VTA is working with BART to extend into downtown San Jose and Santa Clara. On April 22, BART ridership was at 24,205, representing a 94 percent drop when compared to April ridership budget projections. Passengers are required to wear a face covering.

Peninsula
The Bay Area's shelter in place order has forced most businesses to shut their doors to nonessential employees, leaving seas of Silicon Valley parking lots empty as high-tech industry workers log in hours at home. Apple's Infinite Loop campus is an example of that in Cupertino.
Work on Google's Charleston East, a tent-like, 595,000-square-foot development in Mountain View next to the company's iconic Googleplex headquarters, has halted. For now, office construction in the Bay Area has stopped under the health orders. Health officials are allowing a narrow list of projects to continue, including housing construction that will include at least 10 percent affordable units.
Workers aren't vying for charging spots, gathering for lunch or staying at the office late. Some real estate experts say workers may aim to forego the usual commuter traffic and continue working from home even after the pandemic subsides.
Stanford University's sprawling 8,180-acre campus, usually bustling with activity, is nearly empty. Sports and outdoor concerts came to a halt as classes moved online. Due to the pandemic, Stanford University postponed its in-person graduation ceremony and will hold a virtual celebration on June 14.
The regional shelter in place order effective March 17 left mall owners no choice but to shutter shopping centers. Simon Property Group closed 209 malls, including upscale open-air shopping mall Stanford Shopping Center.
San Francisco
Seeing the Golden Gate Bridge devoid of cars is one of the most striking visuals of how life has changed during the coronavirus. According to the Golden Gate Bridge Highway and Transportation District, on an average day, 112,000 vehicles cross this San Francisco landmark before the Bay Area issued its shelter in place order effective March 17.
The Presidio, a 1,500-acre park on a former military post in San Francisco, includes forest, trails, a golf course and historic buildings including Civil War–era Fort Point. The Walt Disney Family Museum and Lucasfilm, with its Yoda Fountain, also call the park home.
Fisherman's Wharf, part of San Francisco's waterfront district, is a tourist attraction known for its seafood and clam chowder soup served in sourdough bread bowls. A study by SF Travel showed about 16.4 million people visit Fisherman's Wharf annually. Some restaurants remain open during the shelter in place order.

San Francisco's Palace of Fine Arts is temporarily housing up to 162 homeless people to help slow the spread of the coronavirus. Homeless people living in close proximity in shelters has been shown to accelerate the spread of the virus.
East Bay
Prior to the shelter in place order issued by seven local health officials in mid-March, the Bay Bridge carried about 260,000 vehicles a day on its two decks.
Jack London Square in Oakland, a mixed-use waterfront area featuring dining, cultural events and concerts, is quiet after all nonessential businesses were forced to shut their doors. The U.S. shopping industry generates about $400 billion annually on average, according to PYMTS.com.
Tesla occupies 5.3 million square feet of manufacturing and office space on 370 acres of land. More than 10,000 employees work at the Fremont factory, though most are now working from home or furloughed. The electric car company reportedly asked some employees to return to work this week, despite the shelter in place order.

What remains clear, besides the skies over the Bay Area, is that the coronavirus has radically changed people's daily lives, from staying at home to how business is — or isn't — done.
Contact Lorraine Gabbert at [email protected]