A recent national report is putting San Jose on the map for all the wrong reasons.
The city is the toughest place to buy a home with the worst price-to-rent ratio, according to an analysis by real estate data company Clever. The company ranked 50 of the most populous U.S. metros with the goal of answering one big question—is it cheaper to buy a home here or rent one?
In San Jose, it's far cheaper to rent than to buy despite the city's astronomical rents. The report, released this week, made the calculation by dividing the median home price by the median annual rent. A price-to-rent ratio of 21 or more means it's better to rent than to buy. San Jose ranked dead last with a score of 38.
"It's impossible to own," Sandy Perry, president of the Affordable Housing Network of Santa Clara County, told San José Spotlight. "Your salary has to be around $250,000 to even qualify for a loan, plus $200,000 for a down payment. That's well beyond the reach for most families."
Perry said equity sharing models can help, as well as social housing, where owners can buy their units while the land remains publicly or cooperatively owned.
"These are different forms of ownership opportunities where low-income and middle-class people can actually get into ownership situations," he said, "which is practically impossible otherwise in Silicon Valley."
More alternative ownership models are needed, he added.
The second worst place to buy is San Francisco followed by Seattle, the data shows. A key reason for the trend is home prices have soared 70% more than typical rents since 2016. The report found it's cheaper to rent than buy in 45 of the 50 most populous U.S. cities when comparing monthly rent to mortgage payments.
This isn't the first time San Jose's housing market has made a national splash. A Zillow report last summer found the average mortgage in San Jose topping $9,136 a month, including homeowners insurance and taxes. The Clever study placed the average home value in San Jose at $1.4 million, substantially higher than the national average of $417,936. The average rent here is more than $3,100, the report said.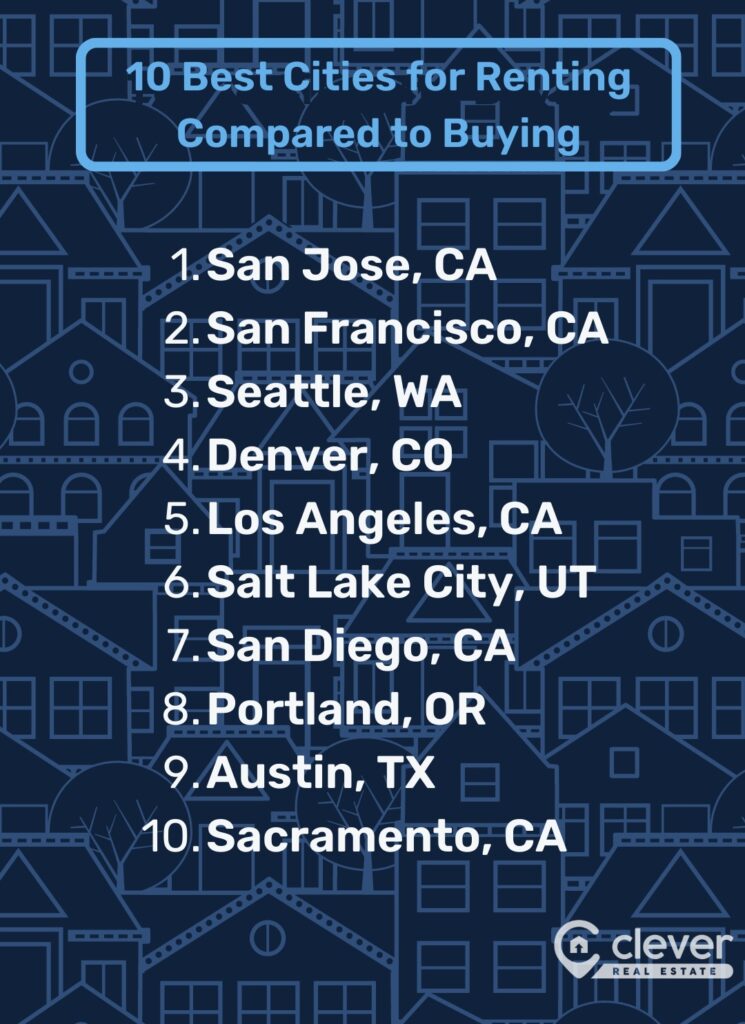 Neil Collins, CEO of the Santa Clara County Association of Realtors and a San José Spotlight columnist, called the report's findings shortsighted. While financially more difficult than renting, home ownership is how Silicon Valley residents can secure financial stability and wealth.
"Generational wealth and housing security is achieved through home ownership. As a renter, you don't gain equity," he told San José Spotlight.
Creating more supply will bring prices down, Collins said, but in the meantime, down payment assistance programs are critical.
"There's no doubt housing affordability in San Jose is challenging," he said. "The cost of living is high."
The best cities for buying a home are Pittsburgh, New Orleans, Chicago and Cleveland, the analysis found.
Another sobering statistic from the report revealed the number of months of rent it would take to afford buying a home. In San Jose, the report says it would take 450 months—or nearly 38 years—of rent to buy a home.
Despite jaw-dropping mortgages, analysts say Silicon Valley's housing market is poised for a resurgence and demand is increasing as inventory continues to be constrained. Meanwhile, unemployment in the valley remains low at 3.1% in March, according to an analysis by Joint Venture.
Realtor William Chea said housing scarcity is the culprit of high costs. Mortgage interest rates dropped to all-time lows during the pandemic, he added, so people aren't eager to sell.
Chea said the Bay Area is so underbuilt that it's not possible for everybody to own a home.
"The thing that we advocate for is to keep building those homes," said Chea, who serves as president of the Santa Clara County Association of Realtors.
Chea favors more shared equity programs and down payment assistance programs, like the California Dream for All Shared Appreciation Loan program. That funding was exhausted in 11 days, he said.
"We are pushing for the legislators to release the rest of those funds," Chea told San José Spotlight, "so everyone who is eligible can get their piece of the American dream."
Contact Lorraine Gabbert at [email protected]