From his upbringing in the Philippines, Saldy Suriben's mother gifted him with an understanding of how to make friends easily and the importance of hard work. His father died when he was three months old and it was just him and his mother from then on. He had no brothers or sisters.
"I'm proud of her for raising me to be what I am today," he told San José Spotlight. "Giving back to the community is in my blood."
Suriben, 38, is a proud LGBTQ+ community leader who brings people together and helps them feel included. As chief marketing officer for Silicon Valley Pride, he's brought the local parade and festival to life. His community activism and work supporting LGBTQ+ community events has been recognized by the Silicon Valley Business Journal. He was selected as one of the honorees of this year's 40 under 40 awards.
"Even if you only make a small impact, you're making someone's life a little bit better," he told San José Spotlight.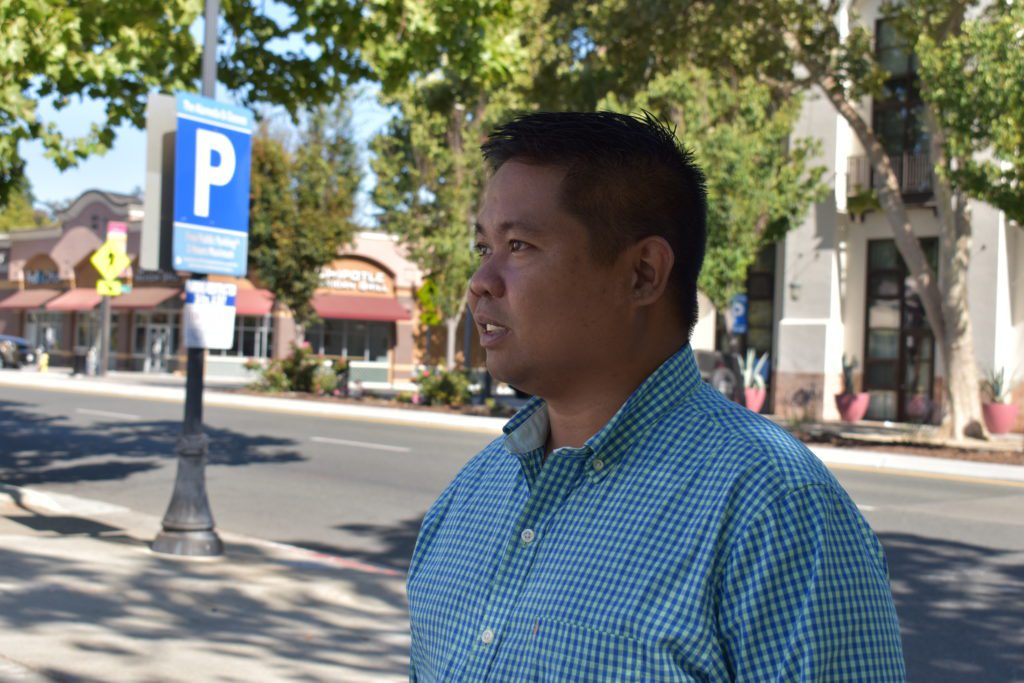 In 1997, at age 13, Suriben and his mother came to San Jose to have a better life. He attended Silver Creek High School in San Jose and received a business marketing degree from San Jose State University. He is one of the first in his family to graduate from college. At SJSU, he put his skills to work as a member of AIESEC, a global student organization which develops leadership skills and promotes cultural understanding.
Suriben previously worked as an event coordinator for Giant Creative, which brings festivals to cultural and civic spaces for clients including History San Jose and the School of Arts and Culture at Mexican Heritage Plaza. After being laid off during the pandemic in 2019, he joined Heluna Health, helping coordinate COVID-19 vaccination clinics in Santa Clara County. He currently works for Santa Clara County Public Health.
Suriben helped make Pride ongoing with yearlong activities such as drag brunches, "Over the Rainbow" story time and Cooking with Pride. He joined Silicon Valley Pride in 2014 and has been a board member since 2017.
CEO Nicole Altamirano said Suriben has been the MVP of the festival for years.
"His dedication not only to the organization, but (to) the community, is unparalleled," she said, adding he revived a once struggling festival.
The parade and festival, originally named San Jose Pride, changed its name in 2014 to encourage unity. What started as a march down Stockton Street as part of a a gay rights rally in 1975 has become the largest LGBTQ+ celebration in the South Bay for almost 50 years, she said.
Silicon Valley Pride stands up for the rights of marginalized community members, Altamirano said, and Suriben genuinely cares about the community as a whole.
"What's different about the LGBTQ+ community is that we're not just one skin color," she said. "We encompass all minorities. That's why our rainbow is so reflective of all the different colors and beauty in our communities. Whether trans women of color or autonomy of those with uteruses and the rights to choose, SV Pride will always stand up for equality."
Gabrielle Antolovich, president of the Billy DeFrank LGBTQ+ Community Center, said Suriben creates beautiful designs for posters and fliers and collaborates with the center on events. She said by his promoting activities year-round, he keeps Pride in the minds of everyone.
When the center joined Silicon Valley Pride in celebrating Viva Calle San Jose, she said Suriben arranged for drag queens to perform on the rainbow crosswalk and "queerified a spot." When Supreme Court Justice Ruth Bader Ginsburg died, Antolovich and Suriben arranged a vigil in the center's parking lot and he put together a slideshow commemorating her.
Suriben said he's lucky to live in San Jose where people are tolerant, compared to other places in the country where anti-LGBTQ legislation is being passed. It's important to be visible and vigilant, he said.
"Unfortunately, being gay is hard sometimes," Suriben said. "In other parts of the country, there is gay bashing just for being your authentic self. We're not harming anyone. We just want to live. We need to be out and proud."
Contact Lorraine Gabbert at [email protected]