Silicon Valley's biggest business lobby and its largest labor special interest group are rarely on the same side of contentious public policy issues. And last week's 6-5 vote of the San Jose City Council on a suite of housing policy changes was no exception to that rule.
So it's no surprise The Silicon Valley Organization and Silicon Valley Rising slugged it out in their email newsletters in the days that led up to the vote. But in the aftermath of a marathon City Council meeting Nov. 5 — a small, but significant similarity between the group's post-debate tactics emerged in our inboxes, despite the contradicting messages they meant to convey.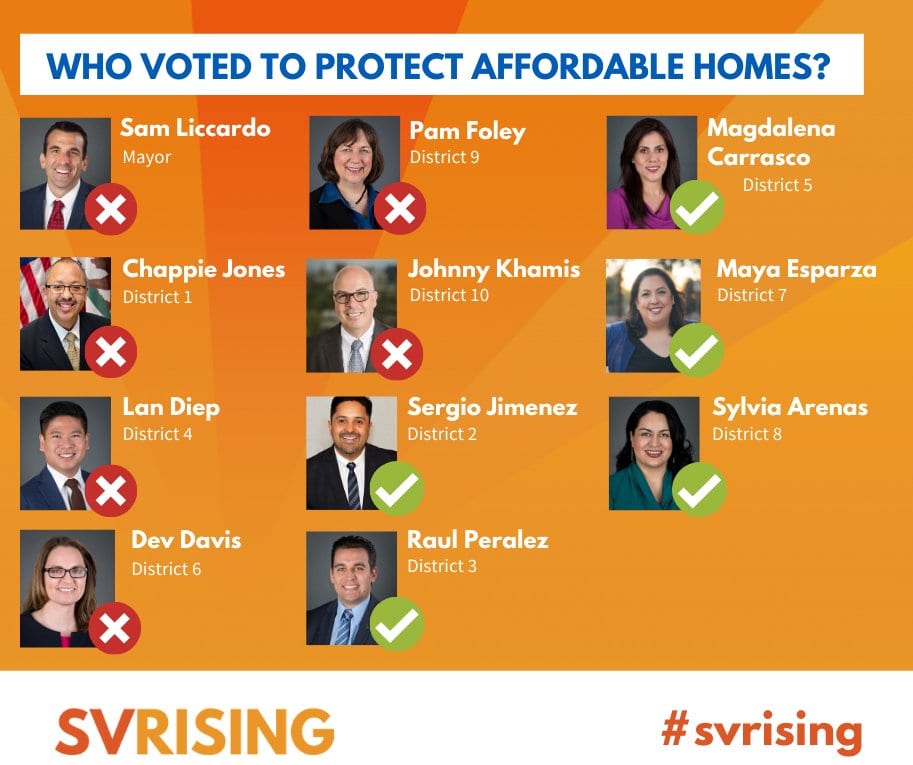 The morning after the contentious vote, labor leaders sent out an email with a blaring subject: "A disappointing evening at San Jose City Hall."
"It's a disappointing result – but we're so thankful and inspired by all the community members who stayed late into the night to have their say and urge councilmembers to stand up for affordable housing in San Jose," wrote SV Rising Policy Director Jeffrey Buchanan.
"We thank Councilmembers Esparza, Jimenez, Peralez, Carrasco and Arenas for voting to preserve affordable homes and protect working families and communities of color from eviction and displacement," he continued.
The email contained a colorful infographic asking readers, "Who voted to protect affordable homes?" with green checkmarks next to photos of the labor-aligned councilmembers.
Within hours of the SV Rising email, the SVO sent an "eNews" blast that celebrated victory and included an almost identical graphic, incorporating the SVO logo and asking the question, "Who voted for more affordable housing?" with photos of the business-friendly councilmembers featuring similar green checkmarks. The heroes and villains were reversed this time.
The email's subject proclaimed "We won! More housing in San Jose!"
"On November 5th, the San Jose City Council voted to change several of its housing policies that will result in more market-rate and affordable housing actually being built," Matt Mahood, president and CEO of The Silicon Valley Organization, wrote in the email.
"Thank you to Mayor Sam Liccardo, Vice Mayor Chappie Jones, and Councilmembers Lan Diep, Dev Davis, Pam Foley and Johnny Khamis who all voted for every policy change that the SVO advocated for!"
Asked about the similarity between the two infographics, Dianna Zamora Marroquin, political director for the South Bay Labor Council, told San José Spotlight unions have used such graphics to promote favorable policy positions for years. She wouldn't say much about SVO using the same strategy hours later.
SVO officials declined to comment on the email blast.
So, who is right?
While both powerful political factions represented the controversial split vote to fit their narrative and satisfy their interests — and both insist they are not wrong — here is what the vote actually did.
Although their effects remain to be seen, the policy changes approved by the City Council last week amended the city's Ellis Act by changing the number of units required to go back under rent control after redevelopment, reduced fees developers pay in-lieu of building affordable housing and the amount of affordable units they're required to set aside for downtown developments.
Business leaders called the vote a victory because they said reducing regulations, fees and red tape in San Jose will spur more housing production, including affordable units, which will ultimately help alleviate the housing crisis. But labor leaders say the changes gave hefty "handouts" to wealthy developers, hurt low-income residents and could lead to more displacement.
Contact Adam F. Hutton at [email protected] or follow @adamfhutton on Twitter.
Editor's Note: Silicon Valley Rising is a campaign of Working Partnerships USA. The executive director of Working Partnerships, Derecka Mehrens, serves on San José Spotlight's Board of Directors.